It's Halloween season. It's October Country. It's that perfect, wonderful time of the year when we live in the chilly, leaf-crunching, haunted imagination of Ray Bradbury. So it is little wonder that we spend this time of the year making up lists of books to fit the season. It's infectious or else why would something like Neil Gaiman's remarkable All Hallow's Read be growing larger and larger each year?
The lists of Halloween books out there are wonderful and worth reading your way through…but supposing you are, like me, a parent of a couple small humans who are just on the cusp of chapter books, but still love picture books? What can we read that'll be spooky and fun together? This is my little list.
…
I Need My Monster by Amanda Noll & Howard McWilliam
This is a funny, beautifully illustrated little picture book, about a little boy named Ethan whose regularly scheduled fearsome monster goes fishing for a week. Obviously, he needs a monster…so he auditions some. The book is just a series of increasingly silly monster auditions. The illustrations are really gorgeous, but the true joy of the book is reading it aloud and doing silly voices for all the various monsters. Mine range all over, from a disgusting drool-slurping monster voice, to Christopher Lee…to, well, Marisa Tomei from My Cousin Vinny. Look, you probably have to be there. Maybe the best part of the book for parents is that it's a pleasure to read over and over and over and over. It's so well-loved around here, it long-since escaped the bounds of Halloween and is read all year 'round. That's love.
AlphaOops: H is for Halloween by Alethea Kontis & Bob Kolar
This is an alphabet book, jumbled all up as the letters attempt to put together a Halloween-themed book without, frankly, any organization at all. So part of the book is the letters putting on their Halloween themes ("L is for Lycanthrope!") and the rest of the story is the letters scurrying around behind the scenes, trying to get prepared and talking to each other. It's not scary, but it's very silly and a lot of fun to read. Particularly if you alternate voices. I read the dialog between letters in a normal voice, and the letters' definitions ("U is for Undead!") in a sort of Bela Lugosi voice. It's not required, though.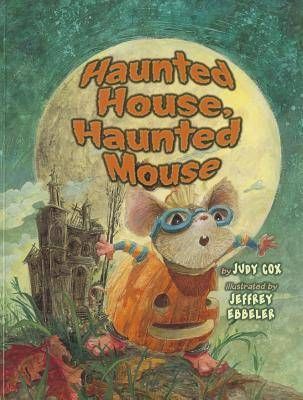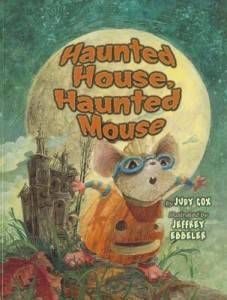 Haunted House, Haunted Mouse by Judy Cox & Jeffrey Ebbeler
The plot of this one is very simple and very straightforward: a mouse goes out for some candy and winds up lost and stumbling around a town on Halloween night. The remarkable thing about the book is the illustrations, amazingly detailed and full of jokes and clever bits, a funny view of our world from the perspective of a very small mouse. Each page's art could be taken and framed on its own. It's a joy to re-read and look for new little clever bits in the artwork.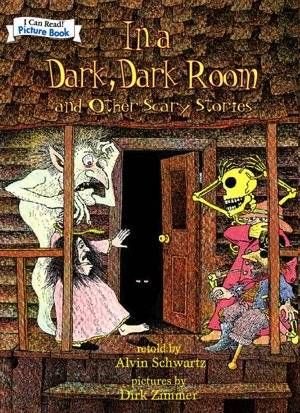 In A Dark Dark Room by Alvin Schwartz & Dirk Zimmer
I'm sure I needn't tell you about this book much. I'm convinced that the way previous generations of horror writers grew out of watching Pinocchio, my generation will all point back to having been scared shitless by this book. I recently bought a copy so I could scar my own children, and flipping through it, I was reminded of the deep echoes of terror it left within me from childhood. The short stories are retellings of old urban legends – which is effective, since urban legends only last because they're haunting – and they are illustrated in a very simple style which does nothing but enhance the utter terror of this book. There's nothing funny or cute here. If you're just the right age, and they're read to you in just the right fashion, it will completely chill you, maybe for life. (Those teeth…that girl and her scarf…). (An odd aside: the other picture book that's haunted me from childhood? One Fish Two Fish Red Fish Blue Fish by Dr. Seuss. I dunno, folks.)
Where the Wild Things Are by Maurice Sendak
I trust there's nothing I need to tell you about this book. It's a classic, a joy to read and a joy to have read aloud. Maurice Sendak was an amazing person and artist and it was a great loss when he died. You should go read this book and misbehave terribly afterward. This is Halloween. What better time to let a wild rumpus commence?
Happy Halloween, boys and girls. Be monstrous.