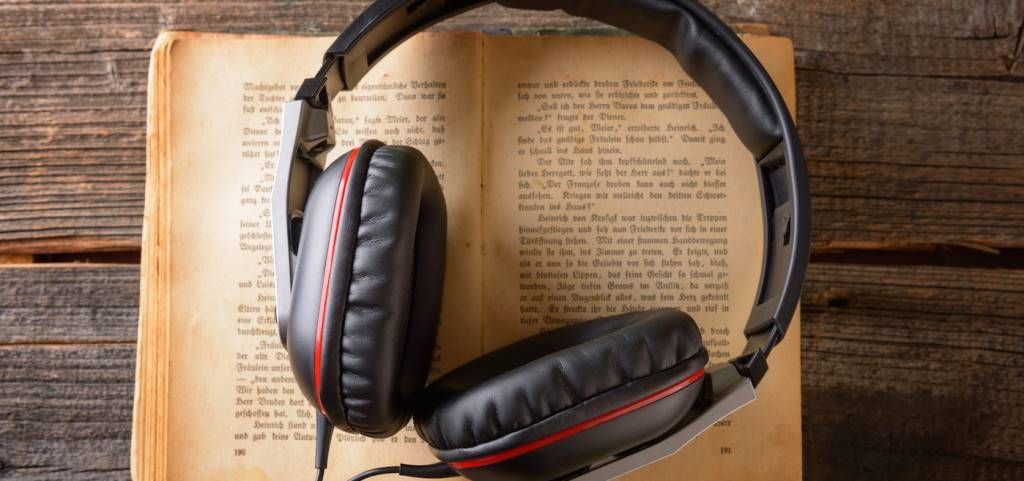 This content contains affiliate links. When you buy through these links, we may earn an affiliate commission.
I am not the most adventurous reader by default. I've written before about pushing myself to try reading different mediums and formats, and late last year I decided 2016 would be my year of experimenting with audiobooks. The year isn't over yet, but I feel like I have enough experience under my belt to report back with my observations. Now, many readers here at Book Riot are absolute pros and could probably tell me a thing or two or ten about audiobooks (and I hope you do!), but for those of you who are just starting out like me, or considering taking the plunge with the increasingly-popular format, I hope this newbie's notes on reading audibly audiobooks might prove helpful.
When in doubt, I tended to go for a familiar voice. With my first few audio purchases, I eased myself into the experience of having a voice in my ears by gravitating towards voices I recognized. This meant I listened to a lot of celebrity memoirs (Wishful Drinking, Year of Yes, Why Not Me?) and narrators (I cannot move on from here without strongly recommending Dante and Aristotle Discover the Secrets of the Universe read by Lin Manuel Miranda; it's a perfect book with perfect narration, and my heart has not yet reverted back to non-puddle form).
Audiobook versions of memoirs and epistolary novels are a delight. This dovetails nicely with the whole "memoir" thing. Just as listening to Mindy Kaling felt like a combination pep talk/confessional with a friend who is actually a stranger, listening to epistolary works felt like hearing a beloved friend who is actually fictional tell me the story of her life. One of my favourite audio experiences so far has been listening to The Color Purple as read by the author. Alice Walker is a wonderful narrator, with a very pleasant voice infused with tremendous warmth. Her voice combined with the conversational epistolary structure of the novel made for a truly lovely listening experience.
Always test out a narrator on the device you plan to use to listen to the book. Generally I've had pretty good luck with narrators, but I have realized that it is important to give each one a test-listen with my headphones. One narrator sounded absolutely fine diffused from my (frankly kind of crummy) laptop speakers, but when his voiced was piped directly into my ears I realized it had a slightly gravelly edge on certain words that was sometimes grating to my ears. Interestingly, in contrast to what feels like a constant barrage of complaints about women's voices, I have found that I am a lot pickier about male voices than female ones (must be my misandrist ears).
Keep moving. The one thing I find it consistently difficult is not getting distracted when I'm sitting still. My eyes need something to focus on, and if there is no task at hand, they usually end up drifting toward my phone and landing on email, Twitter, etc. I'm just not good at sitting still, staring off into space and listening. I beat myself up about it the first few times, but then I decided to stop thinking of it in terms of a failure to do something and more in terms of a tendency to plan around. I realized audio wasn't going to be my best bet for weeks where I have a lot of downtime, but it is the perfect format for when I'm commuting or doing any kind of domestic task. Travel especially is perfect for audiobooks: I start when I begin running my pre-trip errands, and listen through all my laundry, packing, and actual transit time.
Okay, audio pros, your turn: what are your best tips for reading audibly?