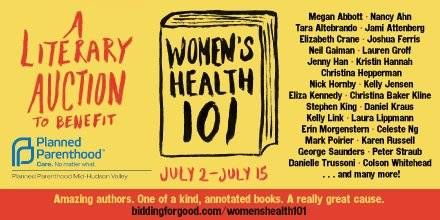 This content contains affiliate links. When you buy through these links, we may earn an affiliate commission.
Like books? Care about Planned Parenthood and women's health? Have some extra dollars to spend on those things? If so, check out A Literary Auction to benefit Planned Parenthood Mid Hudson Valley, put together by authors Owen King and Kelly Braffet. In honor of Planned Parenthood's 101st year of operation, they have gathered a fabulous list of books to auction off, most of them annotated by the author on page 101. Annotations might include things such as cartoons, writing tips, and behind-the-scenes thoughts. The auction ends on Saturday, July 15th, 2017, at 10:00pm EDT.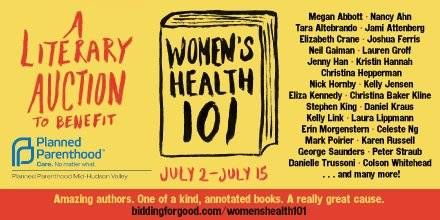 Items up for auction include Lincoln in the Bardo by George Saunders, which is a "hardcover, signed by the bestselling author of Tenth of December, and annotated on page 100 and 101 in multiple inks." You can get End of Watch, by Stephen King, signed and with a short note on page 101. As of this writing, the bidding for this book is up to $650. You can get The Night Circus by Erin Morgenstern and Everything I Never Told You by Celeste Ng, the latter "annotated on page 101 and throughout." Other contributing authors include Neil Gaiman, Megan Abbott, Peter Straub, Kelly Link, Colson Whitehead, and many more.
You can also check out the twitter hashtag, #wh101, which stands for Women's Health 101, to get the latest information and hear more about the items up for bidding.
As the auction website says, Planned Parenthood provides a range of services for women including cervical cancer screenings, breast exams, birth control, and treatment and testing for STDs and HIV. They serve the most vulnerable people in their area and for many people are the only healthcare they access in a given year.
As we all know, Planned Parenthood is continually and increasingly under attack and needs our support. Obviously, this auction is for those who have enough spare cash to spend on extra-fancy books, but if you are one of those people, why not consider making a bid?