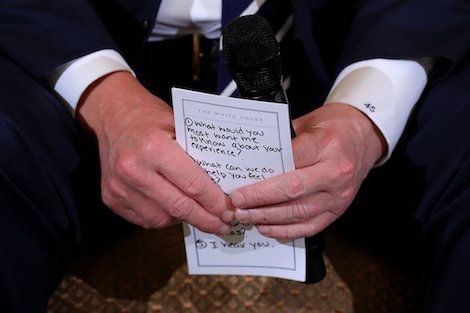 Lists
A List for Trump: Books About Empathy
This content contains affiliate links. When you buy through these links, we may earn an affiliate commission.
While meeting with students, teachers, and community members of Parkland, Florida, on February 21, Trump was pictured holding notes that reminded him to say, "What would you most want me to know about your experience?" and "I hear you." Many (most?) people would not need a reminder to listen to the victims of a mass shooting, but that's where we are. This led me to thinking about how reading has often been linked to compassion. As Katisha noted, the President is not known as a reader, but I believe he could benefit from these books about empathy.
The President could benefit from listening to people whose experiences are different from his own. This collection of the stories people have told on NPR's StoryCorps project is a wide-ranging book about empathy that would be enjoyable for anyone.
Jamison's book is one of my favorites from the last few years. Her essays explore how human beings should think about each other. Am I causing pain? Do I care about my neighbor? These are questions Trump should ask himself too.
This book explores how human beings can reconcile rapid globalization with intimacy. Jeremy Rifkin, a social critic, gives ideas here for bridging the gap between big agendas and individuals. Also, there's a TED Talk.
We all know Trump is proud of his business background, so maybe he would read a book about empathy from a business strategist? Dev Patnaik's book is about how companies can actually benefit from caring about the world. Though I think we should all have empathy despite the lure of profit, I'm okay with whatever works.
Wonder by R.J. Palacio
This novel is about a whole community of people who are grappling with how to treat a boy with a facial difference. Palacio offers a range of perspectives here. There's Auggie—a little boy who just wants everyone to treat him normally—as well as his sister, classmates, and others in the community. Sometimes reading about another person's fictional plight increases our understanding of people in the real world. I believe this short book about empathy might teach the President a thing or two.
Would you add any books to the list?
Also In This Story Stream