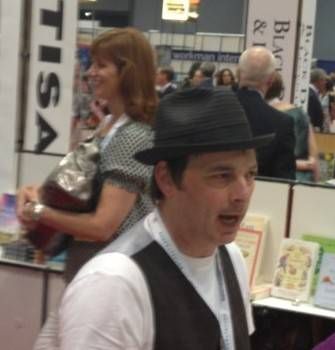 Opinion
A First-Timer's Experience at Book Expo America
So, I spent three days in New York City surrounded by books and people who love books. How could that not be awesome? Yes, it was. I had a fantastic time. And so here are some observations, in no particular order of relevance or importance:
1. Everyone tells you you'll be overwhelmed trying to be in six places at once. That wasn't the case for me — I had a few galleys I wanted to be sure to get, including new books by Jonathan Tropper, Jonathan Evison, David Abrams and Justin Cronin. And I got 'em all, and still had plenty of time to wander around aimlessly — and stumble across cool things, like Barbara Kingsolver presenting the PEN/Bellwether Prize for Socially Engaged Fiction to Susan Nussbaum's novel GOOD KINGS BAD KINGS, which will be published by Algonquin. There were tears. It was a very cool moment (even though Nussbaum already knew she'd won).
2. This just in: Dan Wilbur, who runs Better Book Titles, is funny. He was the highlight of the 7x20x21 panel (each of six presenter has 7 minutes, with a max of 20 slides, and each slide advances every 21 seconds — very cool format!). Wait, actually the highlight was learning that there will be a David Foster Wallace biography, written by New Yorker staff writer D.T. Max and titled EVERY LOVE STORY IS A GHOST STORY, out August 3oth. When Max came on stage and announced his topic, I almost started hyperventilating. I'm not kidding.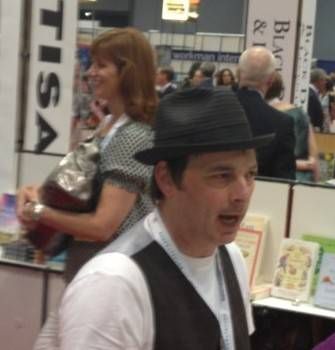 3. Jonathan Evison's hat is just as cool in real life as it is in his author photos. Man, I wish I could pull that off.
4. BEA attendees get a D- in crowd-walking. I attend a fair number of trade shows for my "real life" job, including a few as crowded as BEA is, but nowhere are people so seemingly oblivious to the fact that, say, somebody is walking directly behind them, so stopping in an aisle with no warning isn't the best plan. Also, people seem to congregate in aisle intersections. Please, please: MOVE! The poor crowd-walking is my one and only BEA complaint.
5. BEA might be the only place in the world where standing in line is fun, and not just because this happened: As I was waiting for the Cronin galley, a dude walked up to me and asked if the line had "something to do with 50 SHADES OF GREY." No, sir, it most certainly does not. But, so, while you're standing in line, everyone is really cool, and just wants to talk about books while you wait. Um, okay — let's talk about books!
6. While I was getting my galley for ONE LAST THING BEFORE I GO signed, I asked Jonathan Tropper what he thought about Jason Bateman playing Judd in the THIS IS WHERE I LEAVE YOU movie. He said he's thrilled, and that he'd actually sent scripts for all his other novels to Bateman, as well, but this is the first time he said "yes." We all should be thrilled he said "yes," too. Bateman IS Judd.
7. Book people are the best. But you know this already.