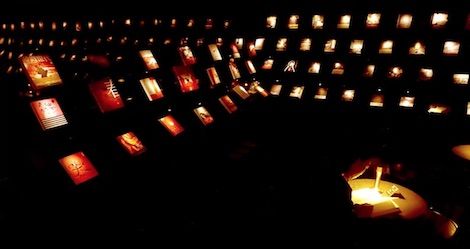 A Dark Library Where Every Single Book Has Its Own Light: Critical Linking, August 3, 2018
We're giving away 16 of the books featured on Recommended! Click here, or on the image below to enter:

---
to help the visitors pick the book they really want to read, the taiwanese library designed by chu chih-kang studio features a very low lighting. when one steps inside the space, they are able to look inside themselves, and then carefully explore the variety of the 300 bookshelves with the pieces, each highlighted separately.
This is so bizarre and so cool to look at.
____________________
There is no single reason anyone becomes a writer, and yet for so many authors, there are distinct moments in their lives when they realized they had stories they wanted to tell. For many, these moments come when reading the kind of books that provoke, disturb, and inspire—the kind of books that make us marvel and wonder if we too can inspire that sort of reaction in someone else someday.
Below, 25 writers share which books made such an impression on them. The selections range from children's books to YA series to 19th-century classics to true crime novels, but they all have one thing in common: They made someone understand their own potential to tell stories, and share those stories with the world.
I love this look at the books that inspired writers.
____________________
With other Hemingway papers, A Room on the Garden Side has been housed in the Library of Congress and the John F Kennedy library in Massachusetts.
Six decades after it was written, A Room on the Garden Side is set to be published in the summer edition of the Strand magazine, a literary quarterly that has previously published obscure works by the likes of Raymond Chandler, John Steinbeck and HG Wells.
There's a new Hemingway short story coming.
____________________
Gram of the Day! Follow us on Instagram: