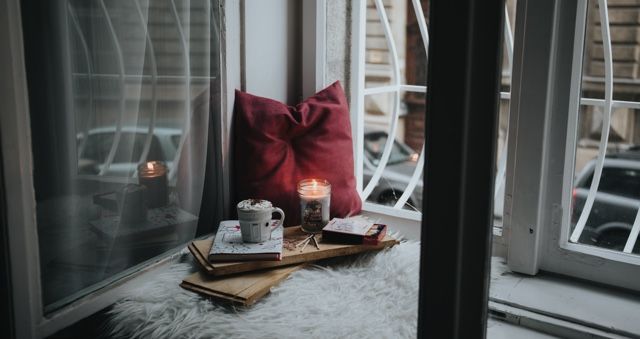 Critical Linking
A Cozy Cabin Custom-Built for Reading: Critical Linking, December 13, 2019
Critical Linking is a daily roundup of the most interesting bookish links from around the web, sponsored by Children of Virtue and Vengeance by Tomi Adeyemi, with Fierce Reads.

---
"Entrepreneur Bartłomiej Kraciuk and interior designer Marta Puchalska-Kraciuk of Moszczyńska Puchalska design studio worked with POLE Architekci to design the cabin for the sole purpose of relaxing and reading. Its timber walls are lined with bookshelves, while its large windows bring in loads of natural light.
'I just loved staring at this landscape, but how long can you do that for?' said Puchalska-Kraciuk. 'Maybe longer if you are indoors facing a big window, sitting on a comfy chair. Still, how long can you endure this? That's when the idea to fill it with books came in.'"
Is there one of these somewhere in the continental U.S.??
---
"Sometimes fiction audiobooks really work for me. Ann Dowd, Bryce Dallas Howard, Mae Whitman, and Margaret Atwood herself narrating The Testaments? Fuck yeah. Audiobook king Stephen Fry doing all the voices in the Harry Potter series? Legendary. But more often than not it just feels a little bit… awkward. Do not listen to Haruki Murakami's work as an audiobook (trust me, several disturbing scenes in Kafka on the Shore can't be unheard). And I've tried to listen to Frank Herbert's Dune, and no disrespect to one of the greatest sci-fi books of all time, but I just couldn't keep up with all the verbally delivered names — Halleck? Hawat? Harkonnens? Who is who? WOOORRRM!
But memoirs read by their authors? For some reason it really works for me."
It's like this person took the thoughts from inside my brain.
---
"You might think that Mechain's work would be isolated from her male contemporaries, and that she would have been shunned as a social outcast. However, her poetic exchanges with popular contemporary bards such as Dafydd Llwyd and Llywelyn ap Gutyn suggest that Mechain enjoyed popularity and her poetry was well-regarded by her male contemporaries."
This medieval feminist poet wrote about cheating husbands, jealous wives, and in praise of the vajayjay.