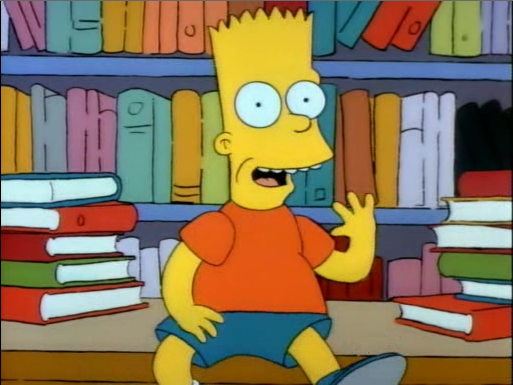 Fiction
A Compendium of Literary References on The Simpsons: Season 1
If you asked me to name the most literate / literary sitcom of all time, I would have to begin and end my list with The Simpsons. I can't think of another show that has had more authors as guest stars, more literary parodies, more bookish in-jokes.
There are lots of top-ten lists around of the best literary guest stars or best parody book titles on The Simpsons. But what I'm looking to do here is catalogue all the literary gags and references on The Simpsons from season 1 on. I started doing this as a reference for my own teaching — screen shots for PowerPoint slides and so on — but I figure I'm not the only person who could make use of this list. So whether you are a nerdy super fan, an English teacher, a high school librarian, or a book lover who has never connected with The Simpsons (I didn't think that was a thing either, but then I met fellow Rioter Peter Damien), this list is for you. I'll be adding a new season here at Book Riot every few weeks.
S01E01: Simpsons Roasting on a Open Fire
At the school pageant, the fifth grade performs a scene from A CHRISTMAS CAROL by CHARLES DICKENS. Homer, bored now that his own children have completed their performances, remarks, "How many grades does this school have?!" (There's a Tiny Tim reference later in the episode, too, though Bart is talking about the movie adaptation when he says, "Miracles always happen to poor kids at Christmas. It happened to Tiny Tim, it happened to Charlie Brown, it happened to the Smurfs, and it's gonna happen to us!")
At the racetrack, the dog Santa's Little Helper replaces in the race is SIR GALAHAD, a reference to ARTHURIAN LEGEND.
S01E02: Bart the Genius
In the first-ever opening sequence, we get to see just how bookish our lovable Lisa Simpson really is.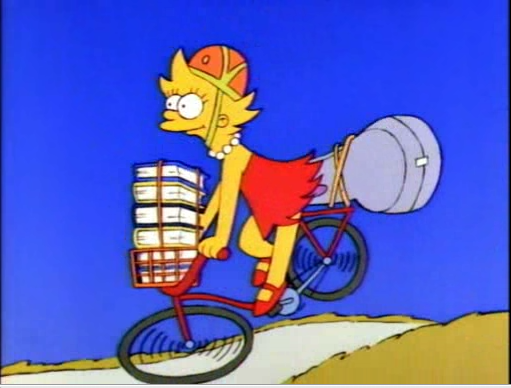 While playing Scrabble, Homer finds the family DICTIONARY (used to hold up the short leg of the couch) so that Lisa can look up "id" to prove to the family that it is a word.
At his new school for gifted children, Bart is given the run of the bookshelf. Among the choices are MOBY DICK, CRIME AND PUNISHMENT, PARADISE LOST, a collection of SHAKESPEARE, and DANTE'S INFERNO. Bart chooses a Radioactive Man comic, which his teacher informs him was used in a film the class made the week before about illiteracy.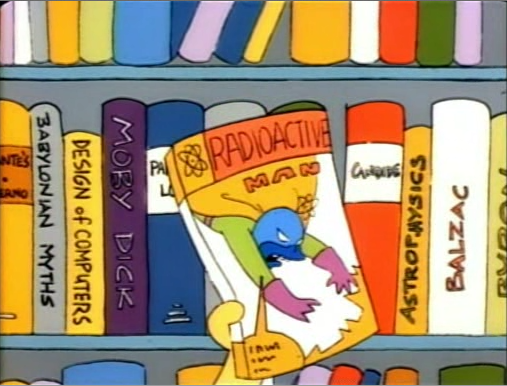 S01E03: Homer's Odyssey
Of course, the title of this episode is a reference to THE ODYSSEY by HOMER. It's not really a parallel. In this version, Homer's "odyssey" is to get a stop sign erected at a dangerous intersection (and eventually, a take down of the nuclear power plant). Sort of the same, I guess.
S01E04: There's No Disgrace Like Home
No literary references in this episode.
S01E05: Bart the General
There are a ton of film references in this episode, especially to Patton and The Longest Day, which are both based on books. But there are no direct literary references (though I kept waiting for Lisa to bring out a copy of THE ART OF WAR — missed opportunity, I say).
At the end of the episode, though, Bart does send us to our local LIBRARY for books about war, "many of which have cool gory pictures." I love this screen cap for my librarian friends.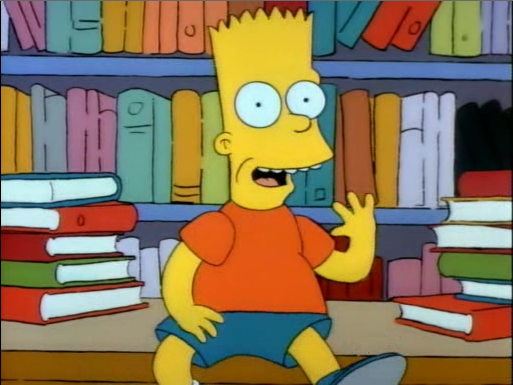 S01E06: Moaning Lisa
No literary references in this episode (lots of blues music ones, though).
S01E07: Call of the Simpsons
Another literary title, this one making reference to JACK LONDON's novella THE CALL OF THE WILD. In London's story, a domestic dog has to learn to live in the wild; in this episode, The Simpsons clan have to learn to live in the wild when a camping trip goes horribly wrong (and Maggie joins a family of bears).
There's a great parody of the tabloid newspaper industry as Marge tries to clear up rumours that Homer is actually Bigfoot.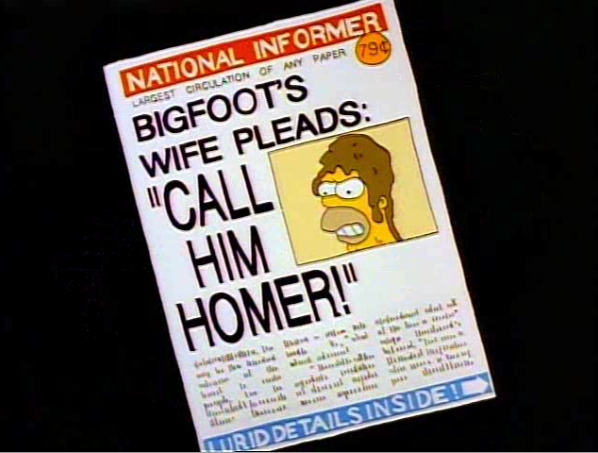 S01E08: The Telltale Head
The title here is a reference to EDGAR ALLAN POE's story THE TELLTALE HEART. This is a closer retelling than the other literary-title episodes in this season. Bart has the head of the Jebediah Springfield statue after a prank to win the esteem of the town bullies lands him in hot water. Similar to the Poe story, Bart tries to bury the head but he hears it speaking to him, and it represents his echoing guilt. (This isn't the only Simpsons episode to use this story. But we'll get there in time.)
I'm including this image just because: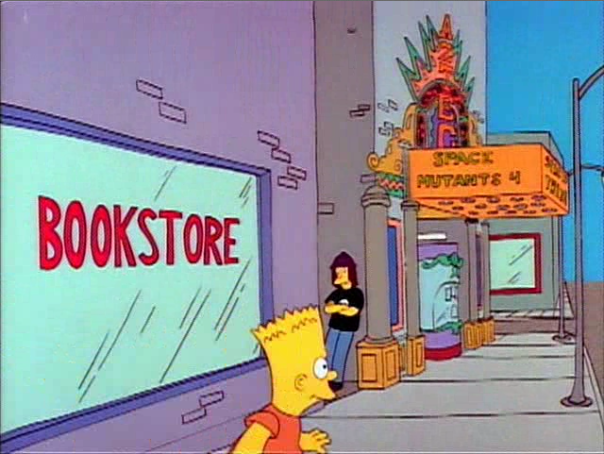 S01E09: Life on the Fast Lane
No literary references in this episode.
S01E10: Homer's Night Out
Homer asks Marge if she's giving him "the Spanish EXPOSITION," which I imagine Gabriel Garcia Marquez knows a lot about.
The oft-referenced in literature DAVY JONES' LOCKER is the name of the private room at the Rusty Barnacle where Homer attends the bachelor party.
Some great background book ephemera in this episode: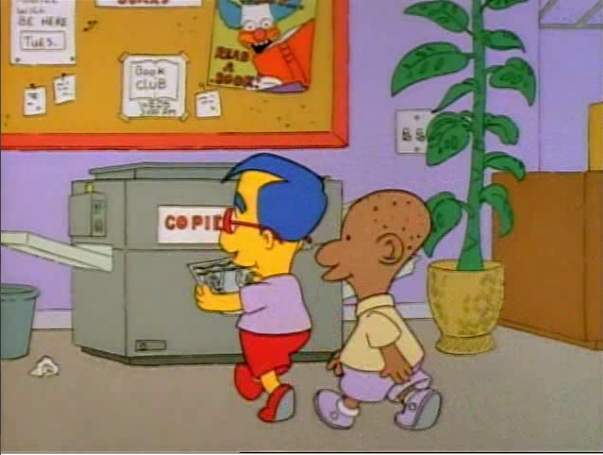 Homer tells Mr. Burns to write LOVE POETRY to attract the ladies, and if that's not a hilarious image for you I don't know what to say.
S01E11: The Crepes of Wrath
Another literary title here; this one, of course, a reference to JOHN STEINBECK's GRAPES OF WRATH. (Bart is sent on a school exchange that is really a thinly veiled migrant labouring program for crooked French vineyards.)
S01E12: Krusty Gets Busted
The Krusty impostor at the Kwik-E-Mart is reading The Springfield Review of BOOKS at the cash register as he awaits his moment to strike — a sign our thief is more erudite than the hapless TV clown, perhaps.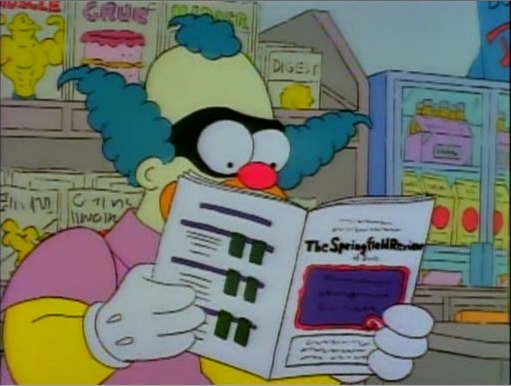 In a retrospective of his life, we're told that Krusty devoted himself to stamping out illiteracy with the tag line, "Give a hoot. READ A BOOK." (Krusty's own illiteracy becomes a significant plot point in this episode.)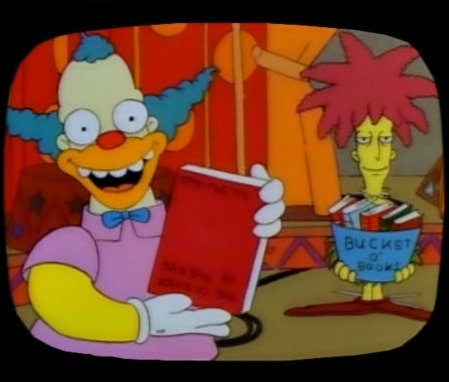 When he takes over Krusty's show (renaming it a Cavalcade of Whimsy), Sideshow Bob reads to the children from THE MAN IN THE IRON MASK, the third volume of The Vicomte of Bragelonne by ALEXANDRE DUMAS.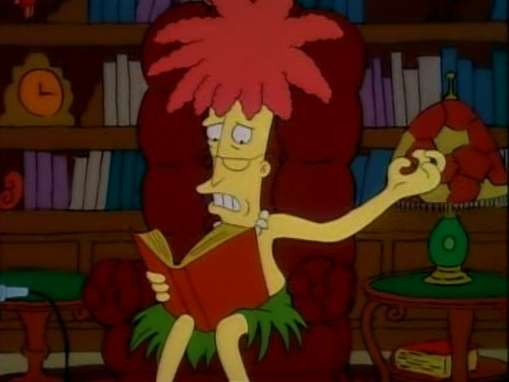 S01E13: Some Enchanted Evening
Are limericks a literary reference? If so, the dirty LIMERICK standby "my name is Samson, not Simpson" gets some play. Otherwise, this is not a particularly literary episode.
And that's Season 1 of The Simpsons — by the books!
Ok, in a week or two I'll post my finds from the first half (11 episodes) of Season 2. In the meantime, care to share your favourite literary Simpsons moment in the comments below?
____________________
Book Riot Live is coming! Join us for a two-day event full of books, authors, and an all around good time.