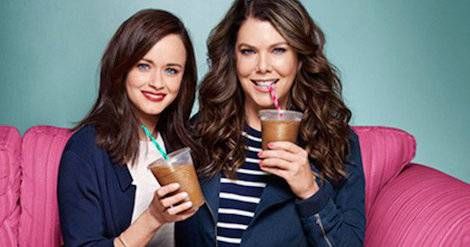 It's the most Gilmoreful time of the year. I mean, fall in general always puts me in the mood for my two favorite Lorelais, but this year is special. If you've been living under a rock, Gilmore Girls: A Year in the Life, a four-episode mini-series revival is coming to a Netflix near you on Nov. 25.
It's only natural that we have a little Bookish Gilmore Girls Bingo card for this momentous occasion. Some spots are for buzzy books they'd have read in the last 10 years. Some spots are for classic Gilmore moves. Some spots are wish fulfillment.
Whether you're planning on watching alone or with a group, print this out and play along in between singing along to the la's. Fill up your coffee cups, serve up a platter of pizza rolls and tater tots, and get comfortable.
Here's a downloadable PDF so you can print and play along.
*Note, if the person reading Fifty Shades is Emily, it's an automatic Bingo for everyone. Also everyone must take a shot. Don't look at me like that, I don't make the rules.