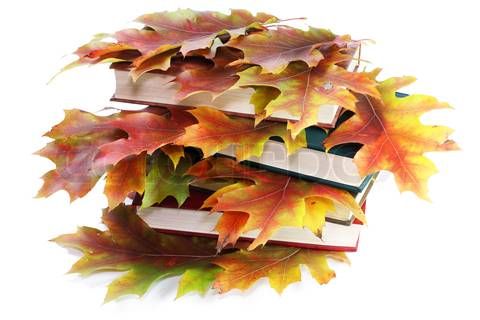 Classics
A Book For Each Season: 6 Perfect Autumn Reads
I don't eat watermelon during the winter. I don't drink warm apple cider on the fourth of July. I don't ring in the new year by swimming in the ocean. Living in a place that has four distinct seasons might seem restrictive to people who reside in tropical paradises; but for me, each season is a liberation from the last, each change a renewal. I enjoy the sensation of time moving in its unstoppable and cyclical way, and without all of those physical reminders of life changing around me, I'm sure I would succumb to a balmy malaise.
Each season has it's accompanying activities. In the summer, I drink cold beer and listen to upbeat, danceable music. In the spring I go outside every chance I get, create "rainy day playlists," and start waking up earlier with the sun. Of course, for each season there's also appropriate reading material. You wouldn't want to read Bernard Malamud's classic baseball novel The Natural in the winter. It just wouldn't be, um, natural. Likewise, you wouldn't want to read William Vollmann's novel The Rifles during the summer.
Of course the extremes, summer and winter, offer up obvious points of contrast. But what about the season that we're currently in? What books make for the best Autumn reading?
Wolf Hall and Bring Up The Bodies – Hilary Mantel
This dual Man Booker Prize-wielding author can spin an historical fiction (but with an emphasis on 'historical' over 'fiction') like no other. These two widely lauded novels are the first two in a planned trilogy about Henry VIII and his complex and interesting advisor, Thomas Cromwell. Perfect for autumn, with its emphasis on interiority and the psychology of the individual. You sort of get to just cozy up and build a nest inside of Cromwell's mind. Perfect for frosty mornings.
Cloud Atlas – David Mitchell
I prefer romances in the autumn and spring, and of course, with the movie adaptation of this beyond time and space soul-mate seeking operatic novel out soon, why not read the book before the movie?
Novels and Stories – Shirley Jackson
Halloween! Shirley Jackson is, to my mind, one of the most disturbing American authors of the twentieth century. If you're only familiar with her required short story reading, you might do yourself a favor and just build a blanket-nest on the couch and sip some warm cider while reading the rest of her work.
Inherent Vice – Thomas Pynchon
Although it takes place in the warm haze of Southern California, this "stoner-noir" novel, penned by an American master, is one of the best farewells to sixties counter-culture I've ever read. Autumn seems like the appropriate time for goodbyes, and this one is hilarious, touching, action-packed, and thoughtful. More accessible than Pynchon's other tombes, fans of surfing, hippies, detective stories, and puns will absolutely love this book.
Farewell Summer – Ray Bradbury
I know winter is usually the time that we pick to take a look back at the year, take stock of what happened, note our personal victories, and remember those we lost. But I prefer Autumn. It just feels to me like a more appropriate time for remembrance. That being said, why not read a Bradbury book this fall. Preferably, one that you haven't read before. I'd suggest the last book he published before his death, Farewell Summer, a kind of touching, warm, and funny semi-autobiographical sequel to the classic Dandelion Wine.
Dead Souls – Nikolai Gogol
What would any Fall reading list be without a classic political/social satire? As the election quickly approaches, you can, in a way, escape the hubbub of up-to-the-minute political coverage without forsaking your social ideals by immersing yourself in this Russian classic. And then, you know, going out and voting.