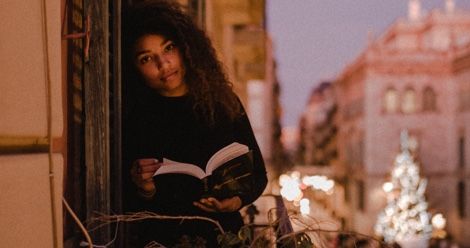 Read Harder
Read Harder: A Book by a Woman and/or AOC That Won a Literary Award in 2018
This content contains affiliate links. When you buy through these links, we may earn an affiliate commission.
The 2019 Read Harder Challenge is sponsored by the Read Harder Journal. Get the full list of tasks here.
Created by Book Riot, this smartly designed reading log consists of entry pages to record stats, impressions, and reviews of each book you read. Evenly interspersed among these entry pages are 12 challenges inspired by Book Riot's annual Read Harder initiative, which began in 2015 to encourage readers to pick up passed-over books, try out new genres, and choose titles from a wider range of voices and perspectives. Indulge your inner book nerd and read a book about books, get a new perspective on current events by reading a book written by an immigrant, find a hidden gem by reading a book published by an independent press, and so much more. Each challenge includes an inspiring quotation, an explanation of why the challenge will prove to be rewarding, and five book recommendations that fulfill the challenge.
---
2018 was a great year for diverse award winners. So many of the big winners across genre and literary prizes were women or authors of color (or both!). And exploring the newest winners is a great way to discover new-to-you authors.
For the purposes of Read Harder, "literary prize" includes prizes that honor both genre-specific and literary works from across the world. Check out this Wikipedia page for a list of awards. Here's a sample of great prize winners from last year:
Man Booker Prize
Milkman by Anna Burns: An innovative and extraordinary narrative, Burns's second novel is set during an unnamed time in an unnamed place (though understood to be based on Belfast during the height of the Troubles). She's also the first author from Northern Ireland to be honored with the Man Booker.
Asian/Pacific American Awards for Literature
The Leavers by Lisa Ko: After his mother, an undocumented Chinese immigrant, goes to her job and never comes home, 11-year-old Deming Guo is adopted by two white college professors, who change his name to Daniel Wilkinson in an attempt to assimilate. But Deming struggles to reconcile his mother's disappearance and the life he now has.
PEN/Hemingway Award for a Debut Novel
Chemistry by Weike Wang: Another unnamed narrator, this one three years into her graduate studies, realizes that her once-actual love of chemistry is more theoretical and now must figure out what to do with her life. Wang's disarming exploration into the character's self-discovery makes it an instant keeper. (The PEN Awards for books published in 2018 will be awarded in Feb. 2019.)
Other PEN awards
PEN/Robert W. Bingham Prize for a Debut Short Story Collection: Sour Heart by Jenny Zhang
PEN/Jean Stein Award for Book of the Year: Whereas by Layli Long Soldier
PEN Open Book: A Moonless, Starless Sky by Alexis Okeowo
Hugo Award
The Stone Sky by N.K. Jemison: Take the opportunity to either finish the incredible Broken Earth series with this third book in the stunning post-apocalyptic trilogy. And oh, by the way, the first two books also won the Hugo in 2016 and 2017.
Lambda Literary Awards
Award for Bisexual Nonfiction: Hunger: A Memoir of (My) Body by Roxane Gay: The most incredible memoir by the most incredible writer. Gay chronicles her struggles with rape, disordered eating, and her eventual gastric bypass surgery. It is a phenomenal and difficult read that is completely worth the work.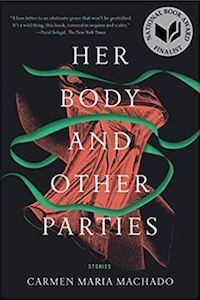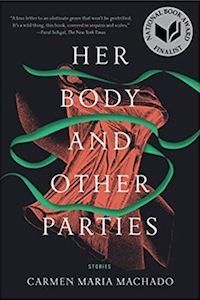 Award for Lesbian Fiction: Her Body and Other Parties by Carmen Maria Machado: Blending magical realism and science fiction, fantasy, fabulism, and psychological, Machado's collection of stories is both incredible and shocking, swinging between comedy and horror.
Award for Lesbian Memoir/Biography: The Fact of the Body by Alexandria Marzano-Lesnevich: Written in alternating narratives, Marzano-Lesnevich examines a murder she is assigned to investigate while working at a law firm and the author's own revelatory memories about her childhood sexual abuse.
National Book Awards
Award for Fiction: The Friend by Sigrid Nunez: When a woman loses her best friend and mentor, she is suddenly saddled with the deceased's dog, a huge Great Dane who is equally as distressed by the disappearance of his master. (Spoiler: the dog does not die.)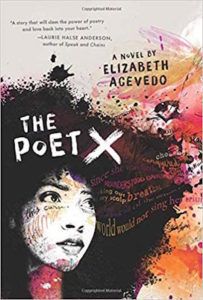 Award for Young People's Literature: The Poet X by Elizabeth Acevedo: Xiomara Batista, a Dominican American girl in Harlem, discovers slam poetry and, through her art, a way to escape her mother's insistence on keep Xiomara in line with the church's rules. This is a really incredible novel in verse that is especially good on audio.
Nebula Award for Best Novella
All Systems Red by Martha Wells: This fantastic first book in the Murderbot Diaries series follows a robot, the self-named Murderbot, who becomes sentient and would really like to knock off the evil robotic stuff on behalf of the evil corporation that created her. Maybe just stay in and watch TV.
Edgar Awards
Bluebird, Bluebird by Attica Locke: Black Texas Ranger Darren Matthews is pulled into the investigation of two murders in East Texas, where their own brand of justice threatens Matthews's already precipitous position as a Ranger. Locke is a master of the crime genre at the beginning of what promises to be her brilliant career.