This content contains affiliate links. When you buy through these links, we may earn an affiliate commission.
Sponsored by Gracy And Fury by Tracy Banghart.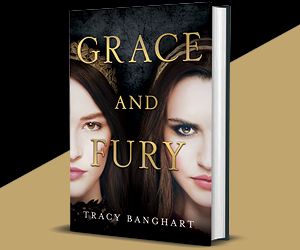 Serina has been groomed to become a Grace—one of the women chosen to stand by the heir to the throne as shining examples of perfection. But when her rebellious younger sister, Nomi, catches the heir's eye, it's Serina who takes the fall for the secret that Nomi has been hiding.
Now trapped in a life she never wanted, Nomi has only one way to save Serina: surrender to her role as a Grace until she can use her position to release her sister. But deception lurks in every corner of the palace. Serina is running out of time, imprisoned on an island where she must fight to the death to survive and one wrong move could cost her everything.
---
Happy August, book nerds! Welcome to a new month, and a list of August 2018 YA books for your library holds list! I can't believe that we're coming to the end of summer already, but I'm ready for my favorite season, fall! Apologies to those of you who are mourning already. I hope these new YA releases will help ease summer's passing for you—and if, like me, you're looking forward to crispy leaves, sweater weather, and Halloween, check out that witchy anthology to tide you over until cooler weather!
It's the end of senior year, and Rose Regnero is over it.
She's over chasing stories for a school newspaper no one reads. Over missing out on "normal" high school life. And most of all, over Grant Leitch: editor-in-chief, former close friend, never-quite-boyfriend. Now all she wants is a typical prom, complete with handsome date, fancy corsage, and dancing to cheesy pop songs.
It's the end of senior year, and Grant Leitch is in denial.
He's in denial about handing over the reins of the paper to an unworthy underclassman. In denial that Rose suddenly, inexplicably quit the paper and now won't talk to him. But mostly he's in denial that she is at prom with another guy, and it's no one's fault but his own. Grant's only hope of luring Rose back to him (and the paper) is a juicy story she won't be able to resist.
In the end it takes a toga-wearing prom crasher, an emergency lockdown, a secret stalker, and a wild after-party to bring Grant and Rose together for one last story…and one final chance to admit that they're made for each other.
Out August 7th.
Since she was seven years old, Yvonne has had her trusted violin to keep her company, especially in those lonely days after her mother walked out on their family. But with graduation just around the corner, she is forced to face the hard truth that she just might not be good enough to attend a conservatory after high school.
Full of doubt about her future, and increasingly frustrated by her strained relationship with her successful but emotionally closed-off father, Yvonne meets a street musician and fellow violinist who understands her struggle. He's mysterious, charming, and different from Warren, the familiar and reliable boy who has her heart. But when Yvonne becomes unexpectedly pregnant, she has to make the most difficult decision yet about her future.
From the author of Pointe and Little & Lion, comes another heartfelt novel about the twists and turns that can show up on a path meant only for you.
Out August 7th.
Scorn the witch. Fear the witch. Burn the witch.
History is filled with stories of women accused of witchcraft, of fearsome girls with arcane knowledge. Toil & Trouble features fifteen stories of girls embracing their power, reclaiming their destinies and using their magic to create, to curse, to cure—and to kill.
A young witch uses social media to connect with her astrology clients—and with a NASA-loving girl as cute as she is skeptical. A priestess of death investigates a ritualized murder. A bruja who cures lovesickness might need the remedy herself when she falls in love with an altar boy. A theater production is turned upside down by a visiting churel. In Reconstruction-era Texas, a water witch uses her magic to survive the soldiers who have invaded her desert oasis. And in the near future, a group of girls accused of witchcraft must find their collective power in order to destroy their captors.
This collection reveals a universal truth: there's nothing more powerful than a teenage girl who believes in herself.
Out August 28th.
Darius Kellner speaks better Klingon than Farsi, and he knows more about Hobbit social cues than Persian ones. He's a Fractional Persian—half, his mom's side—and his first-ever trip to Iran is about to change his life.
Darius has never really fit in at home, and he's sure things are going to be the same in Iran. His clinical depression doesn't exactly help matters, and trying to explain his medication to his grandparents only makes things harder. Then Darius meets Sohrab, the boy next door, and everything changes. Soon, they're spending their days together, playing soccer, eating faludeh, and talking for hours on a secret rooftop overlooking the city's skyline. Sohrab calls him Darioush—the original Persian version of his name—and Darius has never felt more like himself than he does now that he's Darioush to Sohrab.
Adib Khorram's brilliant debut is for anyone who's ever felt not good enough—then met a friend who makes them feel so much better than okay.
Out August 28th.
Mirage by Somaiya Daud
In a world dominated by the brutal Vathek empire, eighteen-year-old Amani is a dreamer. She dreams of what life was like before the occupation; she dreams of writing poetry like the old-world poems she adores; she dreams of receiving a sign from Dihya that one day, she, too, will have adventure, and travel beyond her isolated home.
But when adventure comes for Amani, it is not what she expects: she is kidnapped by the regime and taken in secret to the royal palace, where she discovers that she is nearly identical to the cruel half-Vathek Princess Maram. The princess is so hated by her conquered people that she requires a body double, someone to appear in public as Maram, ready to die in her place.
As Amani is forced into her new role, she can't help but enjoy the palace's beauty—and her time with the princess's fiancé, Idris. But the glitter of the royal court belies a world of violence and fear. If Amani ever wishes to see her family again, she must play the princess to perfection…because one wrong move could lead to her death.
Out August 28th.
Want more "3 On A YA Theme" posts? Gotcha covered.