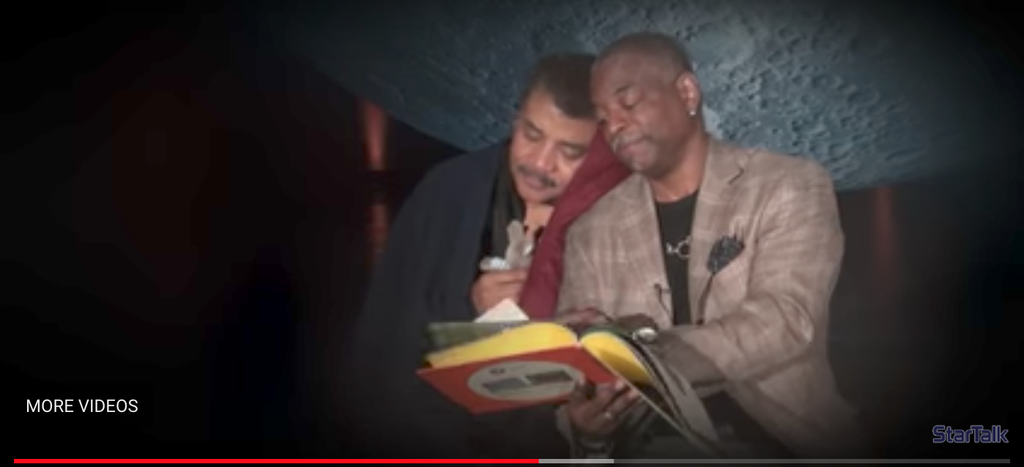 LeVar Burton Reads 'Goodnight Moon' To Neil DeGrasse Tyson: Critical Linking, October 10
Sponsored by All The Wind In The World By Samantha Mabry
---
Of course, ever the scientist, Tyson couldn't help but ponder questions raised in the story.
"Levar? You think when the cow says 'Moo,' he's really saying, 'Mooon'?"
The complete video, which appears below, will make anyone feel snuggly.
This video of LeVar Burton reading Goodnight Moon to NDT is everything.
---
Now, after developing a cult following, Ms. Okorafor's gritty, unconventional fantasies are catching on with a much larger, mainstream audience. Her novel, "Who Fears Death," which is set in a postapocalyptic Africa, has been optioned as a series by HBO, with George R. R. Martin signed on as an executive producer. She's writing a three-issue arc of Marvel Comics's Black Panther series, as well as a Marvel comic based on her character Ngozi, a Nigerian teenage girl who is "bonded to the alien symbiotic organism Venom."
A great profile of Nnedi Okorafor.
---
All three of the books affirm a single, discomfiting truth: the rage-filled American present is at war with the American past, each side prone to slanderous fits and discarding facts that don't suit them. In the midst of this squabble is Amazon, a corporate giant whose stars can anoint or destroy, whose silence can doom one book of history, redeem another and provide a third with a venue to convert conspiracy into history. With the truth rendered tenuous, stars on Amazon take its place, making reviewing a political act for a divided polity. Even weeks after its publication, no one agrees on What Happened and Clinton's ability to assess her own past. But in post-truth America, the truth that becomes history may well be decided by star-rating.
A look at how Amazon is the new battlefield of American politics.