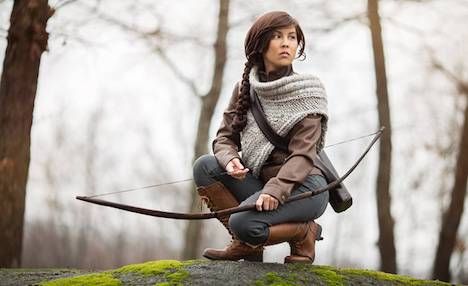 Lists
31 Amazing Literary Halloween Costumes
This content contains affiliate links. When you buy through these links, we may earn an affiliate commission.
It's that time of year again. The time of falling leaves, pumpkin spice lattes, and everyone and their mother asking about your Halloween costume. But this year, Book Riot has you covered! I've rounded up some of the best, cutest, most clever and creative literary costumes from around the web. So if you're looking to be the best dressed bookworm on the block this October, look no further! Check out these 31 absolutely amazing literary Halloween costumes.
2. This amazing Maze Runner costume.
Algumas fantasias de Halloween baseados em Maze Runner (via MazeRunnerWW) pic.twitter.com/YMyAZITeug

— Maze Runner Brasil (@TheMazeRunnerBR) October 31, 2014
5. This lovely Cap from .
6. This eerily spot-on costume.
8. This victorious Tyrion Lanister from .
9. Veruca Salt and Mike Teavee from .
10. This precious little Max from .
11. Buttercup and Westley sharing a moment of "twue wove" from .
12. Effie Trinket serving up a stunning look from .
source: brit.co
13. Alanna and Marko, the badass duo from .
14. A very .
16. This adorable group costume.
17. , she'll make an excellent Halloween costume.
18. This perfect little .
19. Don't Panic! This costume will have you prepared for anything.
22. This zombie-killing Elizabeth Bennet from .
My Pride+Prejudice+Zombies costume. #prideandprejudiceandzombies pic.twitter.com/pVnzOLYmTE

— Danielle Price (@daniprice007) November 3, 2015
23. These fun costumes.
24. These eerie costumes.
25. The most precious little .
https://www.instagram.com/p/BJaGPFngHfs/
26. The gang from .
27. This awesome Ms. Frizzle from .
28. This ready Katniss.
29. This adorable little .
30. This creative Karou costume from .
31. And a very playful .
And if that wasn't enough costumes for you, check out some other Halloween costumes for bookworms and these 14 bookish Halloween costumes for kids.