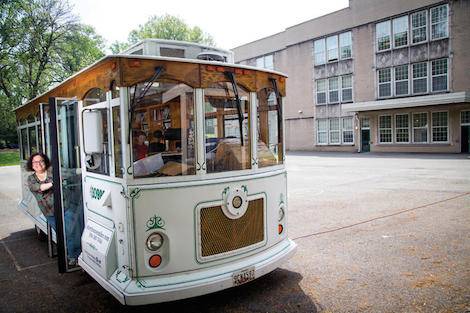 A Book Trolley For Young Readers: Critical Linking, September 3, 2017
Sponsored by Mask of Shadows by Linsey Miller

---
Cohen, 49, maneuvers the 26-foot Story House, which debuted this spring, into and out of her Rockville driveway and around the county. The rolling bookstore's nearly 1,500 volumes for children and young adults are rearranged depending on where the trolley's making an appearance: science fairs, synagogues, birthday parties, book festivals. Cohen talks of one day pairing with a food truck or one that sells coffee and rigging a canopy over a "patio" where customers could hang out. Like at a "real" bookstore.
Imagine being a kid who has access to a book trolley. This is awesome. 
____________________
6. FRENCH
If the French have had too much wine, they might hoquet. The –et, a diminutive ending found in English words like gullet, likely influenced the earlier English hicket.
7. SPANISH
In Spain, you get a bad case of the hipos.
For the word nerds: how you say hiccup all over the world. 
____________________
Amazon reviews are known for being hit-and-miss, sometimes being more useful for comedy value than actual information, but that's not always the case – after all, it makes sense to take the approach of relying on the wisdom of crowds if you're out of ideas.
With that in mind, this breakdown of the top 10 books of the year, according to Amazon, might well be a solid guide for those of you looking for something new to read. The list first appeared on Business Insider, and we have taken a look at some of the user reviews to get more of an idea of what those who love the books are saying about them.
Some ideas for your next read, according to Amazon's reviews. It's a pretty solid list. 
____________________
With summer in full swing, it's time to contemplate how our resolutions have fared in the new year. For those of us who resolved to read more, now might be the moment when we must come to terms with the fact that we read one novel really, really quick — and let the rest of the year swallow us whole. Life, we might be feeling, is just too busy to read more. Au contraire, friends. Life is busy — totally true. Still, there are always ways to squeeze more time out of the day, and when the purpose of that squeezing is reading, I bet you'll be up for the corseting.
You can sneak more reading into your day starting … now.
Nothing especially new here, but lists about how to get more reading into your life are always worth a share.