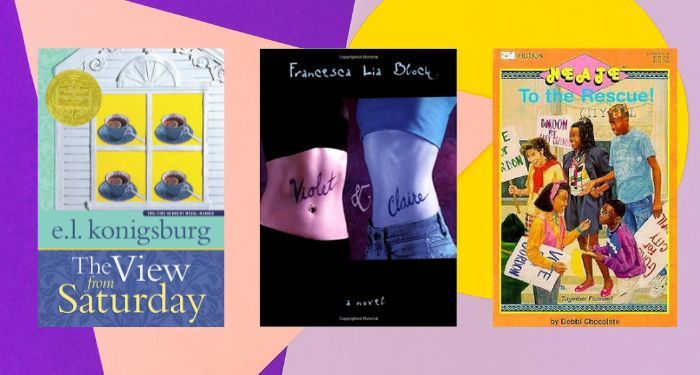 Lists
'90s YA Books That Should Be Adapted
This content contains affiliate links. When you buy through these links, we may earn an affiliate commission.
I love the '90s. I grew up in the '80s and '90s, and nothing gets me more nostalgic than stumbling on social media posts about things like Lisa Frank, Trapper Keepers, the Delia's or Alloy catalogs, or Scholastic Book Fairs. Speaking of books, there are so many books from the '90s that I think of often, and some have even floated around in my head for way longer than they should have, before I was able to finally remember the title of the series. I read series like The Fabulous Five, Sleepover Friends, Friends-4-Ever, Camp Sunnyside Friends, The Girls of Canby Hall, Cheerleaders, The Gymnasts, Sweet Valley High, The Party Line, Freshman Dorm…just writing that list makes me want to peruse the listings on Etsy and ebay.
Over the years, various '90s series and books have been adapted for television or movies — Sweet Valley High, Freshman Dorm, The Perks of Being a Wallflower. When The Baby-Sitters Club debuted on Netflix, so many people on my friends lists on social media were over the moon. The updates to the stories and the more inclusive storylines made the beloved series even better, and I know it made me nostalgic for those afternoons with my grandparents, trying to narrow down which book I was going to choose. I feel like many of the books that I remember from the '90s — although I'm not sure how the writing would hold up today — might make great television or movie adaptations, albeit with some updates.
Let's take a trip down memory lane, shall we?
Do you have a favorite '90s YA series or book you'd like to see adapted? For even more '90s bookish goodness, check out this post on '90s series you probably forgot about, and this post about must-reads from the '90s.