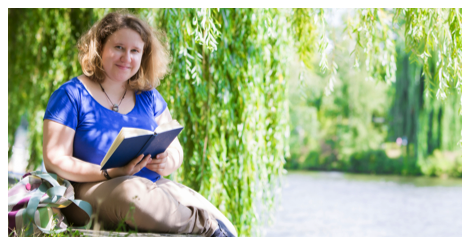 This content contains affiliate links. When you buy through these links, we may earn an affiliate commission.
If you're a regular romance reader, the letters BBW are probably familiar to you, even if you've just seen them pop up in an Amazon search. For some book professionals, BBW is short for Banned Book Week, which often makes us romance readers who are also book professionals cringe a little bit. When we see the letters BBW, there's only one phrase we think of: Big Beautiful Women.
The BBW category is growing rampantly in romance, particularly with self- and small-publishing. A few larger presses have been known to produce one or two romance series in which one or two of the lady love interests might be overweight, but it's not nearly the same. They will rarely have anything in the description directly related to the heroine's size; sometimes, we might think from the description that she's being coded as fat, but really she's just a touch overweight and has a thing for chocolate or donuts. These women aren't fat. They're "curvy."
The books I've pulled together are a combination of fat women; some of them are more cool with their bodies, while others are less happy with their size, appearance, and general life experiences. Some stories bring the heroine's size to the forefront, while others make it simply part of the heroine's life. But they all have authentic representations of fat women both in the United States and beyond. And that representation helps, as one Rioter wrote earlier.
Martha Aguas works for an accounting firm in Manila, and is who everyone knows to be the fixer. Family members and colleagues alike go to her. She's a confident, large woman who knows how to dress and get around and won't hesitate to speak her mind—usually. But when she has to call in her BFF to pretend to be her boyfriend, she has to move into unknown territory.
Ellis is tired of everyone trying to control her size. If she wants a cookie, she's going to have one. Because she's newly single and ready to encourage women just like her to love their bodies—and dress them well. When she runs into her sister's ex-boyfriend, Mike, after an encounter with another person with "good intentions," he doesn't recognize her, but she definitely remembers him. And he is just as attractive as he ever was.
Devin needs money to help out his family, and Lilly's got it. Her grandmother has left her a millionaire, and she'd love to drop her plentiful funds on someone besides herself. Her family is bewildered by her interest in working and less-than-expensive things, but she wants nothing more than to be normal—and that includes being a "normal" size. When she proposes an arrangement to Devin that works for the both of them, he can't resist the cash. And eventually, he finds he can't resist her either.
This second book in the Brothers Sinister series is one of my favorite historical romances ever. (It probably has more to do with how it made me feel on a day I was sick than anything else, but still; if you haven't at least heard of this series, where have you been?) Miss Jane Fairfield is what you would call "plump" and not particularly attractive to her potential suitors. The latter is of her own making: she is doing her best to deter any potential suitors by making her solid body even less attractive by covering it in horrible dresses (among other things). Enter Oliver Marshall, who becomes a surprising ally.
Bet Me by Jennifer Crusie
I include this book because Min Dobbs is touted as a favorite overweight heroine, even though she's more known for her high heels and what her wearing them does to betting nemesis Cal Morrisey. The banter and clever characters are really what draw you to this (or most of Jennifer Crusie books), but you'll stay to find out how they'll reach the end.
Much like Miss Fairfield, Penelope Featherington is also "plump" (a phrase I've seen a number of times in Regency and Victorian historical romance). She, however, isn't doing any work to not get married; it's just sort of happening that way. With a few changes to her wardrobe she could look less like a tomato, as she's well aware. Colin Bridgerton is a family friend, but has no idea he's the man of her dreams. Maybe this season will be different.
Beast by Pepper Pace
It's easy to ignore Pepper Pace's less-than-stellar writing because her characters are just so wonderful. Ashleigh is a large woman who has issues with body-image and self-esteem. When she decides she's going to get herself in shape, she meets Christopher, who his fellow Marines call Beast, in the basement gym in the building where they both work. Christopher, nearly seven feet tall and built like a house, also has facial deformities that make him hide his face more often than not. The two become friends, and things go from there. But her issues with food could become more than a small problem.
Wishes by Jude Deveraux
I love this book. It is one of the very small number on my reread list, and it's been on it for half my life (though since it was written in 1991, it might not read quite as well now as it did before my feminist awakening). Nellie is, let's face it: a doormat. She does everything for a family who does nothing for her in return, and she knows it. She's overweight, but the man who ends up slowly falling in love with her has no issue with that. Who does? Her fairy godmother from "the future."
Okay, so Devi is one of those fat heroines who is more fit than fat, but she has weight issues (and her family doesn't help). She is also a chef, which doesn't help on either side. When Jace Callahan expresses interest in her, his twin Marcus—who he always shares sexual partners with (what?)—is less inclined, as he can tell his brother is interested in more than a night with the voluptuous beauty.
***
Obviously, these are not the only romances that exist in the world with fat heroines, and there are obvious gaps. I've read more lesbian romances with ballerinas than I have with heroines who are even coded fat using terms like "shapely," "voluptuous," or "curvy." Who is your favorite fat heroine in romance?