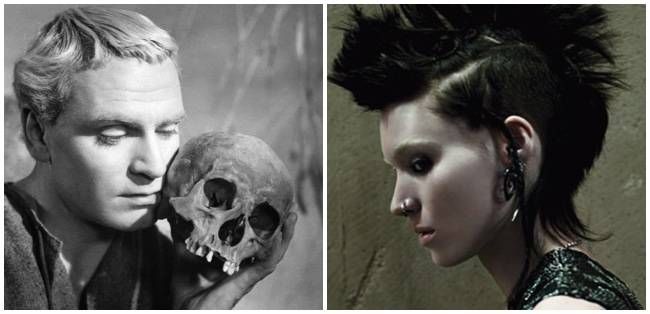 Lists
9 Literary Halloween Costumes from the Lazy to the Committed
This content contains affiliate links. When you buy through these links, we may earn an affiliate commission.
It's October, and that means our thoughts are turning to costumes that will really turn heads. And I don't mean turn heads in the look-I'm-a-sexy-lumberjack-or-vampire-nurse sense, I mean the look-I'm-a-nerdy-book-reference sense. In other words, let's talk literary Halloween costumes.
However, I also realize there is a continuum of Halloween commitment. So whether you're lazy about the spooktacular time of year (like me) or super committed to the ghostly cause, I've got some options for you.
Lazy Costumes
1. Bartleby, "Bartleby the Scrivener." Dress all in black and respond to any request with, "I would prefer not to." Remember not to partake of party snacks and drinks — Bartleby, of course, prefers not to eat. (If anyone successfully guesses your costume, you should probably marry them?)
2. J. Alfred Prufrock, "The Love Song of J. Alfred Prufrock." Part your hair behind, wear your trousers rolled, and grab a peach from the grocery store. Ask anyone who comes within earshot if you dare to eat it.
3. Hamlet, Hamlet. Dress all in black and complain about your uncle, a lot. Every so often, scream and jump up in the air, and then tell anyone who asks that you're pretty sure you just saw your father's ghost. Bonus points for affecting a private school accent and talking a lot about ear poison.
Medium-Effort Costumes
1. The narrator from "The Raven." Hit a toy store and buy a stuffed black bird. As the evening gets later, appear increasingly frustrated with the bird's inability to answer your questions. Ask every woman at the party if she's Lenore. Throw the bird at the drapes for dramatic effect.
2. Jonathan Franzen. All you need for this costume is to wear an old fleece jacket, announce how much you didn't pay for it a lot, and no cell phone. If you look at Twitter, you've failed. However, you can next-level this: find some small children who can play your adopted Iraqi orphans for the evening — be sure to grow increasingly bored with them as the evening progresses, and then leave them somewhere.
3. Hester Pryne, The Scarlet Letter. All you really need for this costume is a red letter A cut out of bristol board, but you can push it a step further by pairing it with a demure and modest frock. Don't forget to wear all the hypocrisies of your society on your shoulders.
Hard-Core Commitment Costumes
1. Lisbeth Salander, Millennium Triology. Ok, so it doesn't sound like much on the surface, right — all-black clothing, some faux facial piercings, and a Swedish accent. But it kicks up to a high-commitment costume when you shave off your eyebrows to match her look. Do you dare?
2. Nick Bottom, Midsummer Night's Dream. Ok. So. You need a papier-mâché donkey head, which might take a little work. But once you've got that, this is a great costume. It's even a great group costume if you've got a friend to play Puck and put the head on you at an opportune moment.
3. Miss Havisham, Great Expectations. You'll need a thrift-store wedding dress, the palest make-up you can find, and a willingness to die your hair grey for the evening. Cake the super pale make-up on think enough so your skin takes on a waxen quality. Remember to move like a cross between a waxwork and a skeleton. Polish up your misandry and rock some gendered snark for the night.
I know you've got some great costumes up your sleeves, Rioters. Share them in the comments!