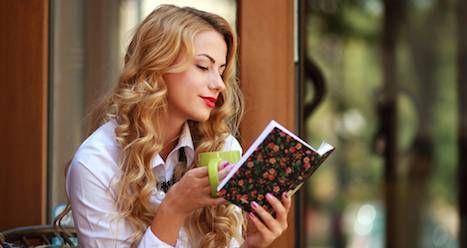 This content contains affiliate links. When you buy through these links, we may earn an affiliate commission.
Like so many of us, I was raised on Judy Blume books. I cringed at the thought of wearing a back brace like Deenie. I devoured Are You There, God? It's Me, Margaret , but never understood why anyone would actually want to get their period. And shortly after taking sex-ed, my mom left a copy of Forever on my bed. I'm twenty-eight now, and these books that I loved growing up are still surprisingly relevant to my life. Here are nine quotes from the queen of adolescent angst that still totally apply in my twenties.
It's not so much that I like him as a person God, but as a boy he's very handsome. – Are You There, God? It's Me, Margaret
Maybe he says he "wants a woman he can treat like a queen" (code for serial killer) or has more than one picture of himself holding a dead fish … but beautiful eyes or a nice smile still might get me to swipe right. When will I learn?
"If being in love means giving up your freedom, not to mention your opportunities," Caitlin said, "Then I haven't missed anything." – Summer Sisters
Sorry married friends, but the end of wedding season I want to write this across my forehead. And even though I kind of believe it, just like Caitlin, this belief covers up more than a little bit of insecurity that I haven't fallen in love yet. Sigh…
It's funny how you can grow away from your friends, when just a few years ago they were the most important people in your life. – Forever
When I graduated college, I thought my group would be my best friends forever. Despite them being so important to that time in my life, most of them aren't my main people anymore. I still stalk the heck out of them on instagram and snap back into inside joke/bff mode whenever we do get together.
I can't let safety and security become the focus of my life. – Tiger Eyes
I was the squarest of square teenagers, but am trying to stray away from that persona in my twenties. From taking the subway alone to quitting my salaried job to travel and explore writing, I've only become more adventurous in the last decade. Thank you Tiger Eyes for some excellent advice!
After I read the note I said, "Ha ha…" remembering that my mother told me a person should always be able to laugh at herself. I tried to laugh as hard as the rest of the kids to show what a good sport I could be. – Blubber
Mean girls aren't just for middle school. More than once I've hidden my true emotions and tried to smile and laugh along to pretend my feelings weren't hurt.
Just enough to remind Winnie that her best friend in the whole world was gone and wouldn't be back. There was nothing she could do about it. This was, without a doubt, the loneliest, saddest, most horrible week of her whole life! – Iggie's House
Your twenties can be a transient time. People move for jobs, relationships, family reasons. I've moved five times since college. This summer, I freaked out when my roommate was away for two weeks. I don't know what I'd do if she moved to Japan, like Winnie's best friend does in this book.
It's strange, but when it comes right down to it I never do fall apart — even when I'm sure I will. – Forever
From breaking up with friends to breaking my lease, there were so many things I never thought I'd get through. Even though things get messy and I spend a lot (and I mean A LOT) of time crying on the subway, I always do. So far.
Wait a minute, I told myself. I can't believe I'm thinking this way, as if my five-year-old brother knows more about cool than me. Since when is he the expert on cool? Since when is he the expert on anything? – Double Fudge
My sister was cooler than me at age five and at twenty-five. Just like Peter, I'm perpetually doomed to have a cooler younger sibling –especially when it comes to picking out shoes.
Later, when nobody was looking, I snitched a piece of cake off the floor. Even though it had fallen apart it was still delicious. – It's Not the End of the World
The five second rule is definitely dubious, but cake is cake. As long as no one's around to see me eat off the floor, then it didn't really happen. Right?