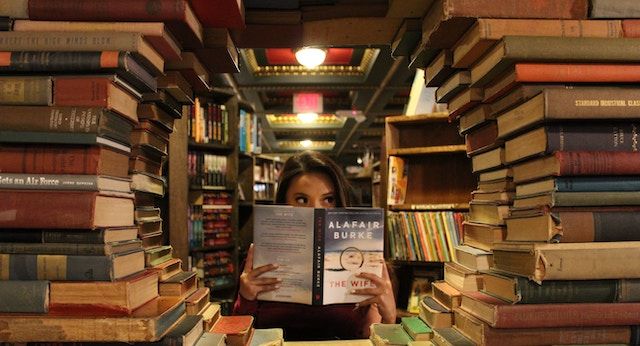 Critical Linking
8 Of The Coolest Independent Bookstores In The US: Critical Linking, September 1, 2019
Critical Linking, a daily roundup of the most interesting bookish links from around the web, is sponsored by Book Riot. Shop Book Riot's bookish summer faves here!

---
"Bookworms, assemble! We're taking a look at some of the most fabulous independent bookstores in the United States. Though they run the gamut from cozy and cluttered to spacious and bright, they do happen to have one very important thing in common: They're all well worth a visit.
Pack up your favorite tote with reading glasses, bookmarks, and pens because we're about to visit eight of the coolest bookstores in the country."
These aren't your usual suspects, either!
---
"While not having any adults was the general rule, some still made it into the strip. Aside from occasional off-panel comments in the early 1950s, Schulz drew a pair of adult legs in two 1954 strips set at a golf tournament. In another 1954 strip, two adults can be seen from a distance, though their faces are blurred. Other times, Schulz would depict adults in a more roundabout manner. In a 1964 strip, the reader sees a drawing of an adult composed by Linus. In a 1999 strip, Schulz depicted the Washington Crossing the Delaware painting by artist Emanuel Leutze. Photographs of Dwight D. Eisenhower and World War II correspondent Ernie Pyle have also run in the strip to commemorate D-Day and Veterans Day, respectively."
I hadn't thought about how Snoopy and Woodstock were stand-ins for adults.
---
"Regardless, Harbison says that SPL and other libraries are spending "millions of dollars a year" on e-books and e-audiobooks, which are already sold to libraries at disproportionally higher price points compared to retail markets. An e-book version of a new release typically costs libraries double what they pay for physical copies of the same title, and that's not counting substantial discounts that libraries get for buying large volumes of physical copies, which are of course not offered in the e-book market.
Macmillan's policy change, Harbison argues, will ultimately reduce the quality of the collection the library can build. As e-books get more expensive, they'll be forced to buy fewer titles, which will erode the depth and breadth of the materials the library can offer."
Libraries will be fighting with the big publishers for a while over their terrible policies for ebooks.