Nonfiction
8 Adult Coloring Books That Are In a League of Their Own
This content contains affiliate links. When you buy through these links, we may earn an affiliate commission.
Happy National Coloring Book Day, everyone! We've done posts about coloring books based on novels, coloring books that are full of profanity, and more. But the following eight coloring books aren't on any list, because they're in a league of their own. Whether due to their subject matter, their eccentricity, their art, or their storytelling, here's a list of wonderful coloring books that don't quite fit in any category but deserve to be listed.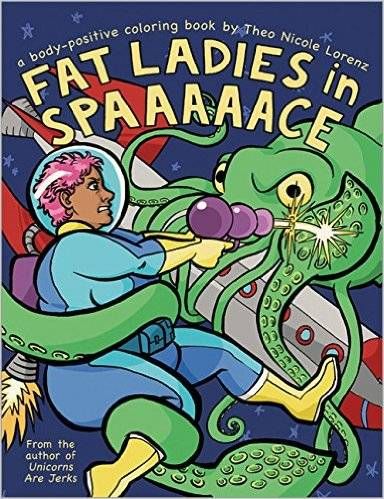 Fat Ladies in Spaaaaace: A Body-Positive Coloring Book
What can I even begin to say about the coloring book creations of Theo Nicole Lorenz? Their books also include Dinosaurs With Jobs, Mer World Problems, and Unicorns Are Jerks. The illustrations are simple but fun and will bring you everyday joy.
Color At Home: A Young House Love Coloring Book
Do you love House Hunters? Is interior design your jam? Well, believe it or not, there is the perfect coloring book for you. Rid yourself of your anxiety by coloring in really complex designs of built-in bookshelves, gallery walls, a whole page of chairs, or a gorgeous living room.
The Art of Nature Coloring Book: 60 Illustrations Inspired by Vintage Botanical and Scientific Prints
This book is full of gorgeous, vintage illustrations of flowers and animals. This book is best for people who aren't into the intricate part of adult coloring books—the designs are simple, and pre-shaded, which means you can focus on the soothing sound of your colored pencils with a beautiful, artistic result.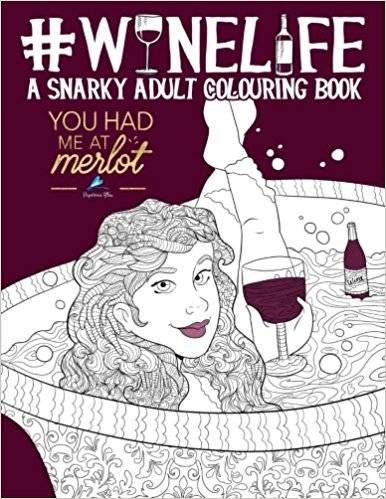 Wine Life: A Snarky Adult Coloring Book
Each two-page spread includes a beautiful quote about wine and an accompanying illustration of people enjoying wine. Color in pages as you celebrate coloring by drinking wine. Papeterie Bleu also makes coloring books in a similar style, such as Mom Life, Teacher Life, and even Taco Life.
Celestial: A Colorable Zodiac Journal
This is part-journal, part-coloring book, and part-absolutely-gorgeous. Gabriel Picolo has drawn beautiful, whimsical designs of each sign as well as their constellations to create a truly beautiful book that will become a beloved item for any astrology fan.
Ukiyo-e: A Japanese Woodblock Coloring Book
The illustrations in this book are simply gorgeous, and are based on the art of Japanese woodblock printing, known as ukiyo-e ("pictures of the floating world"). Reviewers say that the illustrations are really intricate, beautiful, and reflect the ancient style well.
The Mysterious Library: A Coloring Book Journey Into Fables
There are many coloring books around a fairy tale theme, but this one tells a fantastic story: a young woman discovers a strange library in the forest, and when she picks up a book, is transported into a world where she has to wander through fables and fairy tales from Cinderella to Hansel and Gretel to find a key to get her back home.
The Llama Sutra: An Off-Colour Adult Colouring Book: Lecherous Llamas, Suggestive Sloths & Uncouth Unicorns In Flagrante Delicto
Okay. Look. I can't explain this coloring book. It is clearly not child appropriate—although reportedly it is suggestive but not actually explicit, just for the record. According to the reviews, yes, it's funny, but it's also actually a good coloring book, with heavy paper and intricate illustrations. Who would have thought…
What's your favorite coloring book? Let me know in the comments.