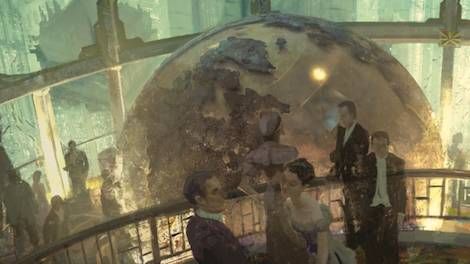 Lists
8.5 Great Video Game Tie-In Novels
This week's Book Fetish on video game tie-in novels is sponsored by The Legend of Zelda™: Art & Artifacts.
The Legend of Zelda™: Art & Artifacts contains over four-hundred pages of fully-realized illustrations from the entire thirty-year history of The Legend of Zelda™including artwork from the upcoming The Legend of Zelda™: Breath of the Wild! This book includes rare promotional pieces, game box art, instruction booklet illustrations, official character illustrations, sprite art, interviews with the artists, and much, much more!

* Select artwork from the entirety of the franchise!

* A nostalgic look at the past!

* An exciting look at the future!

* Interviews with some of the artists behind The Legend of Zelda™ series!
---
There are plenty of stereotypes that would have you believe gamers are the last people to pick up books, but it just isn't true! For as long as there have been video games, there have been video game tie-in novels. The most popular and iconic games are often filled with vibrant history, characters, and lore – all things perfect for great books. From New York Times bestsellers to elaborate series, there's a lot to explore. Here are nine great video game tie-in novels, and one novella, to get you started.
ICO: Castle in the Mist by Miyuki Miyabe
ICO is one of the most famous video games in history, but actually seems like a tough fit for a novelization. If you've played the game built largely around puzzles and the form of gameplay called 'platforming,' you might have many reasonable doubts. Reasonable, but wrong. Castle in the Mist is a lovely, atmospheric fantasy adventure that stands on it's own, without ever losing the feel of the game.
Halo: The Fall of the Reach by Eric S. Nylund
This list wouldn't be completely without a Halo novel. Chances are that even if you aren't a gamer, you know about Halo. The franchise is as large as it is popular, and the books are no exception. There is some argument over which Halo novel is the best, but when in doubt, start at the beginning. This was the first Halo novel, and though it got off to a slow start, it's continued sales led to contracts for the three more.
Bioshock: Rapture by John Shirley
The game Bioshock had one of the most fascinating, mysterious backstories many gamers had ever come up against. The player understands more and more about the underwater utopian city of Rapture and it's downfall as they explore the game, but Bioshock: Rapture goes all the way back to the beginning. Like the game, this is a story meant to be uncovered bit by bit, so I won't spoil too much. Hopefully, a bunch of rich and accomplished people trying to establish the perfect city under the sea is enough to intrigue you.
Mass Effect: Revelations by Drew Karpyshyn
Mass Effect was the first game that ever sent me digging for a video game tie-in novel. Mass Effect's success has always been credited in large part to it's moving story and fantastic characters, so it's a natural fit for a book. Revelations is a prequel to the first game, focusing largely on the history of the Mass Effect 1's villain. Largely the favorite among fans, it also makes a a great read for any sci-fi fan.
Tom Clancy's Splinter Cell by David Michaels (Raymond Benson)
Ubisoft's various 'Tom Clancy' games are not actually worked on in anyway by Clancy, his name is more of an endorsement. Likewise, the books for this series are actually written by a variety of authors, David Michaels is a pseudonym Ubisoft uses for most of it's tie-in novels. The actual author of the first book, however, has a reputation all his own – Benson was the official author for James Bond for several years. The book is just what you'd expect, in the best way, delivering a satisfying, page-turning spy story.
Assassin's Creed: Brotherhood by Oliver Bowden
I admit I was skeptical about this one. I have my issues with the Assassin's Creed premise, so I was worried that without gameplay I wouldn't be interested. To my surprise, it turns out that without gameplay I had an easier time with the story. Because Brotherhood is a novelization of one of the Assassin's Creed games, rather than a sequel or prequel, it requires no real prior knowledge of the games. Sometimes a direct novelization can turn out stale, but because Ezio is one of the most interesting protagonists of the games, this fleshed out version of his story is satisfying.
Knee Deep in Dead, Doom by Dafydd ab Hugh, Brad LinaWeaver
Doom should not work as a novel, but this completely retro action romp is some of the most fun you'll have. This novel does a rare and beautiful thing – it delivers great, monster fighting mayhem without trying to shoehorn in deeper philosophical meaning. Also – look at that cover. That is a badass cover.
Alan Wake by Rick Burroughs
A novelization of a video game about a crime novelist. That's just cool. The game Alan Wake, about a writer who's wife disappears, was a huge critical success and indie darling, lauded for it's devotion to the art of storytelling. It is beautiful and fascinating and creepy – and scared the absolute dickens out of me before I ever managed to finish. This book was the perfect for me to find out what happens even though I'm too chicken for the game itself. Well written and maintaining all the suspense and action that made the game a success, this is a great novel even if you've never picked up a controller.
Infinity Blade: Awakening by Brandon Sanderson
Last, but not least, is this novella from the iconic Infinity Blade franchise. I'm not always into tie-in novellas, they can feel like cheap ways to fill game plot holes. But when Brandon Sanderson signs up for something I just can't resist. The epic fantasy writer was the perfect choice for this, and proof that video game books can be just as good as any main-stream book.
What are your favorite video game tie-in novels? Check out more of the intersection between books and games here.