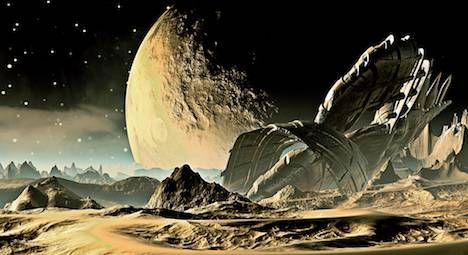 This week's Riot Recommendation is sponsored by Ninth City Burning by J. Patrick Black.
Entire cities disappeared in the blink of an eye, leaving nothing but dust and rubble. When an alien race came to make Earth theirs, they brought with them a weapon we had no way to fight. It seemed nothing could stop it—until we discovered we could wield the power too.
Five hundred years later, the Earth is locked in a grinding war of attrition. Civilization revolves around supporting the Legion to take on the aliens. But the enemy's tactics are shifting. As a terrible new onslaught threatens the end of our world, heroes will rise from unlikely quarters…and fight back.
---
We asked and you answered the call.
For those who love science fiction, we hope you find a new thing or two on this round-up of reader's favorite works. For those of you who are new or eager to try out the genre, you can do no better than begin here.
Enjoy more than 77 Riot reader favorite works of science fiction:
Ascension by Jacqueline Koyanagi
"Ancillary Justice" Series by Ann Leckie
Aurora by Kim Stanley Robinson
Bloodchild and Other Stories by Octavia Butler
Brown Girl in the Ring by Nalo Hopkinson
A Canticle for Leibowitz by Walter Miller Jr.
Carnival by Elizabeth Bear
Cat's Cradle by Kurt Vonnegut
The Caves of Steel by Isaac Asimov
China Mountain Zhang by Maureen F. McHugh
City by Clifford Simak
Cloud Atlas by David Mitchell
Contact by Carl Sagan
Dawn by Octavia Butler
"Declaration" Trilogy by Gemma Malley
The Dervish House by Ian McDonald
The Diamond Age; Or, a Young Ladies Illustrated Primer by Neal Stevenson
The Dispossessed by Ursula Le Guin
Do Androids Dream of Electric Sheep by Philip K. Dick
The Doomsday Book by Connie Willis
Dune by Frank Herbert
Elysium by Jennifer Marie Brissett
Ender's Game by Orson Scott Card
Fahrenheit 451 by Ray Bradbury
"Fairyland" series by Catherynne Valente
Feed by Mira Grant
A Fire Upon the Deep by Vernor Vinge
Fortune's Pawn by Rachel Bach
"His Dark Materials" trilogy by Phillip Pullman
Hitchhikers Guide to The Galaxy by Douglas Adams
Hydrogen Sonata by Iain M. Banks
Illuminae by Amie Kaufman and Jay Kristoff
John Carter of Mars by Edgar Rise Burroughs
Light by M. John Harrison
The Long Way to a Small, Angry Planet by Becky Chambers
"Lunar Chronicles" series by Marissa Meyer
"Maddaddam" trilogy by Margaret Atwood
"Mars" Trilogy by Kim Stanley Robinson
The Martian by Andy Weir
The Martian Chronicles by Ray Bradbury
Mirror Dance by Lois McMaster Bujold
My Real Children by Jo Walton
Neromancer by William Gibson
Never Let Me Go by Kazuo Ishiguro
Next by Michael Crichton
Old Man's War by John Scalzi
A Princess of Mars by Edgar Rice Burroughs
The Postman by David Brin
The Quantum Thief by Hannu Rajaniemi
Ready Player One by Ernest Cline
Rendezvous with Rama by Arthur C. Clarke
"Saga" series by Brian K. Vaughn
A Scanner Darkly by Philip K. Dick
Seveneves by Neal Stephenson
"Shadow Children" Sequence by Margaret Peterson Haddix
"Sirantha Jax" series from Ann Aguirre
Software by Rudy Rucker
The Sparrow by Maria Doria Russell
The Stars My Destination by Alfred Bester
Station Eleven by Emily St. John Mandel
Stealing Light by Gary Gibson
Stranger in a Strange Land by Robert Heinlein
"Tao" series by Wesley Chu
These Broken Stars (Starbound Series) by Amie Kaufman and Meagan Spooner
The Three-Body Problem by Liu Cixin
Tin Soldier by Joan D. Vinge
To Say Nothing of the Dog by Connie Wills
The War of the Worlds by HG Wells
Warchild by Karin Lowachee
Watchers by Dean Koontz
The Word for World is Forest by Ursula Le Guin
Who Fears Death by Nnedi Okorafor
A Wrinkle in Time by Madeleine L'Engle
A Working Theory of Love by Scott Hutchins
"Xenogenesis" trilogy by Octavia Butler
Zazen by Vanessa Veselka
Zeroboxer by Fonda Lee