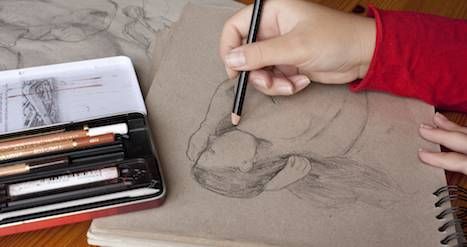 Lists
7 Reasons Why More Adult Books Should Be Illustrated
This content contains affiliate links. When you buy through these links, we may earn an affiliate commission.
Some of the most unforgettable elements of our childhood books are the images, so why don't we see images in adult books that often? You can justify the lack as a style choice or a loyalty to the power of text, but once you see an adult text with some illustration supporting the plot, it's hard to argue against it. Here are seven reasons why:
1. Alice's Adventures in Wonderland was not intended to be entirely a kids' book, and the illustrations are what made it visually unforgettable. It's important to see that such illustrations are not for children alone. Yes, adults have a certain maturity built into their imaginations, but this means that unique, stylistic illustrations can only help us be open-minded.
2. Chapter images can produce not just a scene from the book, but an emotional draw. The style of the drawings kept in tune with the story's whimsical yet foreboding plot. Illustration can promote an emotional connection.
3. We see the promise of comic books revealing an emotional response based on the images. You can't forget the images of Maus very easily. Alex Ross's illustration work changed our connection to super heroes and Superman specifically.
4. You have books that incorporate images that are designed to support the plot line while developing a photographic connection with the characters. You can see this in Teju Cole's Every Day Is For the Thief.
5. There are artists out there who could inspire whole books, like Sally Mann's photography and Kara Walker's silhouette artwork.
6. In 2013, Sam Sacks of The New Yorker agreed with me. He notes the fact that Henry James argued against illustration as a threat to the written word. It's an interesting concept to consider– an age-old example comparable to Video Killed The Radio Star, but something we probably don't have to worry about these days when genres can fully overlap.
---
7. Every once in a while, I come across a book that I wish had really fantastic chapter illustrations to demonstrate the author's vision. Claire Vaye Watkins' Gold Fame Citrus could be amazing with black and white line drawings of inanimate objects featured in the story line. Or perhaps a photographic illustration to support the story of the artist in Tahar Ben Jelloun's The Happy Marriage.
And once you open this potential option, so many books could fit this well, from poetry collections to short story collections. Gah! I could wonder about these possibilities forever. Why is it that we ignore the potential power of images?