Sponsored
7 London Novels by Writers of Color: The List List #378
The List List, a weekly roundup of the best bookish lists, is sponsored by Children of Virtue and Vengeance by Tomi Adeyemi, with Fierce Reads.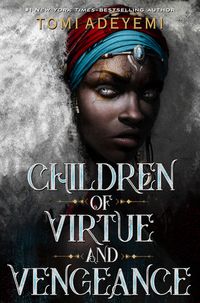 Proclaimed a best book of the year by BuzzFeed, Bustle, NPR, and Paste, Tomi Adeyemi's #1 New York Times-bestselling novel Children of Blood and Bone has taken the world by storm. Entertainment Weekly calls it "a phenomenon" and USA Today says it's "impossible to put down."
Now the phenomenon continues in Children of Virtue and Vengeance, the stunning sequel that everyone is talking about.
---
at The Beat: The Best Comics of 2019
at Bustle: 7 Royal Books By UK Authors To Read When You've Finished 'The Crown'
at Buzzfeed: 16 Must-Read Books By Celebrities You Know And Love
at Crime Reads: Alaska: Northern Noir
at Electric Lit: 7 London Novels by Writers of Color
at Essence: Bring On The Roaring 20s! Here Are The Best Books Of The Decade
at Epic Reads: 16 YA Books With A Shining Crown On The Cover
at Get Literary: Baby, It's Cold Outside: 5 Romances That'll Warm You Up This Winter
at Inc.: The 13 Best Business Books to Give as Gifts, According to TED Speakers
at Lit Hub: 26 Books From the Last Decade that More People Should Read
at PBS: Loved 'The Overstory'? Richard Powers Recommends 26 Other Books on Trees
at Tor.com: All the New Genre-Bending Books Coming out in December!
at SYFY Wire: Five Sci-Fi and Fantasy Books to Add to your December Reading List