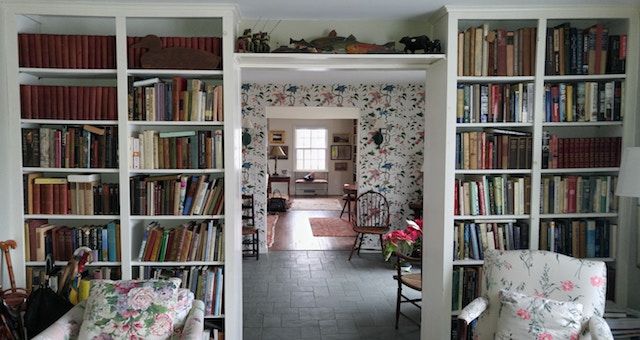 Critical Linking
7 Homes With Built-In Bookshelves Made For Bibliophiles: Critical Linking, August 12, 2019
Critical Linking, a daily roundup of the most interesting bookish links from around the web is sponsored by Book Riot. Shop Book Riot's bookish summer faves here!

---
"Just like finding a book of essays in a public library, you just need to know where to look. And we've made it easy for you—no knowledge of the Dewey Decimal System required. We've stacked up the best homes from coast to coast that are perfect for serious readers: Think rooms filled with built-in bookshelves and custom libraries flooded with natural light. Just a warning: If you buy one of these seven properties, you might never step outside again… of course, until your to-be-read stack gets scarily short or you just want to see what's new at the library."
Willing to live in the cupboard, just let me ogle those shelves for an hour a day.
---
"What I enjoy in a book is vulnerability. I like essays and stories that are socially and politically responsive in a way that encourages nuance and complexity. A good book will enhance who you are and your understanding of the world. It's connecting with the times. And then, after you read the book, you are compelled to have a dialogue and share what you think with others. Any time I read something, my inclination is to share it and to talk about it, whether with a close friend or a colleague or a family member. I want to bring literature into a communal experience."
Hafizah Geter interviewed Glory Edim, the creator of Well-Read Black Girl, the Instagram account and essay anthology.
---
"As this dedicated design lab was being developed, Google vice president and head of hardware design Ivy Ross also had another request for the design team: a library, with actual paper books that her designers could grab and read.
Each designer was asked to bring in six of the most influential books in their lives, and write a line inside the cover about it. Some are rare art and design tomes. Others are children's storybooks and pieces of literature. We asked Google to share a small selection of the library's offerings with us."
1. Google has a secret design lab (or, I guess, did). 2. Here are its team members' 35 favorite books!