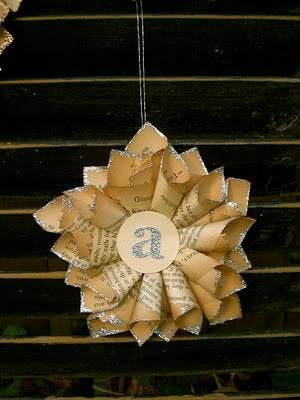 7 Heavenly Holiday Crafts to Make with Books
Like the rest of the sane world, I shuddered when I saw Christmas trees in Lowe's in late August. But now that we've carved the turkey, I'm ready to deck the freaking halls. Give me your radio stations playing Christmas music 24/7, your tacky lights tours, your white elephant gift exchanges, and the holy trinity of Elf, Love, Actually, and National Lampoon's Christmas Vacation. I. Am. Ready.
And I want company! So here are 7 DIY decor ideas to help you ring in the season.
We've featured a book page wreath here at the Riot before. Homemade by Jill recommends adding basic ornaments for a bright pop of holiday color.
https://www.pinterest.co.uk/pin/29484572538552172/
Martha Stewart recommends making this tree with newspaper pages, but book pages would work just as well. You're gonna spray these pages with glue and cover them with glitter, so even an old textbook you'll never use again would work.
Juniper Books offers instructions for several creative bookish menorahs. This one made from vintage books is my favorite–and if you could wax-proof the books, you'd still be able to read them later!
I love these paper star ornaments from That's My Letter. Anyone want to make me an R?
Get yourself a snowflake-shaped hole punch, and get to clipping! These book page ornaments from Always in Wonder are perfect for your winter wonderland.
Take the dust jackets off enough hardcovers, and you're bound to find some green! Open, stack, and drape with lights, berries, tinsel, whatever. You might crack a few spines, but your books will survive mostly unharmed.
This one looks a little work intensive, but it sure is cool! Stack your books, cover them with lights, and live with naked shelves for a few weeks. No instructions provided–the folks at the Cairns Library in Australia made this for patrons–but y'all are clever. I'm sure you can figure it out.