Newsletter 1
7 Different Kinds of Readers: A Parks and Rec Edition
Despite their claims of hating the library and everything about it, we know the Parks and Recreation gang secretly loved reading (and we refuse to accept otherwise). Here's a handy guide to figuring out what kind of reader you are, Pawnee-style.
#1. When you read something you love, you become evangelistic about it, and will not rest until your friends agree that said book is awesome, and validate all the feelings that it is giving you.
God forbid someone insult your fave reads.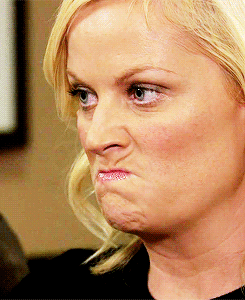 You're a Leslie Knope:
"Why am I reading this?"
"Because I'm almost done with it, Ann! And I wanna talk to you about Patty!"
#2. You have extremely selective taste in literature. You might just make exceptions for books written by "workplace proximity acquaintances," but as a rule, anything you read has to be right bang at the center of your wheelhouse, or it just doesn't make the cut. If a books has "frou-frou" symbolism, you just lose it.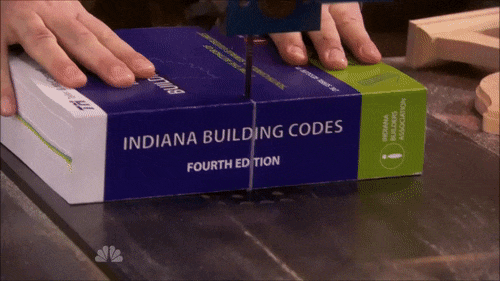 You're a Ron Swanson:
"Usually I only read nautical novels or my own personal manifestos."
#3. If a book doesn't come with a side of vampire romance, it doesn't really deserve your time. People are advised to stay clear of talking about "real readers" around you. What other people like to call "guilty pleasures" is the stuff you live by. How else will you survive your day job?
You're a Donna Meagle:
#4. You will read books that your friends recommend, but that doesn't mean you feel the same way about them as they do. You sometimes have radically different opinions about books, that cause the general public to collectively gasp.
You're an Ann Perkins: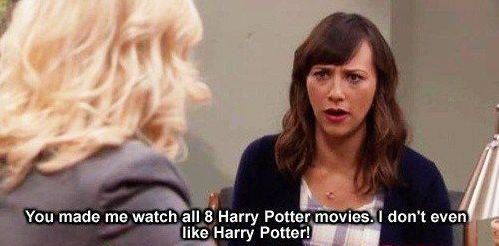 #5. You're the absolute boss of speed-reading. You don't understand what people mean when they claim they don't have time to read. You read on your way to work, you read while doing chores, and you'd read in the shower if they'd just make waterproof books already.
You're a Chris Traeger: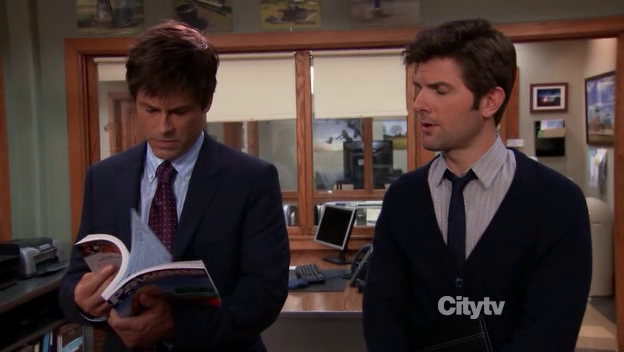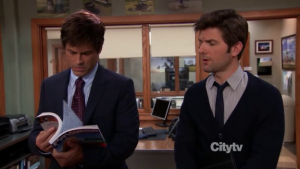 "One time, I read all of Siddhartha at a traffic stop."
#6. If there's a fantasy book series out there, you most definitely own it. When Game of Thrones is on TV, you like to keep your box-set of books handy just so that you can shout out "THAT'S NOT HOW IT IS IN THE BOOK" at regular intervals.
You're a Ben Wyatt: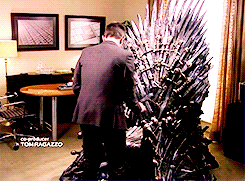 "You know, 'nerd culture' is mainstream now. So, when you use the word 'nerd' derogatorily, it means you're the one that's out of the zeitgeist."
#7. You're a literary taste-maker among your followers. If you recommend a book, people will scramble to read it, and it will show up on bestseller lists everywhere.
You're a Joan Callamezzo (you may or may not be drunk at your book club meetings, though):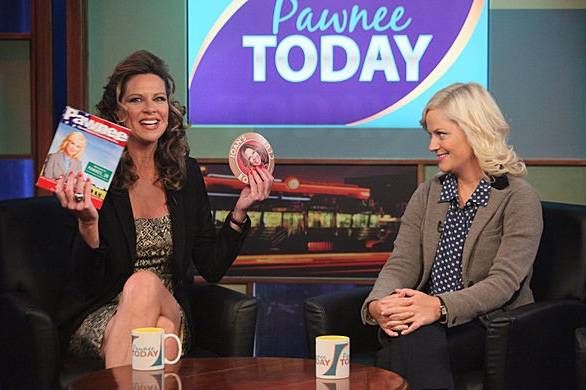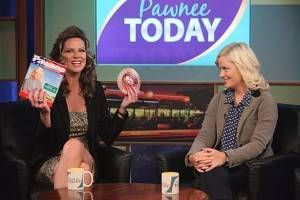 P.S. Am I the only one who thinks The Time Traveler's Optometrist should be a real book?