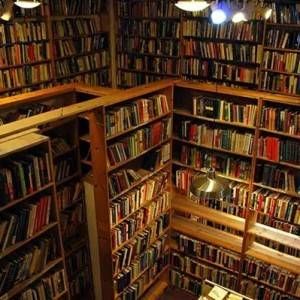 Chicago used to have a huge Borders on the corner of Michigan Avenue overlooking the Water Tower. It was one of many great Chicago bookstores… they had amazing events (I personally saw everyone from Alexander McCall Smith to Candace Bushnell in that event room!), a cafe with views of the city, and pile upon pile of books.
Sadly that bookstore went the way of all Borders, and it's now a multi-level Topshop stuffed with clothes. But that store was only one little part of the Chicago book scene. Borders may be gone but the independent book world in this city is alive and well.
Here are seven cozy Chicago bookstores to check out next time you're in the Windy City and in the mood for some browsing and book buying.
The Book Cellar is one of the best little bookstores in Chicago. They have a great selection of staff favorites and you could spend some happy hours browsing their shelves. They serve both coffee and wine in their cafe (Get it? Book CELLAR. BookSELLER. Get it?) making it an exceptionally great place to sit and read. It's also my very favorite place in the city to attend book events. It's downright cozy.
RoscoeBooks is one of Chicago's newest bookstores – they just celebrated their first anniversary. Book Riot's own Greg Zimmerman is a bookseller there, and they even host Chicago's chapter of the Book Riot Read Harder book group.
You have to venture past the edge of the city to find The Book Table, (it's in Oak Park), but you can get there on the El so I think it counts. Plus, it's one of my favorite bookstores ever. They have a pretty unique selection and (bonus!) they have tons of sales and discounts – a pretty rare feat for an independent bookstore. I buy a lot of my books at this store.
Book Riot has partnered with Open Books over the years – there's a lot of mutual love here. It's also just a great new and used Chicago bookstore. Their crazy multi-colored bookshelves are always stuffed with bookish treasures just waiting to be discovered.
A great little bookstore in Chicago's Logan Square. Next time you're in the neighborhood for a coffee or a pint, swing by and check it out. I can think of much worse ways to spend an afternoon then brunch at Lula Cafe followed by a little browse next door at City Lit Books.
A charming shop that's been in Chicago's Lakeview neighborhood since 1980. My favorite bit is the basement full of travel books. (They also hosted one of Book Riot's first Chicago events, the BYOB Book Drive.)
You have to see this place to believe it. It's winding, rickety, and fabulous. I mean, used books are piled up to the ceiling… and the El rolls by every few minutes… and the basement is stuffed with dusty old mysteries…
Myopic Books is on the same block in Wicker Park where High Fidelity takes place (the John Cusack version, that is – the book takes place in London) and the street is packed with good eating and drinking and shopping. It's a great old Chicago bookstore in one of the city's great old neighborhoods.
And there are so many more – Quimby's (specializing in zines), Women and Children First (I've seen both Lucy Knisley and Issa Rae here), and, if you're willing to go a little further afield, Anderson's Bookshop in Naperville (They are known for putting on great events. Back in the day – 1998 – they hosted a little known British children's author by the name of J.K. Rowling)… but these are some of my favorites.
There is no shortage of great Chicago bookstores – it's one of this cities best features. Let me know if you have any favorites I haven't mentioned here; I'm always on the lookout for more great bookstores to browse in good old Chi-town.