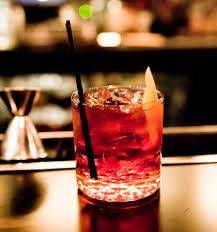 Classics
7 Classic Cocktails for Classic Books
This is a guest post from Shannon McIntyre. Shannon is Southern-born, book-reading, and cocktail-obsessed. Growing up in the South gave her an insatiable love of well-cooked animal offals, best enjoyed with a book by Faulkner in hand and some Fernet-Branca waiting to wash it all down. She firmly believes the world would be a better place if people more frequently used words like "spatchcock" and "slugabed," and wishes that unicorns were real. She now lives in Portland, Oregon. Follow her on Twitter @NocturneSM.
This post is also appearing today at our sister site Food Riot. Same Riot flavor, all about the eats. Check it out!
_________________________
Do you relish in great novels and great drinks? Both can be enthralling and complex, inducing a sense of place in the imbiber. Both are the result of a magical combination of ingredients that somehow creates a whole.
So, what ingredients tell the story of Scarlett O'Hara? How about Eugene Gant? And what on Earth would be in a Ulysses? I have some ideas – for your imbibing pleasure.
Franny & Zooey. Kick it off with gin, but not a well-known kind, because that would be oh-so-conventional. Use Hayman's Old Tom Gin, with a bit of dry vermouth, and pour it up in a martini glass – with a float of Yellow Chartreuse on top. After all, Chartreuse was invented by monks, and drinking this brings you pretty close to the act of praying without ceasing.
Gone with the Wind. Start with a base of Johnny Walker Red Label Scotch to evoke the heavy smoke as the South was set on fire. Scarlett appears in a flash of bright and bold Maraschino liqueur, and how could Rhett be found in anything other than rye whiskey? Dash in some Peychaud's bitters – made from the heartland of New Orleans, where Scarlett and Rhett so often found themselves – and the story is complete.
Ulysses. Take a gander at a combination of Kina Lavion, Poli Morbida, Malvasia Passito, and Crème de Noisette. Maybe you'll love it. Maybe you'll hate it. But I guarantee you'll need a reference book (or at least the internet) to figure it out.
Look Homeward, Angel. This book is rich with arboreal wonders. And so shall be your cocktail! Eugene, with his Dutch heritage, comes through in a fresh and unaged Bols Genever from Holland, surrounded by Zirbenz Stone Pine Liqueur (we are in the South, after all) and a splash of maple syrup (we are in a fictionalized North Carolina, after all).
The Death of Artemio Cruz. Ilegal Mezcal must first stir up the book's ruthlessness and Mexican heritage as a base. Mix in some Cynar liqueur, whose sweet bitterness brings you the ambiance of death, and then add in a touch of Benedictine for the religious undertones of the novel. With a final swirl of Cherry Heering – richness, sensuality, and blood – you're all set.
Lolita. Like Lolita, a snifter of Lagaluvin Single Malt Scotch is just 12 years old. With its smoky richness – and prohibitive price point – it's bound to be the light of your life, and the fire of your loins, as well.
A Moveable Feast. You are drinking alcohol. It feels good. Yes, it feels good. There's whiskey – American. But the drink needs more. Add some Ramazzotti Amaro. It was beloved by ambulance drivers – strong men – on the front, the bloody front. And F. Scott Fitzgerald loves champagne: yes, add in champagne.
So, welcome to the world where literature and cocktails coexist happily. And cheers!
_________________________
Sign up for our newsletter to have the best of Book Riot delivered straight to your inbox every two weeks. No spam. We promise.