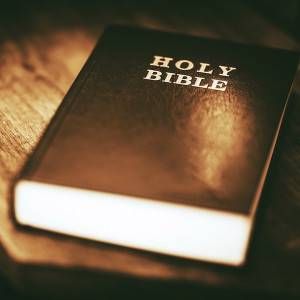 Religion
7 Books for the Layman Bible Scholar
This content contains affiliate links. When you buy through these links, we may earn an affiliate commission.
If you are interested in the history, language, or theology of the Bible, but have no desire to embark on a formal course of study, these reference guides might be just the ticket to assist you in your informal study.
This is the crème de la crème of Bible concordances. In fact it's not just a concordance; it also contains Vine's Complete Dictionary of Old and New Testament Words. I would say it's two books for the price of one, but considering the retail price, it's really not. At 1968 pages, Strong's is the most thorough concordance in print today, in fact most of the one-star reviews on Amazon say that it's too thorough. You'll also throw your back out if you try to lift it, so be careful. Seriously though, whether you're a serious amateur, seminary student, or professional theologian, this is a handy volume to have around.
There are a couple of good options for illustrated Bible dictionaries–the other one being the Zondervan Illustrated Bible Dictionary. Holman is my personal preference. It's a thorough, but lightweight (for a dictionary anyway) reference featuring 700 full-color photos, 80 color maps, lots of timelines, scale drawings of certain structures, and even information on related archaeological excavations.
If you want to take the step of learning the original languages of the bible, John H. Dobson's Learn Biblical Hebrew and Learn New Testament Greek is a good place to start. In addition to the usual vocabulary and grammar lessons, Learn Biblical Hebrew contains useful information about Hebrew narrative that may come in handy for students who are ignorant of Hebrew culture and tradition. Learn New Testament Greek also comes with a CD-ROM.
I love National Geographic books and while I would not call this an exhaustive guide, it is both useful and beautiful. There 3,237 people mentioned in the Bible and Who's Who covers 2,000 of them, with detailed biographies of 200 of the most important figures. Written by historian and filmmaker Jean-Pierre Isbouts, this nearly 400-page volume is filled with maps, illustrations, photographs, and classic paintings in full color.
Another stunning volume from National Geographic and Jean-Pierre Isbouts, this illustrated atlas traces the evolution of the three major monotheistic religions through the geography of the Middle East. Also included are numerous sidebars and photos of archaeological finds relating to the spread of Judaism, Christianity, and Islam.
While there is some overlap between the Rose books and, say, the Holman Illustrated Dictionary or other illustrated reference guides, it's useful enough to have its own entry. It contains a host of colorful charts such as a visual guide to the twelve tribes of Israel and what their names mean, and lots of cutaway illustrations of structures such as Noah's ark and the Ark of the Covenant. If you want a more thorough reference, Rose also publishes the Rose Book of Bible Charts, Volume 2, the Rose Books of Bible Charts, Volume 3, the Rose Book of Bible & Christian History Timelines, the Rose Guide to the Tabernacle, and the Rose Guide to the Temple.