This content contains affiliate links. When you buy through these links, we may earn an affiliate commission.
If, like me, you had to live the San Diego Comic-Con experience vicariously through Twitter and YouTube, here's a quick run-down of the bookish stuff you missed.
(Or maybe you didn't miss any of this because you were super lucky and actually there, in which case bring me along next year? Please?)
Fans got to see their first look at The Hunger Games: Mockingjay–Part 1 full trailer. They got a first look at JLaw, but also some scenes of Philip Seymour Hoffman as Plutarch Heavensbeer that were filmed before his death.
[youtube]https://www.youtube.com/watch?v=JzcYyzCZdiM[/youtube]
The teaser trailer for The Hobbit: The Battle of the Five Armies also premiered during Comic-Con. Even better though was Stephen Colbert totally geeking out as moderator during the official Hobbit panel with Benedict Cumberbatch, Andy Serkis, Evangeline Lilly, Cate Blanchet, Orlando Bloom, Elijah Wood, Lee Pace, Peter Jackson, and Philippa Boyens.
[youtube]https://www.youtube.com/watch?v=ugEFwc5bMB8[/youtube]
Harry Potter
Okay, so this isn't teeeeechnically about Harry Potter but I had to include it here because it just makes my heart glad. Before promoting his newest movie, Horns, Daniel Radcliffe took a spin around the Con floor in a Spiderman disguise so he could just hang out and enjoy the experience normally. D'awww.
I don't have much more to say about this one other than check out that cover. I friggen love it.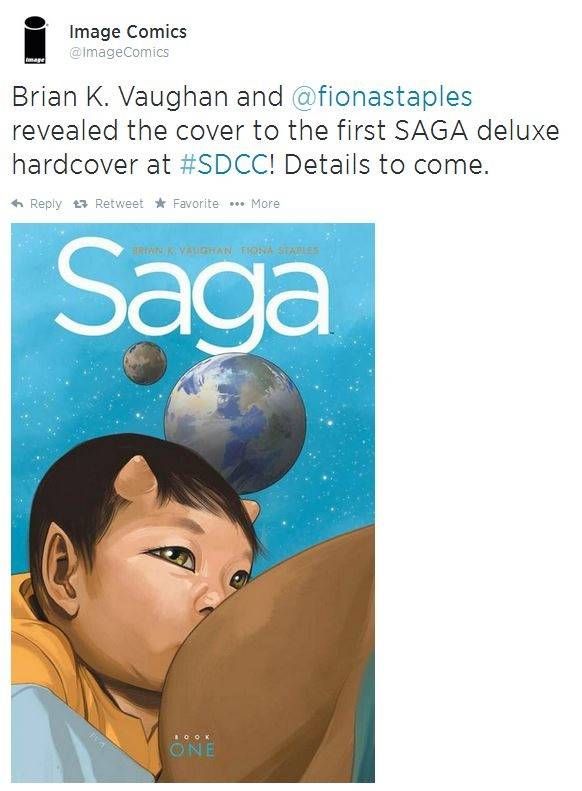 Game of Thrones
While show producers still kept their cards close to their chests for season five, they did announce nine new actors that were being added to the series. Perhaps better than a teaser trailer, they also released a fantastic blooper reel from season four.
[youtube]https://www.youtube.com/watch?v=v-7Fs9HJvs0[/youtube]
The Rulers of the Realm panel
Speaking of Martin, San Diego Comic-Con also presented a veritable nerd-gasm of writers in its "Rulers of the Realm" panel: George R.R. Martin, Joe Abercrombie (!!), Lev Grossman (*squees*), Diana Gabaldon (more on that in a second…), and Patrick Rothfuss (*faints*).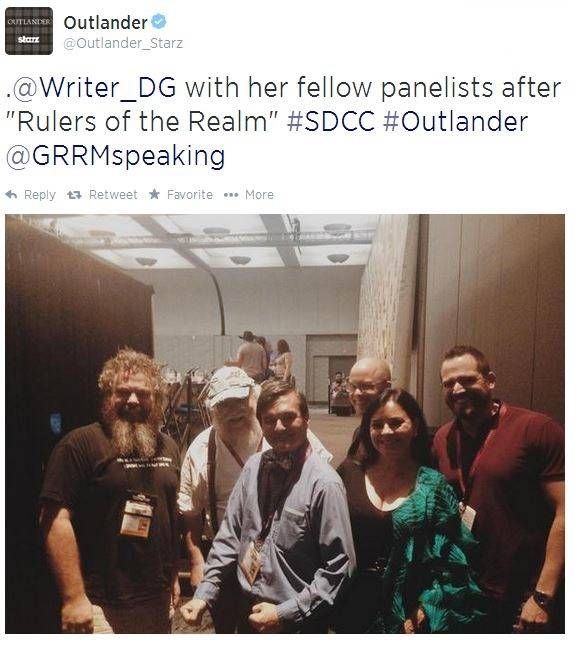 Outlander seemed like it was just about everywhere at San Diego Comic-Con this year. You had a Sharknado versus kilted clan rumble out front, multiple panels for the actors and author, and a damn sweet booth with an entire mini set. Oh and a new full trailer of course. "No promises, Sassanach" *faints again*.
[youtube]https://www.youtube.com/watch?v=KAS01FFj1fQ[/youtube]
Were you at San Diego Comic-Con? What other bookish goodness did you get in on that I didn't include on this list?
Save