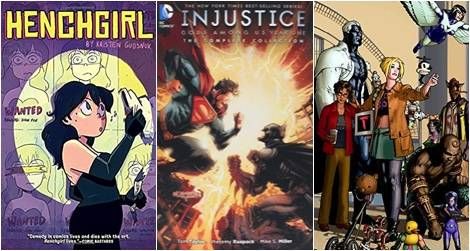 This content contains affiliate links. When you buy through these links, we may earn an affiliate commission.
This is a guest post about addictive comic books from Jess Carbert. Jess is a freelance journalist with training in the mystic arts of print, television, radio, and a dash of PR. When she's not mowing people down in her wheelchair, she's writing like her life depends on it, or getting willfully lost in a book. Follow her on Twitter @heyits_wheels.
---
Comics are more accessible now than they've ever been, and readers have way more than just classic Marvel or DC to choose from. But sometimes, the sheer amount of options can be distracting— do you want to stick with bestsellers? Check out creator-owned comics? Hit up a forum online and ask the void for opinions? What if you want to get into superheroes, but only certain ones? What if you want a comic that's everything you've ever dreamed of rolled into one? Are you being unrealistic about your expectations?— This is by no means a comprehensive list, but it is a starting point to help you find the right addictive comic books or graphic novel(s) to spend your weekend binge-reading.
Nimona by Noelle Stevenson
This book is definitely "everything you've ever dreamed of all rolled into one." In fact, the back cover even tells you so: "Nemeses! Dragons! Science! Symbolism!" There's also lots it doesn't say, like how Nimona, originally a web comic about a shapeshifter who pesters her way into becoming misunderstood villain, Ballister Blackheart's protégée, will make you feel things that you can't unfeel. Probably not even in your next lifetime, or the one after that, even. Along with being irreverent and deadpan and wondrously unexpected, Nimona has a little something for everyone. It's LGBTQ+ friendly, it's got heists and hijinks and the happies and the sads. Plus, whenever I read it, no matter the time or place, I always imagine that Ballister Blackheart and Nimona are voiced by H. Jon Benjamin and Kristen Schall (Bob and Louise Belcher from Bob's Burgers). Sir Ambrosius Goldenloin, for whatever reason, sounds like Brad Pitt in Megamind. While you can read it for free, I highly suggest you buy the physical copy, because it comes with exclusive bonus content, including an epilogue not published on the website.
DareDevil by Mark Waid (writer), Paolo Rivera, Marcos Martin, and Chris Samnee (artists)
I'll admit it: Mark Waid's run on DareDevil was so damn gripping that I found myself favouring it over Netflix's Frank Miller-based interpretation while I was reading it. Unlike previous runs, Mark Waid (Kingdom Come, Black Widow) takes a more grounded approach to the life and times of The Man Without Fear. Just because he's no longer tortured by actual demons, doesn't mean he's not struggling to find balance, and dealing with the very real issue of depression. His best friend and law partner, Foggy Nelson, is actually concerned that he's so jubilant, especially when a whole bunch of weird stuff (like grave-robbing) starts happening. Matt begins to question his own sanity while in possession of the Omegadrive, a USB made of unstable molecules that is packed with information about every major crime syndicate in the Marvel universe. While it's not exactly dark like Miller's or even Bendis's run on the character, I enjoyed Mark Waid threading a lightness into the universe, enhanced all the more by Chris Samnee's (Thor: The Mighty Avenger, Black Widow) decidedly pop art style. Waid's DareDevil is exceedingly human, not just a target for unbridled misery and woe. He continually holds his head up in the face of adversity, even when the deck is stacked against him. This run had a lot of standout moments for me, but one of the best was issue #7, when Matt must lead a group of terrified, blind children to safety in the midst of a fierce winter. So often, people with disabilities (whether they be physical or intellectual) are infantalized, but because Matt has been through the same things as those kids (his story just involves radioactive waste), he's able to treat them as equals, as individuals, but most importantly as humans who are not somehow less than because they are differently-abled. I wish more people would show this off. Being disabled isn't the equivalent of writhing around on a bed of rusty nails, but it's not a sunshine-and-roses after-school special filled with autonomous inclusion and instant accessibility, either.
Henchgirl by Kristen Gudsnuk
One of Dark Horse's latest and greatest— err— dark horses is definitely Henchgirl by Kristen Gudsnuk. Originally a web comic that was later published in single-issue format by Scout Comics, Henchgirl is what would happen if Despicable Me and Megamind had a child. Mary Posa wants a real job, you know, with regular hours and taxes and cool adult stuff. But the fact is, being a henchgirl— even a henchgirl to The Butterfly Gang, a c-list criminal organization— pays the big bucks, and times are hard. But Mary's not exactly a master of malevolence, in fact, she goes out of her way to hinder evil's progression. At it's core, Henchgirl is more than just superhero spoof, a mishmash of goofy exploits and Sailor Moon references; it's the story of an underdog who perseveres. It's the story of an underdog who triumphs.
Superman: American Alien by Max Landis (writer), Jae Lee, Joëlle Jones, Tommy Lee Edwards, Nick Dragotta, Jock, Jonathan Case, and Francis Manapul (artists).
Told in seven unique snippets, Superman: American Alien sweeps back the curtain on Clark Kent's life, before and after he makes the move to Metropolis and becomes Superman. This collection is linear in that it progresses forward instead of hopping all over the place, but as you flip the pages, your emotions will be scattered every which way. I personally love Landis's spin on Superman— that the whole of Smallville was complicit in hiding Clark's powers, protecting him with that "he's one of our own," mentality, and the place that shaped the Kryptonian boy into a man— and I would love to see him revisit the title for a longer run. Superman: American Alien revolves around identity, the very traits that make Clark who he is, while setting up chess pieces (Bruce Wayne, Lex Luthor, Lois Lane, etc.) for the person he will become. My personal favourite of the entire thing is "Parrot," in which Clark gets fished from the ocean onto a luxury cruise ship in a case of mistaken identity. It's been over a week, and remembering his encounter with a certain killer-for-hire still makes me laugh out loud.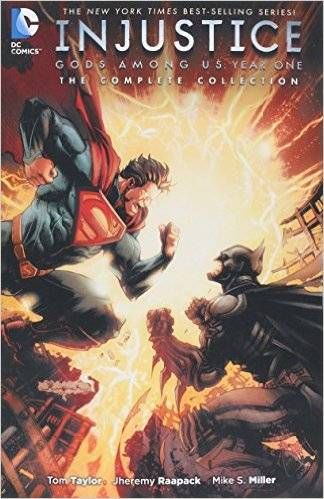 Injustice: Gods Among Us by Tom Taylor, Brian Buccellato Marguiette Bennet, Ray Fawkes (writers), Jheremy Raapack, Mike S. Miller, Bruno Redondo, Tom Derenick, etc. (artists)
I feel like I'm missing a bunch of artists that contributed to Injustice: Gods Among Us, the prequel comic to the popular fighting video game in which Superman becomes a tyrannical dictator after Joker tricks him into murdering Lois Lane and their unborn child. The comic honestly expands so much on the game, turning it inward, letting it breathe and manifest in a world of its own. Before this comic, I didn't quite understand all of the hatred for Damian Wayne, but while reading Injustice (after a certain point), I kind of wish Superman would toss him into the sun. This is brutal violence, fast-paced action, and a definite twist on the reliable DC heroes you've come to know and love.
Invincible by Robert Kirkman (writer), Cory Walker (co-creator and artist), and Ryan Ottley (artist)
You've undoubtedly heard of Robert Kirkman as the creator of The Walking Dead, but he's also the mastermind behind such titles as Marvel Zombies and Outcast. My favourite Kirkman title, however, has never been made into a TV show (but there are rumbles that Seth Rogen and Evan Goldberg want to turn it into a movie, instead). Invincible follows Mark Grayson, a human/Viltrumite hybrid, whose father, Omni-Man, is already a beloved superhero. Mark fears he will never get his powers, until one day, while working at his fast-food job, he tosses a full trash bag astronomically high (think, like, a bag of fresh garbage hurtling hundreds of miles in the air. No normally-developing teenager would come close to that), thus beginning his superhero career. If it sounds like it's a bit of a twist on the genre, it definitely is, but it's also better than almost any superhero book out on the market right now. Over the course of its long and glorious run, Invincible has showcased talent from many different artists (certainly more than the ones listed, but those are there for consistency's sake). Invincible follows Mark from awkward teenager learning to control his powers to family man/superhero, and it has a damn good time doing it.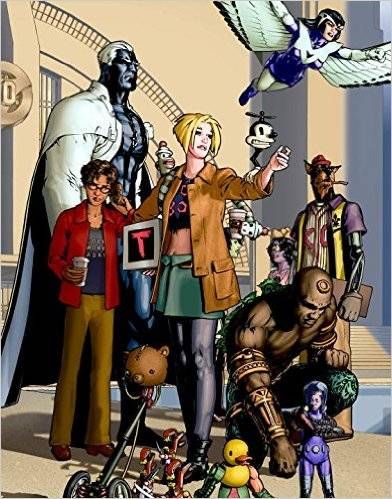 Top 10 by Alan Moore (writer), Gene Ha, and Zander Cannon (artists).
I know that when you think of Alan Moore, you're automatically inundated with memories of V For Vendetta, Watchmen, or the genre-breaking graphic novel that others have tried to emulate, The Killing Joke. But honestly, Top 10 is probably my favourite comic book of all time (I reserve the right to be proven wrong). The marriage of sci-fi/superhero works perfectly as Moore introduces readers to the world of Neopolis, and the police precinct known as "Top 10." If you're a fan of cop shows, or you want to be immersed in a story with as much thickly-layered detail (down to the songs playing on car radios, or the billboards around the city) as any traditional novel, Top 10 should be the next thing on your TBR list. If you're new to comics, the bizarre amount of detail (seriously. This was so meticulous and well-done. It should probably go in a museum or something, so people can ogle at its almost-perfection) might cause a bit of sensory overload, but don't be discouraged. As soon as you get into the story, you won't be able to put it down.