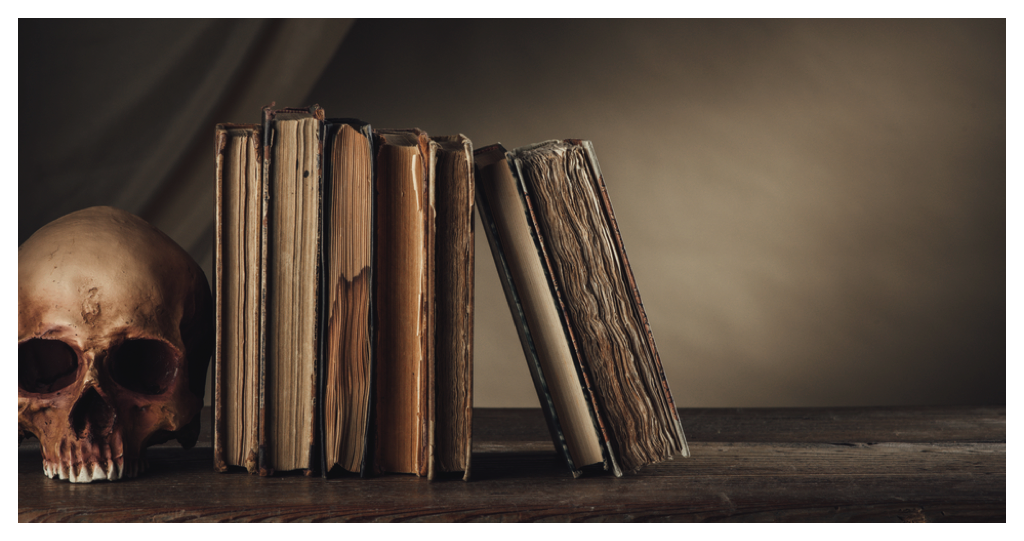 This content contains affiliate links. When you buy through these links, we may earn an affiliate commission.
I love horror. I've written about it several times here and horror remains one of the few genres I find myself excited about in any category of fiction, be it in adult, young adult, or middle grade. A good scary/creepy/atmospheric story just does it for me.
As has been the case across all genres in young adult fiction, women have really been carving some new, fresh, and exciting paths in YA horror. They're exploring new terrain, putting spins on classic tales, and offering up some of the most deliciously terrifying reading out there.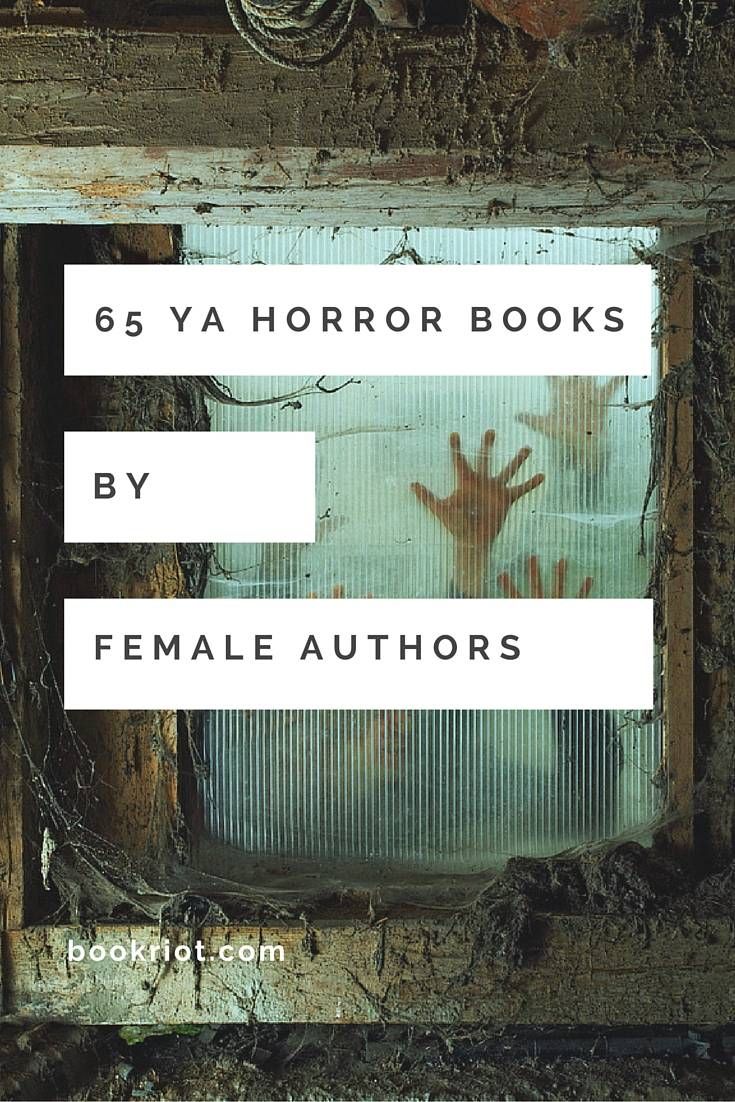 In the spirit (heh) of women rocking it in horror YA, I thought I'd pull together a list of 65 great reads. It's not comprehensive, but it's a pretty great deep dive into new and classic books and authors. What makes horror so great is it's a mood more than a singular genre, so horror can run from realistic to completely fantastic. Some of these books are straight up scary and others fall more into the fun, and maybe even funny, side of horror. For more fun, I've included comics as well. There is something for every kind of horror reader.
To keep this list as wide-ranging as possible, I've included only the first book in a series, as well as only one title per author. All books with a "*" beside them are part of a series and authors who have a "+" beside their name have written more horror YA than the title highlighted, so it's worth checking out more of their titles.
Grab your flashlight, a bag of popcorn, and get ready to sink into some great horror.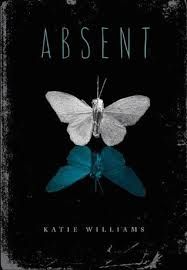 Absent by Katie Williams: When seventeen-year-old Paige dies in a freak fall from the roof during Physics class, her spirit is bound to the grounds of her high school. At least she has company: her fellow ghosts Evan and Brooke, who also died there. But when Paige hears the rumor that her death wasn't an accident–that she supposedly jumped on purpose–she can't bear it. Then Paige discovers something amazing. She can possess living people when they think of her, and she can make them do almost anything. Maybe, just maybe, she can get to the most popular girl in school and stop the rumors once and for all.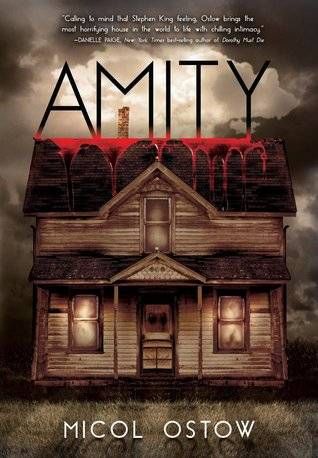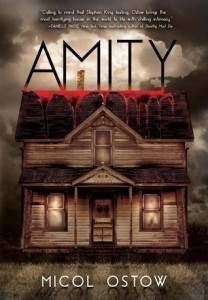 Amity by Micol Ostow+: When Connor's family moves to Amity, a secluded house on the peaceful banks of New England's Concord River, his nights are plagued with gore-filled dreams of demons. destruction, and revenge. Dreams he kind of likes. Dreams he could make real, with Amity's help.
Ten years later, Gwen's family moves to Amity for a fresh start. Instead, she's haunted by lurid visions, disturbing voices, and questions about her own sanity. But with her history, who would ever believe her? And what could be done if they did?
Because Amity isn't just a house. She is a living force, bent on manipulating her inhabitants to her twisted will. She will use Connor and Gwen to bring about a violent end as she's done before. As she'll do again. And again. And again.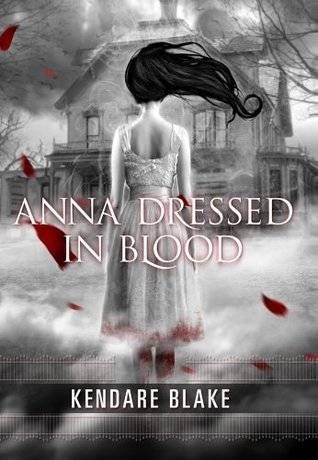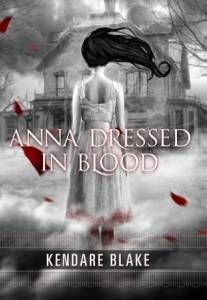 *Anna Dressed in Blood by Kendare Blake: Cas Lowood has inherited an unusual vocation: He kills the dead.
So did his father before him, until he was gruesomely murdered by a ghost he sought to kill. Now, armed with his father's mysterious and deadly athame, Cas travels the country with his kitchen-witch mother and their spirit-sniffing cat. They follow legends and local lore, destroy the murderous dead, and keep pesky things like the future and friends at bay.
Searching for a ghost the locals call Anna Dressed in Blood, Cas expects the usual: track, hunt, kill. What he finds instead is a girl entangled in curses and rage, a ghost like he's never faced before. She still wears the dress she wore on the day of her brutal murder in 1958: once white, now stained red and dripping with blood. Since her death, Anna has killed any and every person who has dared to step into the deserted Victorian she used to call home.
Yet she spares Cas's life.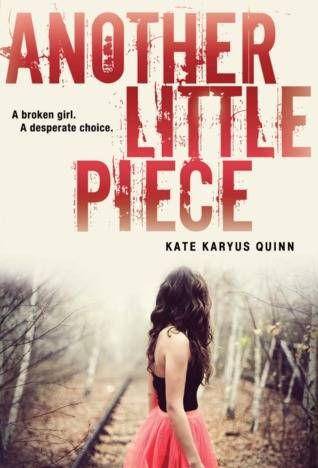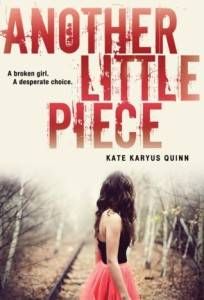 Another Little Piece by Kate Karyus Quinn+: On a cool autumn night, Annaliese Rose Gordon stumbled out of the woods and into a high school party. She was screaming. Drenched in blood. Then she vanished.
A year later, Annaliese is found wandering down a road hundreds of miles away. She doesn't know who she is. She doesn't know how she got there. She only knows one thing: She is not the real Annaliese Rose Gordon.
Now Annaliese is haunted by strange visions and broken memories. Memories of a reckless, desperate wish . . . a bloody razor . . . and the faces of other girls who disappeared. Piece by piece, Annaliese's fractured memories come together to reveal a violent, endless cycle that she will never escape—unless she can unlock the twisted secrets of her past.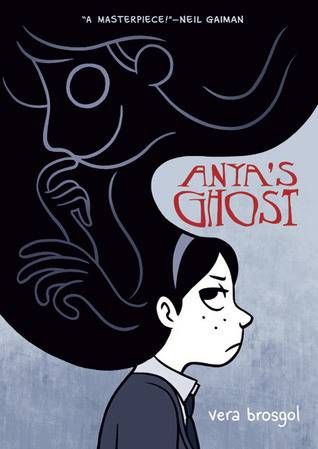 Anya's Ghost by Vera Brosgol: Anya could really use a friend. But her new BFF isn't kidding about the "Forever" part.
Of all the things Anya expected to find at the bottom of an old well, a new friend was not one of them. Especially not a new friend who's been dead for a century.
Falling down a well is bad enough, but Anya's normal life might actually be worse. She's embarrassed by her family, self-conscious about her body, and she's pretty much given up on fitting in at school. A new friend—even a ghost—is just what she needs.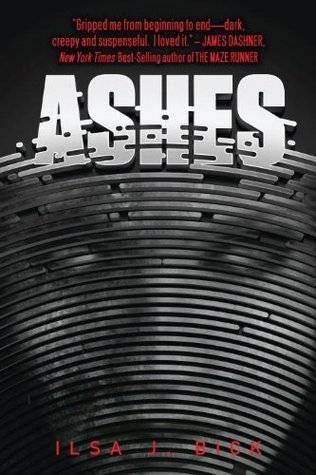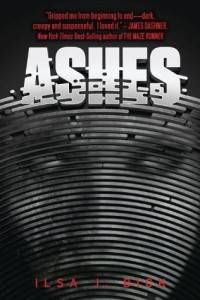 *Ashes by Ilsa Bick: An electromagnetic pulse flashes across the sky, destroying every electronic device, wiping out every computerized system, and killing billions.
Alex hiked into the woods to say good-bye to her dead parents and her personal demons. Now desperate to find out what happened after the pulse crushes her to the ground, Alex meets up with Tom—a young soldier—and Ellie, a girl whose grandfather was killed by the EMP.
For this improvised family and the others who are spared, it's now a question of who can be trusted and who is no longer human.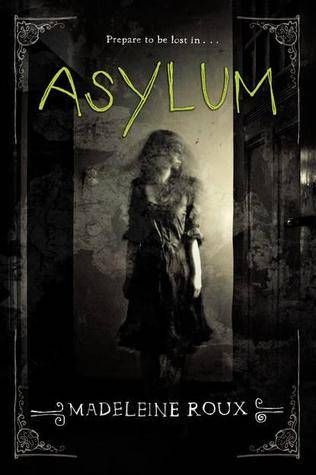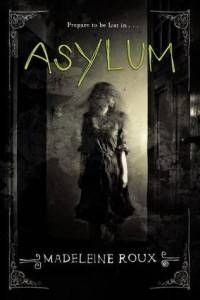 *Asylum by Madeleine Roux: For sixteen-year-old Dan Crawford, New Hampshire College Prep is more than a summer program—it's a lifeline. An outcast at his high school, Dan is excited to finally make some friends in his last summer before college. But when he arrives at the program, Dan learns that his dorm for the summer used to be a sanatorium, more commonly known as an asylum. And not just any asylum—a last resort for the criminally insane.
As Dan and his new friends, Abby and Jordan, explore the hidden recesses of their creepy summer home, they soon discover it's no coincidence that the three of them ended up here. Because the asylum holds the key to a terrifying past. And there are some secrets that refuse to stay buried.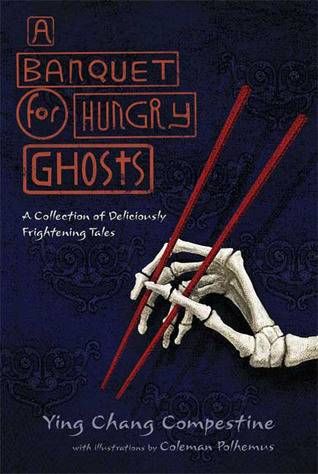 A Banquet for Hungry Ghosts by Ying Compestine: According to Chinese tradition, those who die hungry or unjustly come back to haunt the living. Some are appeased with food. But not all ghosts are successfully mollified. In this chilling collection of stories, Ying Chang Compestine takes readers on a journey through time and across different parts of China. From the building of the GreatWall in 200 BCE to the modern day of iPods, hungry ghosts continue to torment those who wronged them.
At once a window into the history and culture of China and an ode to Chinese cuisine, this assortment of frightening tales—complete with historical notes and delectable recipes—will both scare and satiate!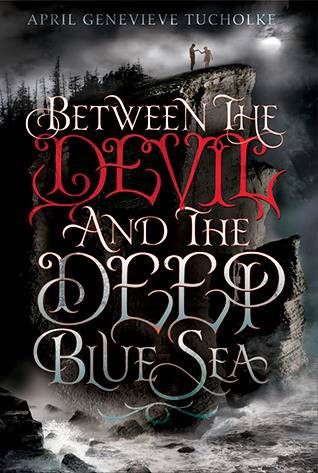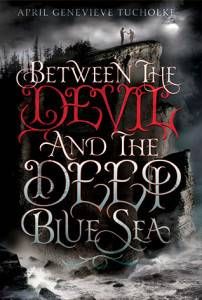 *Between The Devil and The Deep Blue Sea by April Genevieve Tucholke+: Nothing much exciting rolls through Violet White's sleepy, seaside town… until River West comes along. River rents the guest house behind Violet's crumbling estate, and as eerie, grim things start to happen, Violet begins to wonder about the boy living in her backyard.
Is River just a crooked-smiling liar with pretty eyes and a mysterious past? Or could he be something more?
Violet's grandmother always warned her about the Devil, but she never said he could be a dark-haired boy who takes naps in the sun, who likes coffee, who kisses you in a cemetery… who makes you want to kiss back.
Violet's already so knee-deep in love, she can't see straight. And that's just how River likes it.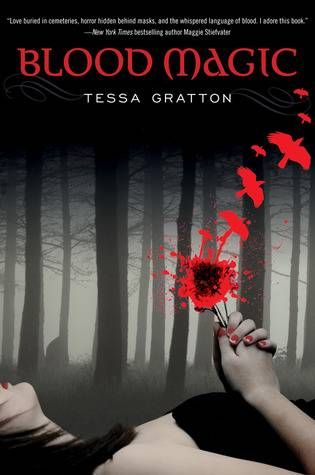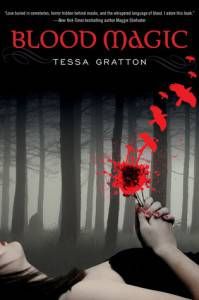 *Blood Magic by Tessa Gratton: It starts off simply.
Draw a circle… place a dead leaf in the center… sprinkle some salt… recite a little Latin… add a drop of blood…
Maybe that last part isn't exactly simple. Yet somehow it feelsright to Silla Kennicott. And nothing in her life has felt remotely right since her parents' horrific deaths. She's willing to do anything to uncover the truth about her family—even try a few spells from the mysterious book that arrived on her doorstep … and spill some blood.
The book isn't the only recent arrival in Silla's life. There's Nick Pardee, the new guy next door who may have seen Silla casting a spell. She's not sure what he saw and is afraid to find out. But as they spend more time together, Silla realizes this may not be Nick's first encounter with Blood Magic. Brought together by a combination of fate and chemistry, Silla and Nick can't deny their attraction. And they can't ignore the dark presence lurking nearby—waiting to reclaim the book and all its power.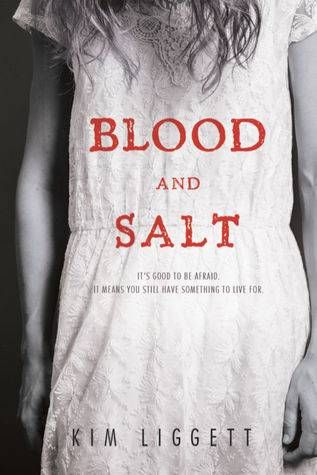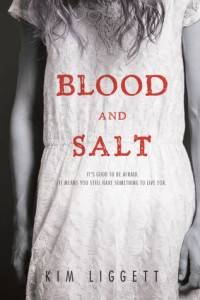 *Blood and Salt by Kim Liggett: "When you fall in love, you will carve out your heart and throw it into the deepest ocean. You will be all in—blood and salt."
These are the last words Ash Larkin hears before her mother returns to the spiritual commune she escaped long ago. But when Ash follows her to Quivira, Kansas, something sinister and ancient waits among the rustling cornstalks of this village lost to time.
Ash is plagued by memories of her ancestor, Katia, which harken back to the town's history of unrequited love and murder, alchemy and immortality. Charming traditions soon give way to a string of gruesome deaths, and Ash feels drawn to Dane, a forbidden boy with secrets of his own.
As the community prepares for a ceremony five hundred years in the making, Ash must fight not only to save her mother, but herself—and discover the truth about Quivira before it's too late. Before she's all in—blood and salt.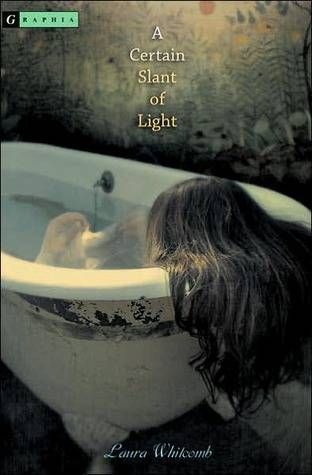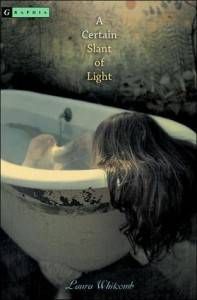 *A Certain Slant of Light by Laura Whitcomb: In the class of the high school English teacher she has been haunting, Helen feels them: for the first time in 130 years, human eyes are looking at her. They belong to a boy, a boy who has not seemed remarkable until now. And Helen–terrified, but intrigued–is drawn to him. The fact that he is in a body and she is not presents this unlikely couple with their first challenge. But as the lovers struggle to find a way to be together, they begin to discover the secrets of their former lives and of the young people they come to possess.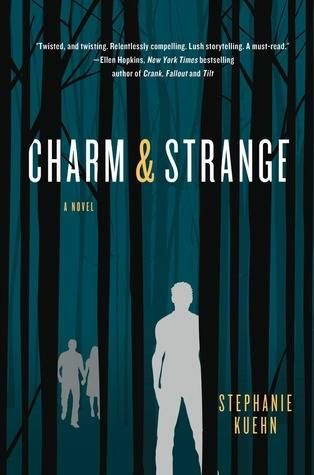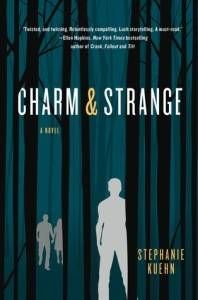 Charm & Strange by Stephanie Kuehn: Andrew Winston Winters is at war with himself.
He's part Win, the lonely teenager exiled to a remote Vermont boarding school in the wake of a family tragedy. The guy who shuts all his classmates out, no matter the cost.
He's part Drew, the angry young boy with violent impulses that control him. The boy who spent a fateful, long-ago summer with his brother and teenage cousins, only to endure a secret so monstrous it led three children to do the unthinkable.
Over the course of one night, while stuck at a party deep in the New England woods, Andrew battles both the pain of his past and the isolation of his present.
Before the sun rises, he'll either surrender his sanity to the wild darkness inside his mind or make peace with the most elemental of truths—that choosing to live can mean so much more than not dying.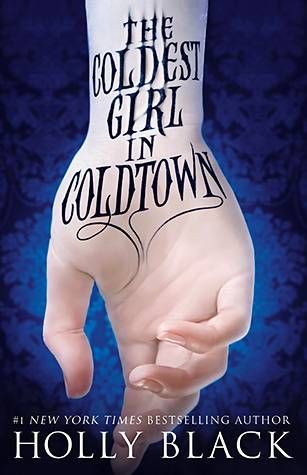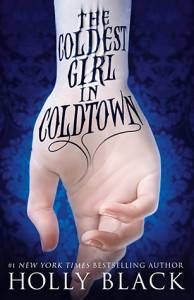 The Coldest Girl in Coldtown by Holly Black+: Tana lives in a world where walled cities called Coldtowns exist. In them, quarantined monsters and humans mingle in a decadently bloody mix of predator and prey. The only problem is, once you pass through Coldtown's gates, you can never leave.
One morning, after a perfectly ordinary party, Tana wakes up surrounded by corpses. The only other survivors of this massacre are her exasperatingly endearing ex-boyfriend, infected and on the edge, and a mysterious boy burdened with a terrible secret. Shaken and determined, Tana enters a race against the clock to save the three of them the only way she knows how: by going straight to the wicked, opulent heart of Coldtown itself.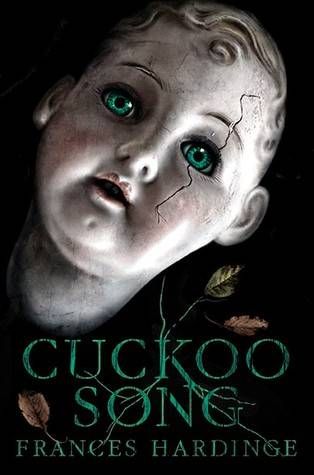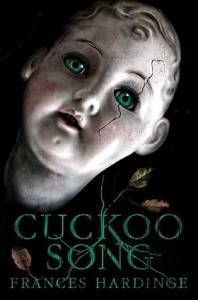 Cuckoo Song by Frances Hardinge: When Triss wakes up after an accident, she knows something is very wrong. She is insatiably hungry, her sister seems scared of her, and her parents whisper behind closed doors. She looks through her diary to try to remember, but the pages have been ripped out. Soon Triss discovers that what happened to her is more strange and terrible than she could ever have imagined, and that she is quite literally not herself. In a quest to find the truth she must travel into the terrifying underbelly of the city to meet a twisted architect who has dark designs on her family-before it's too late . . .
Set in England after World War I, this is a brilliantly creepy but ultimately loving story of the relationship between two sisters who have to band together against a world where nothing is as it seems.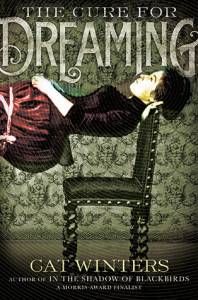 The Cure for Dreaming by Cat Winters+: Olivia Mead is a headstrong, independent girl—a suffragist—in an age that prefers its girls to be docile. It's 1900 in Oregon, and Olivia's father, concerned that she's headed for trouble, convinces a stage mesmerist to try to hypnotize the rebellion out of her. But the hypnotist, an intriguing young man named Henri Reverie, gives her a terrible gift instead: she's able to see people's true natures, manifesting as visions of darkness and goodness, while also unable to speak her true thoughts out loud. These supernatural challenges only make Olivia more determined to speak her mind, and so she's drawn into a dangerous relationship with the hypnotist and his mysterious motives, all while secretly fighting for the rights of women.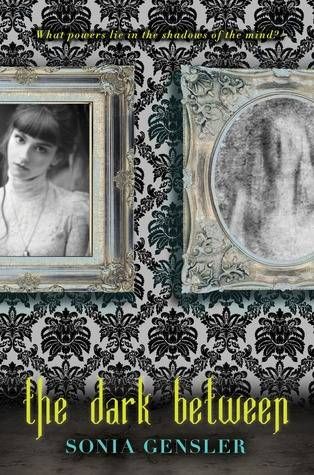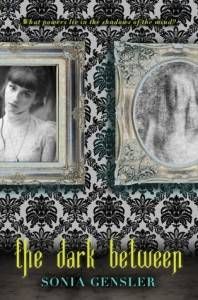 The Dark Between by Sonia Gensler: At the turn of the twentieth century, Spiritualism and séances are all the rage—even in the scholarly town of Cambridge, England. While mediums dupe the grief-stricken, a group of local fringe scientists seeks to bridge the gap to the spirit world by investigating the dark corners of the human mind.
Each running from a shadowed past, Kate, Asher, and Elsie take refuge within the walls of Summerfield College. But their peace is soon shattered by the discovery of a dead body nearby. Is this the work of a flesh-and-blood villain, or is something otherworldly at play? This unlikely trio must illuminate what the scientists have not, and open a window to secrets taken to the grave—or risk joining the spirit world themselves.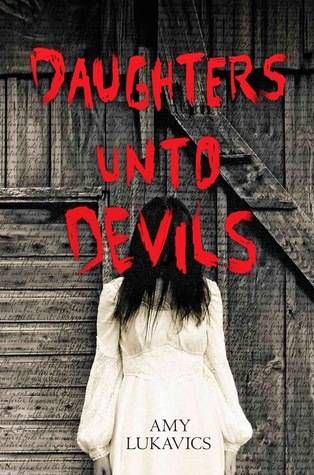 Daughters Unto Devils by Amy Lukavics+: When sixteen-year-old Amanda Verner's family decides to move from their small mountain cabin to the vast prairie, she hopes it is her chance for a fresh start. She can leave behind the memory of the past winter; of her sickly ma giving birth to a baby sister who cries endlessly; of the terrifying visions she saw as her sanity began to slip, the victim of cabin fever; and most of all, the memories of the boy she has been secretly meeting with as a distraction from her pain. The boy whose baby she now carries.
When the Verners arrive at their new home, a large cabin abandoned by its previous owners, they discover the inside covered in blood. And as the days pass, it is obvious to Amanda that something isn't right on the prairie. She's heard stories of lands being tainted by evil, of men losing their minds and killing their families, and there is something strange about the doctor and his son who live in the woods on the edge of the prairie. But with the guilt and shame of her sins weighing on her, Amanda can't be sure if the true evil lies in the land, or deep within her soul.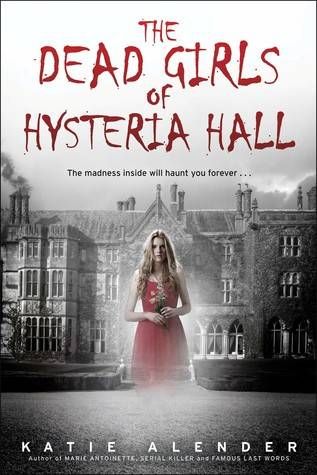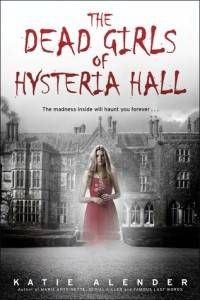 The Dead Girls of Hysteria Hall by Kate Alender+: Delia's new house isn't just a house. Long ago, it was the Piven Institute for the Care and Correction of Troubled Females—an insane asylum nicknamed "Hysteria Hall." However, many of the inmates were not insane, just defiant and strong willed. Kind of like Delia herself.
But the house still wants to keep "troubled" girls locked away. So, in the most horrifying way, Delia gets trapped.
And that's when she learns that the house is also haunted.
Ghost girls wander the halls in their old-fashioned nightgowns. A handsome ghost boy named Theo roams the grounds. Delia finds that all the spirits are unsettled and full of dark secrets. The house, as well, harbors shocking truths within its walls—truths that only Delia can uncover, and that may set her free.
But she'll need to act quickly, before the house's power overtakes everything she loves.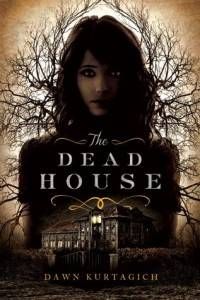 The Dead House by Dawn Kurtagich+: Three students: dead.
Carly Johnson: vanished without a trace.
Two decades have passed since an inferno swept through Elmbridge High, claiming the lives of three teenagers and causing one student, Carly Johnson, to disappear. The main suspect: Kaitlyn, "the girl of nowhere."
Kaitlyn's diary, discovered in the ruins of Elmbridge High, reveals the thoughts of a disturbed mind. Its charred pages tell a sinister version of events that took place that tragic night, and the girl of nowhere is caught in the center of it all. But many claim Kaitlyn doesn't exist, and in a way, she doesn't – because she is the alter ego of Carly Johnson.
Carly gets the day. Kaitlyn has the night. It's during the night that a mystery surrounding the Dead House unravels and a dark, twisted magic ruins the lives of each student that dares touch it.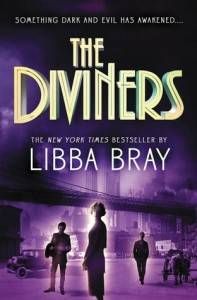 *The Diviners by Libba Bray: Evie O'Neill has been exiled from her boring old hometown and shipped off to the bustling streets of New York City—and she is pos-i-tute-ly ecstatic. It's 1926, and New York is filled with speakeasies, Ziegfeld girls, and rakish pickpockets. The only catch is that she has to live with her uncle Will and his unhealthy obsession with the occult.
Evie worries he'll discover her darkest secret: a supernatural power that has only brought her trouble so far. But when the police find a murdered girl branded with a cryptic symbol and Will is called to the scene, Evie realizes her gift could help catch a serial killer.
As Evie jumps headlong into a dance with a murderer, other stories unfold in the city that never sleeps. A young man named Memphis is caught between two worlds. A chorus girl named Theta is running from her past. A student named Jericho hides a shocking secret. And unknown to all, something dark and evil has awakened.
*The Dollhouse by Anya Allyn: An abandoned mansion, deep in the woods. A dollhouse, filled with life-sized toys. A doorway into other realms. And girls who keep disappearing…
When Cassie's best friend, Aisha, vanishes during a school hike, Cassie sets off with Aisha's boyfriend and their friend Lacey, determined to find her. Instead, the three teens fall into a carefully-laid trap—deep into the surreal nightmare and dark secrets of the Dollhouse.
Now, Cassie must uncover the mysteries of the Dollhouse and her own connection to it– before it's too late.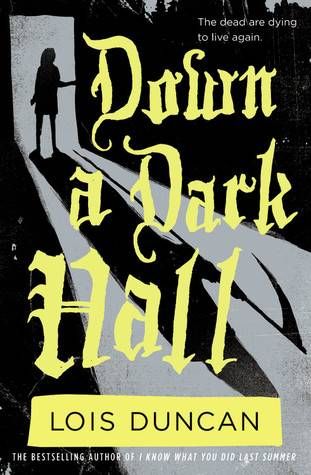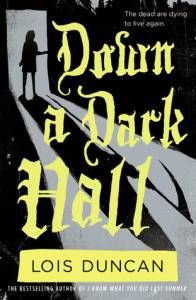 Down a Dark Hall by Lois Duncan+: Kit Gordy sees Blackwood Hall towering over black iron gates, and she can't help thinking, This place is evil. The imposing mansion sends a shiver of fear through her. But Kit settles into a routine, trying to ignore the rumors that the highly exclusive boarding school is haunted.
Then her classmates begin to show extraordinary and unknown talents. The strange dreams, the voices, the lost letters to family and friends, all become overshadowed by the magic around them.
When Kit and her friends realize that Blackwood isn't what it claims to be, it might be too late.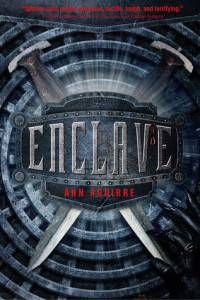 *Enclave by Ann Aguirre+: New York City has been decimated by war and plague, and most of civilization has migrated to underground enclaves, where life expectancy is no more than the early 20's. When Deuce turns 15, she takes on her role as a Huntress, and is paired with Fade, a teenage Hunter who lived Topside as a young boy. When she and Fade discover that the neighboring enclave has been decimated by the tunnel monsters–or Freaks–who seem to be growing more organized, the elders refuse to listen to warnings. And when Deuce and Fade are exiled from the enclave, the girl born in darkness must survive in daylight–guided by Fade's long-ago memories–in the ruins of a city whose population has dwindled to a few dangerous gangs.
The Fall by Bethany Griffin+: Madeline Usher is doomed.
She has spent her life fighting fate, and she thought she was succeeding. Until she woke up in a coffin.
Ushers die young. Ushers are cursed. Ushers can never leave their house, a house that haunts and is haunted, a house that almost seems to have a mind of its own. Madeline's life—revealed through short bursts of memory—has hinged around her desperate plan to escape, to save herself and her brother. Her only chance lies in destroying the house.
In the end, can Madeline keep her own sanity and bring the house down?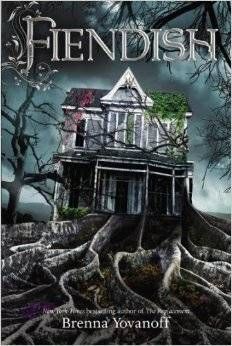 Fiendish by Brenna Yovanoff+: Clementine DeVore spent ten years trapped in a cellar, pinned down by willow roots, silenced and forgotten.
Now she's out and determined to uncover who put her in that cellar and why.
When Clementine was a child, dangerous and inexplicable things started happening in New South Bend. The townsfolk blamed the fiendish people out in the Willows and burned their homes to the ground. But magic kept Clementine alive, walled up in the cellar for ten years, until a boy named Fisher sets her free. Back in the world, Clementine sets out to discover what happened all those years ago. But the truth gets muddled in her dangerous attraction to Fisher, the politics of New South Bend, and the Hollow, a fickle and terrifying place that seems increasingly temperamental ever since Clementine reemerged.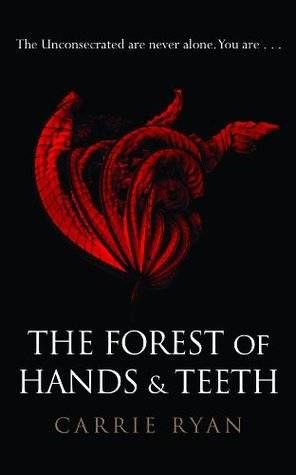 *The Forest of Hands and Teeth by Carrie Ryan: In Mary's world there are simple truths. The Sisterhood always knows best. The Guardians will protect and serve. The Unconsecrated will never relent. And you must always mind the fence that surrounds the village; the fence that protects the village from the Forest of Hands and Teeth. But, slowly, Mary's truths are failing her. She's learning things she never wanted to know about the Sisterhood and its secrets, and the Guardians and their power, and about the Unconsecrated and their relentlessness. When the fence is breached and her world is thrown into chaos, she must choose between her village and her future—between the one she loves and the one who loves her. And she must face the truth about the Forest of Hands and Teeth. Could there be life outside a world surrounded by so much death?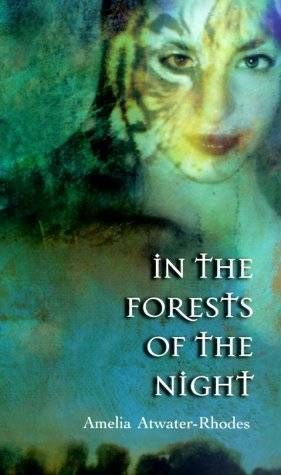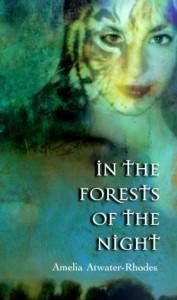 *In the Forests of The Night by Amelia Atwater-Rhodes+: By day, Risika sleeps in shaded room in Concord, Massachusetts. By night, she hunts the streets of New York City. She is used to being alone.
But someone is following Risika. He has left her a black rose, the same sort of rose that sealed her fate three hundred years ago. Three hundred years ago Risika had a family- a brother and a father who loved her. Three hundred years ago she was human.
Now she is a vampire, a powerful one. But her past has come back to torment her.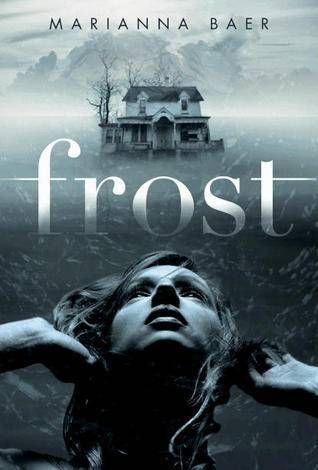 Frost by Marianna Baer: Leena Thomas's senior year at boarding school starts with a cruel shock: Frost House, the cozy Victorian dorm where she and her best friends live, has been assigned an unexpected roommate—eccentric Celeste Lazar.
As classes get under way, strange happenings begin to bedevil Frost House: frames falling off walls, doors locking themselves, furniture toppling over. Celeste blames the housemates, convinced they want to scare her into leaving. And although Leena strives to be the peacekeeper, soon the eerie happenings in the dorm, an intense romance between Leena and Celeste's brother, David, and the reawakening of childhood fears all push Leena to take increasingly desperate measures to feel safe. But does the threat lie with her new roommate, within Leena's own mind…or in Frost House itself?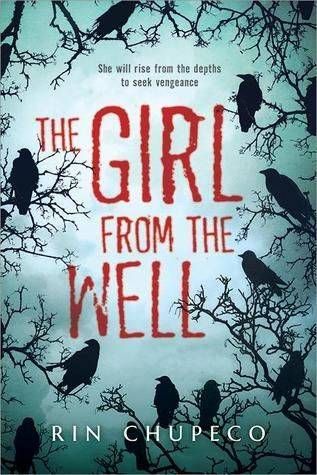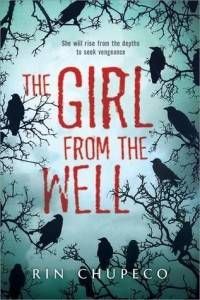 *The Girl From The Well by Rin Chupeco: A dead girl walks the streets.
She hunts murderers. Child killers, much like the man who threw her body down a well three hundred years ago.
And when a strange boy bearing stranger tattoos moves into the neighborhood so, she discovers, does something else. And soon both will be drawn into the world of eerie doll rituals and dark Shinto exorcisms that will take them from American suburbia to the remote valleys and shrines of Aomori, Japan.
Because the boy has a terrifying secret – one that would just killto get out.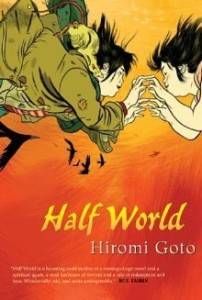 *Half World by Hiromi Goto: Melanie Tamaki is human—but her parents aren't. They are from Half World, a Limbo between our world and the afterlife, and her father is still there. When her mother disappears, Melanie must follow her to Half World—and neither of them may return alive.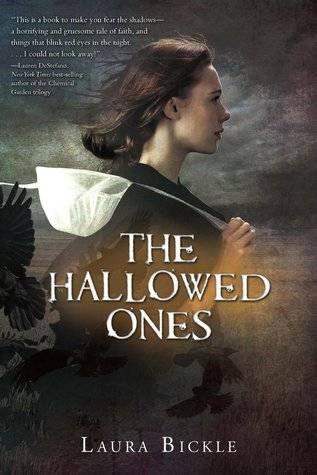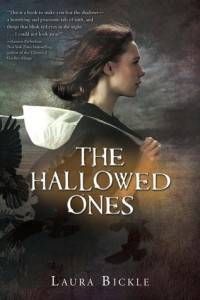 *The Hallowed Ones by Laura Bickle: Katie is on the verge of her Rumspringa, the time in Amish life when teenagers can get a taste of the real world. But the real world comes to her in this dystopian tale with a philosophical bent. Rumors of massive unrest on the "Outside" abound. Something murderous is out there. Amish elders make a rule: No one goes outside, and no outsiders come in. But when Katie finds a gravely injured young man, she can't leave him to die. She smuggles him into her family's barn—at what cost to her community? The suspense of this vividly told, truly horrific thriller will keep the pages turning.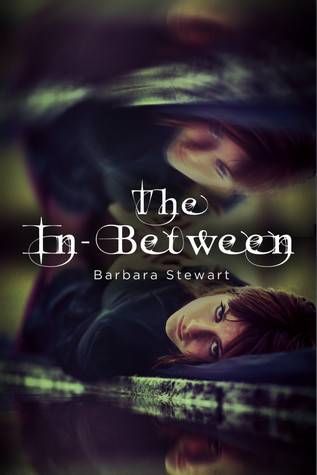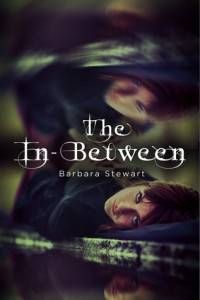 The In-Between by Barbara Stewart+: When Elanor's near-death experience opens a door to a world inhabited by bold, beautiful Madeline, she finds her life quickly spiraling out of control
Fourteen-year-old Elanor Moss has always been an outcast who fails at everything she tries—she's even got the fine, white scars to prove it. Moving was supposed to be a chance at a fresh start, a way to leave behind all the pain and ugliness of her old life. But, when a terrible car accident changes her life forever, her near-death experience opens a door to a world inhabited by Madeline Torus . . . Madeline is everything Elanor isn't: beautiful, bold, brave. She is exactly what Elanor has always wanted in a best friend and more—their connection runs deeper than friendship. But Madeline is not like other girls, and Elanor has to keep her new friend a secret or risk being labeled "crazy." Soon, though, even Elanor starts to doubt her own sanity. Madeline is her entire life, and that life is drastically spinning out of control. Elanor knows what happens when your best friend becomes your worst enemy. But what happens when your worst enemy is yourself?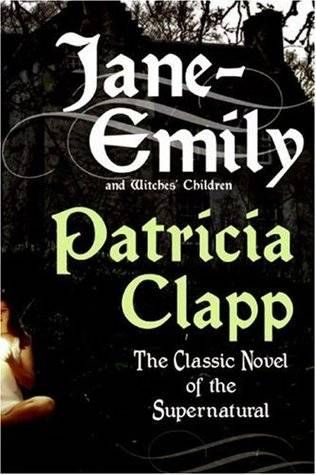 Jane Emily by Patricia Clapp+: Emily was a selfish, willful, hateful child who died before her thirteenth birthday. But that was a long time ago.
Jane is nine years old and an orphan when she and her young Aunt Louisa come to spend the summer at Jane's grandmother's house, a large, mysterious mansion in Massachusetts. Then one day . . . Jane stares into a reflecting ball in the garden—and the face that looks back at her is not her own.
Many years earlier, a child of rage and malevolence lived in this place. And she never left. Now Emily has dark plans for little Jane—a blood-chilling purpose that Louisa, just a girl herself, must battle with all her heart, soul, and spirit . . . or she will lose her innocent, helpless niece forever.
*Long Lankin by Lindsey Barraclough: Beware of Long Lankin, that lives in the moss. . . .When Cora and her younger sister, Mimi, are sent to stay with their elderly aunt in the isolated village of Byers Guerdon, they receive a less than warm welcome. Auntie Ida is eccentric and rigid, and the girls are desperate to go back to London. But what they don't know is that their aunt's life was devastated the last time two young sisters were at Guerdon Hall, and she is determined to protect her nieces from an evil that has lain hidden for years. Along with Roger and Peter, two village boys, Cora must uncover the horrifying truth that has held Bryers Guerdon in its dark grip for centuries — before it's too late for little Mimi.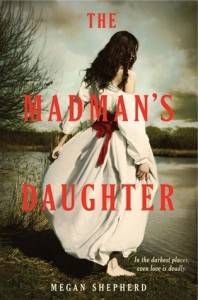 *The Madman's Daughter by Megan Shepherd: Sixteen-year-old Juliet Moreau has built a life for herself in London—working as a maid, attending church on Sundays, and trying not to think about the scandal that ruined her life. After all, no one ever proved the rumors about her father's gruesome experiments. But when she learns he is alive and continuing his work on a remote tropical island, she is determined to find out if the accusations are true.
Accompanied by her father's handsome young assistant, Montgomery, and an enigmatic castaway, Edward—both of whom she is deeply drawn to—Juliet travels to the island, only to discover the depths of her father's madness: He has experimented on animals so that they resemble, speak, and behave as humans. And worse, one of the creatures has turned violent and is killing the island's inhabitants. Torn between horror and scientific curiosity, Juliet knows she must end her father's dangerous experiments and escape her jungle prison before it's too late. Yet as the island falls into chaos, she discovers the extent of her father's genius—and madness—in her own blood.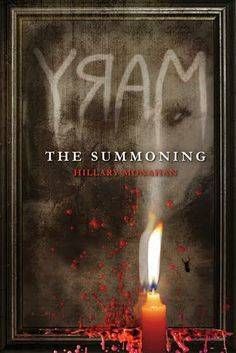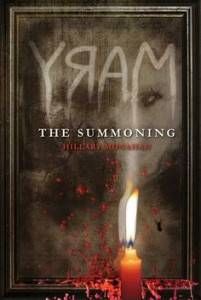 *Mary: The Summoning by Hillary Monahan (Eva Darrows is her pen name for another YA horror novel)+: There is a right way and a wrong way to summon her.
Jess had done the research. Success requires precision: a dark room, a mirror, a candle, salt, and four teenage girls. Each of them–Jess, Shauna, Kitty, and Anna–must link hands, follow the rules . . . and never let go.
A thrilling fear spins around the room the first time Jess calls her name: "Bloody Mary. Bloody Mary. BLOODY MARY." A ripple of terror follows when a shadowy silhouette emerges through the fog, a specter trapped behind the mirror.
Once is not enough, though–at least not for Jess. Mary is called again. And again. But when their summoning circle is broken, Bloody Mary slips through the glass with a taste for revenge on her lips. As the girls struggle to escape Mary's wrath, loyalties are questioned, friendships are torn apart, and lives are forever altered.
A haunting trail of clues leads Shauna on a desperate search to uncover the legacy of Mary Worth. What she finds will change everything, but will it be enough to stop Mary–and Jess–before it's too late?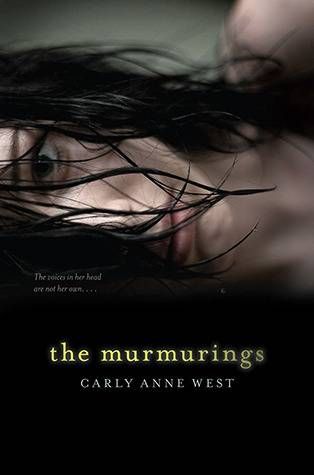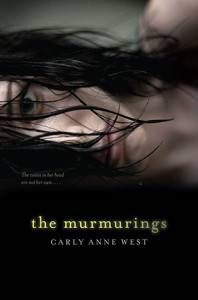 The Murmurings by Carly Anne West+: Everyone thinks Sophie's sister, Nell, went crazy. After all, she heard strange voices that drove her to commit suicide. But Sophie doesn't believe that Nell would take her own life, and she's convinced that Nell's doctor knows more than he's letting on.
As Sophie starts to piece together Nell's last days, every lead ends in a web of lies. And the deeper Sophie digs, the more danger she's in—because now she's hearing the same haunting whispers. Sophie's starting to think she's going crazy too. Or worse, that maybe she's not.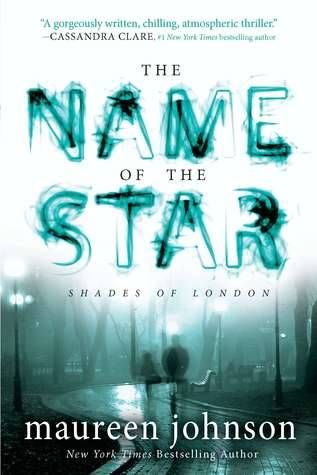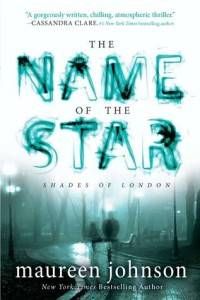 *The Name of the Star by Maureen Johnson: Jack the Ripper is back, and he's coming for Rory next….
Louisiana teenager Rory Deveaux arrives in London to start a new life at boarding school just as a series of brutal murders mimicking the horrific Jack the Ripper killing spree of more than a century ago has broken out across the city. The police are left with few leads and no witnesses. Except one. Rory spotted the man believed to be the prime suspect. But she is the only one who saw him – the only one who can see him. And now Rory has become his next target…unless she can tap her previously unknown abilities to turn the tables.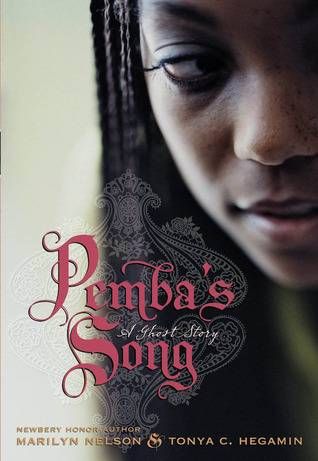 Pemba's Song: A Ghost Story by Marilyn Nelson and Tonya C. Hegamin: Pemba knows she's not crazy. But who is that looking out at her through her mirror's eye? And why does the apparition call her "friend?" Her real friends are back home in Brooklyn, not in the old colonial house in Colchester, Connecticut, where none of this would have happened if Daddy were still alive. But now all Pemba has is Mom and that strange old man, Abraham. Maybehe's the crazy one.
Thank goodness for Pemba's Playlist and the journal she keeps. There are so many answers deep inside that music. And so much is revealed in Pemba's poetry — the hops she writes and those coming through her iPod. Phyllys, an eighteenth-century slave girl, has answers, too. They billow out from her ghostly visits to Pemba, visits that transform both girls in ways neither expected.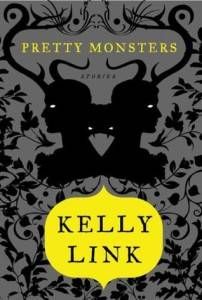 Pretty Monsters by Kelly Link: Through the lens of Link's vivid imagination, nothing is what it seems, and everything deserves a second look. From the multiple award-winning The Faery Handbag, in which a teenager's grandmother carries an entire village (or is it a man-eating dog?) in her handbag, to the near-future of The Surfer, whose narrator (a soccer-playing skeptic) waits with a planeload of refugees for the aliens to arrive, Link's stories are funny and full of unexpected insights and skewed perspectives on the world.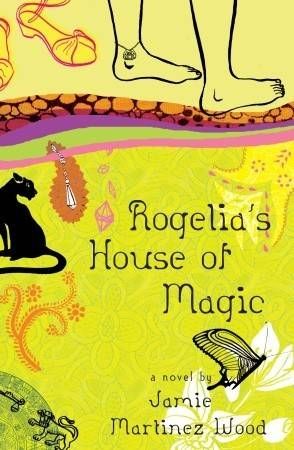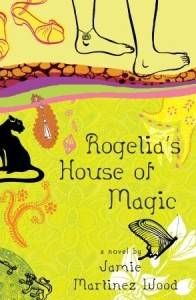 Rogelia's House of Magic by Jamie Martinez Wood: When Rogelia becomes a maid at Marina Peralta's home, it's obvious to Marina and her friend Fern that they have a real mystic on their hands. Soon Rogelia agrees to teach the girls the magic of their ancestors, much as she taught her granddaughters, Xochitl and Gracielia.
Even though Marina and Fern are thrilled to have this chance to understand and use their powers, Xochitl isn't happy about sharing such a sacred thing with anyone but her sister, who perished in a car accident. Besides, magic has let Xochitl down before. Why wouldn't it now? But, as the girls will eventually discover, at Rogelia's House of Magic anything is possible.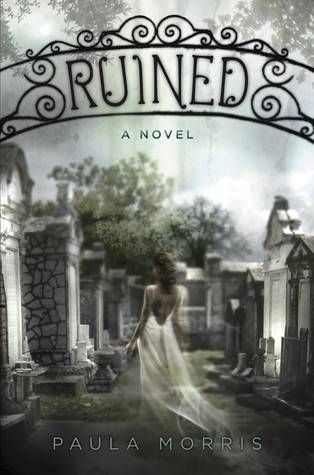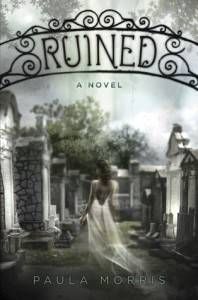 *Ruined by Paula Morris: Rebecca couldn't feel more out of place in New Orleans, where she comes to spend the year while her dad is traveling. She's staying in a creepy old house with her Aunt Claudia, who reads Tarot cards for a living. And at the snooty prep school, a pack of filthy-rich girls treat Rebecca like she's invisible. Only gorgeous, unavailable Anton Grey seems to give Rebecca the time of day, but she wonders if he's got a hidden agenda. Then one night, in Lafayette Cemetery, Rebecca makes a friend. Sweet, mysterious Lisette is eager to talk to Rebecca, and to show her the nooks and crannies of the city.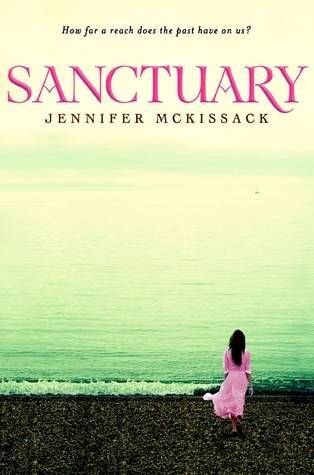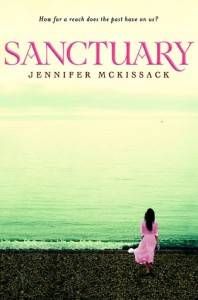 Sanctuary by Jennifer McKissack: After the untimely death of her aunt, Cecilia Cross is forced to return to Sanctuary, a rambling, old mansion that crowns a remote island off the coast of Maine. Cecilia is both drawn to and repulsed by Sanctuary. The scent of the ocean intoxicates her, but she's also haunted by the ghosts of her past—of her father and sister who died there, of her mother who was torn away from her and sent to an asylum, and of the vengeful spirit of a woman wronged. Flooding memories leave Cecilia shaken, desperate to run away and forget her terrible family history.
But then a mysterious guest arrives at Sanctuary: Eli Bauer, a professor sent to examine Sanctuary's library. Cecilia is intrigued by this strange young man who seems so interested in her—even more interested in her than in the books he is meant to be studying. Who is he and what does he want? Can Cecilia possibly trust her growing feelings for him? And can he help her make peace a tragic past and a haunted present?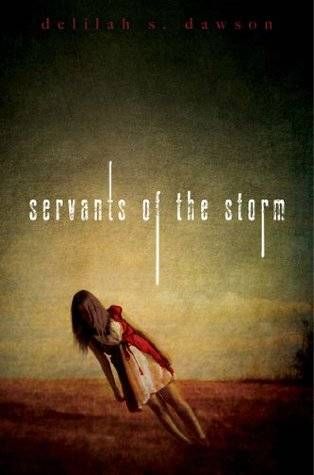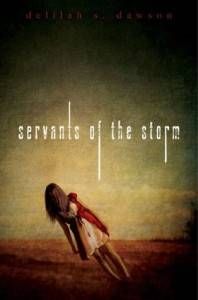 Servants of the Storm by Delilah S. Dawson: Dovey learns that demons lurk in places other than the dark corners of her mind in this southern gothic fantasy from the author of the Blud series.
A year ago, Hurricane Josephine swept through Savannah, Georgia, leaving behind nothing but death and destruction—and taking the life of Dovey's best friend, Carly. Since that night, Dovey has been in a medicated haze, numb to everything around her.
But recently she's started to believe she's seeing things that can't be real…including Carly at their favorite café. Determined to learn the truth, Dovey stops taking her pills. And the world that opens up to her is unlike anything she could have imagined.
As Dovey slips deeper into the shadowy corners of Savannah—where the dark and horrifying secrets lurk—she learns that the storm that destroyed her city and stole her friend was much more than a force of nature. And now the sinister beings truly responsible are out to finish what they started.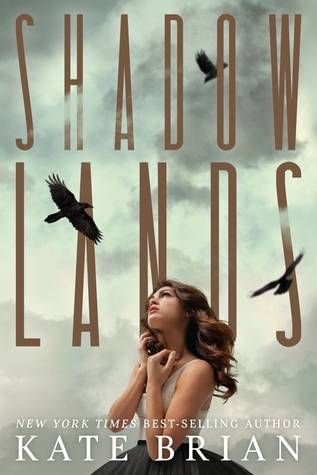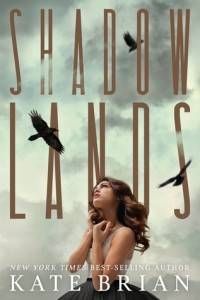 *Shadowlands by Kate Brian: Rory Miller had one chance to fight back and she took it. Rory survived and the serial killer who attacked her escaped. Now that the infamous Steven Nell is on the loose, Rory must enter the witness protection program. Entering the program alongside her, is her father and sister Darcy. The trio starts a new life and a new beginning leaving their friends and family behind without a goodbye.
Starting over in a new town with only each other is unimaginable for Rory and Darcy. They were inseparable as children but now they can barely stand each other. As the sisters settle in to Juniper Landing, a picturesque vacation island, it seems like their new home may be just the fresh start they need. They fall in with a group of beautiful, carefree teens and spend their days surfing, partying on the beach, and hiking into endless sunsets. Just as they're starting to feel safe again, one of their new friends goes missing. Is it a coincidence? Or is the nightmare beginning all over again?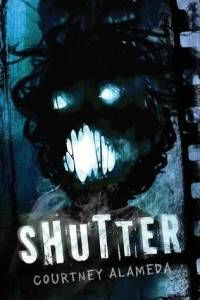 *Shutter by Courtney Alameda: Micheline Helsing is a tetrachromat—a girl who sees the auras of the undead in a prismatic spectrum. As one of the last descendants of the Van Helsing lineage, she has trained since childhood to destroy monsters both corporeal and spiritual: the corporeal undead go down by the bullet, the spiritual undead by the lens. With an analog SLR camera as her best weapon, Micheline exorcises ghosts by capturing their spiritual energy on film. She's aided by her crew: Oliver, a techno-whiz and the boy who developed her camera's technology; Jude, who can predict death; and Ryder, the boy Micheline has known and loved forever.
When a routine ghost hunt goes awry, Micheline and the boys are infected with a curse known as a soulchain. As the ghostly chains spread through their bodies, Micheline learns that if she doesn't exorcise her entity in seven days or less, she and her friends will die. Now pursued as a renegade agent by her monster-hunting father, Leonard Helsing, she must track and destroy an entity more powerful than anything she's faced before . . . or die trying.
Slice of Cherry by Dia Reeves+: Kit and Fancy Cordelle are sisters of the best kind: best friends, best confidantes, and best accomplices. The daughters of the infamous Bonesaw Killer, Kit and Fancy are used to feeling like outsiders, and that's just the way they like it. But in Portero, where the weird and wild run rampant, the Cordelle sisters are hardly the oddest or most dangerous creatures around.
It's no surprise when Kit and Fancy start to give in to their deepest desire – the desire to kill. What starts as a fascination with slicing open and stitching up quickly spirals into a gratifying murder spree. Of course, the sisters aren't killing just anyone, only the people who truly deserve it. But the girls have learned from the mistakes of their father, and know that a shred of evidence could get them caught. So when Fancy stumbles upon a mysterious and invisible doorway to another world, she opens a door to endless possibilities.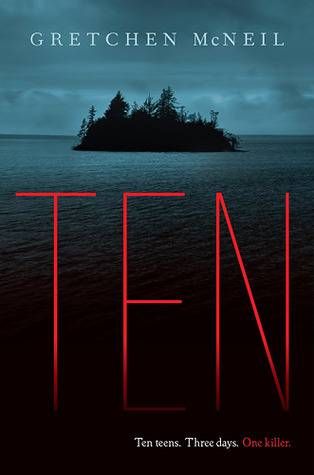 Ten by Gretchen McNeil+: It was supposed to be the weekend of their lives—an exclusive house party on Henry Island. Best friends Meg and Minnie each have their reasons for being there (which involve T.J., the school's most eligible bachelor) and look forward to three glorious days of boys, booze and fun-filled luxury.
But what they expect is definitely not what they get, and what starts out as fun turns dark and twisted after the discovery of a DVD with a sinister message: Vengeance is mine.
Suddenly people are dying, and with a storm raging, the teens are cut off from the outside world. No electricity, no phones, no internet, and a ferry that isn't scheduled to return for two days. As the deaths become more violent and the teens turn on each other, can Meg find the killer before more people die? Or is the killer closer to her than she could ever imagine?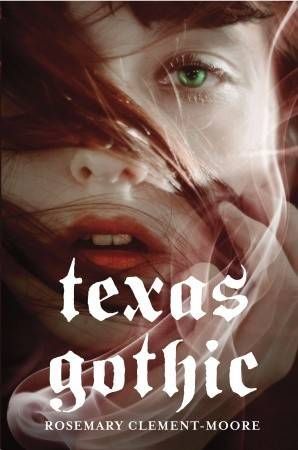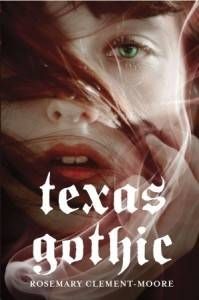 *Texas Gothic by Rosemary Clement-Moore+: Amy Goodnight knows that the world isn't as simple as it seems—she grew up surrounded by household spells and benevolent ghosts. But she also understands that "normal" doesn't mix with magic, and she's worked hard to build a wall between the two worlds. Not only to protect any hope of ever having a normal life.
Ranch-sitting for her aunt in Texas should be exactly that. Good old ordinary, uneventful hard work. Only, Amy and her sister, Phin, aren't alone. There's someone in the house with them—and it's not the living, breathing, amazingly hot cowboy from the ranch next door.
It's a ghost, and it's more powerful than the Goodnights and all their protective spells combined. It wants something from Amy, and none of her carefully built defenses can hold it back.
This is the summer when the wall between Amy's worlds is going to come crashing down.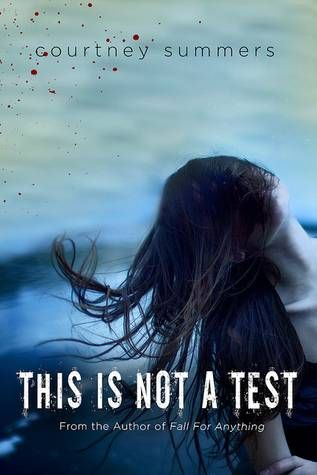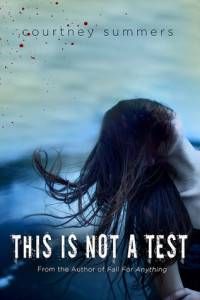 *This Is Not A Test by Courtney Summers: It's the end of the world. Six students have taken cover in Cortege High but shelter is little comfort when the dead outside won't stop pounding on the doors. One bite is all it takes to kill a person and bring them back as a monstrous version of their former self. To Sloane Price, that doesn't sound so bad. Six months ago, her world collapsed and since then, she's failed to find a reason to keep going. Now seems like the perfect time to give up. As Sloane eagerly waits for the barricades to fall, she's forced to witness the apocalypse through the eyes of five people who actually want to live. But as the days crawl by, the motivations for survival change in startling ways and soon the group's fate is determined less and less by what's happening outside and more and more by the unpredictable and violent bids for life—and death—inside. When everything is gone, what do you hold on to?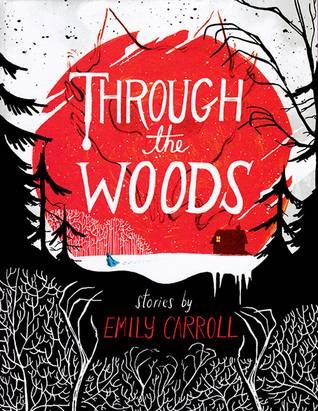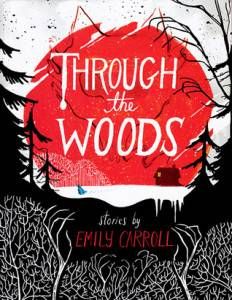 Through The Woods by Emily Carroll: 'It came from the woods. Most strange things do.'
Five mysterious, spine-tingling stories follow journeys into (and out of?) the eerie abyss.
These chilling tales spring from the macabre imagination of acclaimed and award-winning comic creator Emily Carroll.
Come take a walk in the woods and see what awaits you there…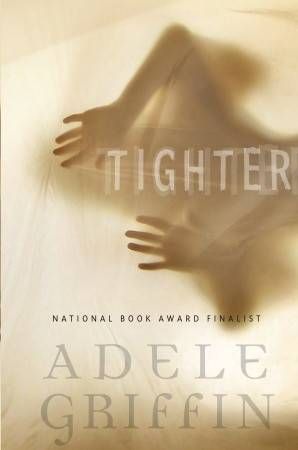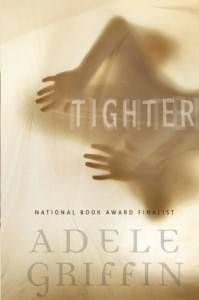 Tighter by Adele Griffin+: When 17-year-old Jamie arrives on the idyllic New England island of Little Bly to work as a summer au pair, she is stunned to learn of the horror that precedes her. Seeking the truth surrounding a young couple's tragic deaths, Jamie discovers that she herself looks shockingly like the dead girl—and that she has a disturbing ability to sense the two ghosts. Why is Jamie's connection to the couple so intense? What really happened last summer at Little Bly? As the secrets of the house wrap tighter and tighter around her, Jamie must navigate the increasingly blurred divide between the worlds of the living and the dead.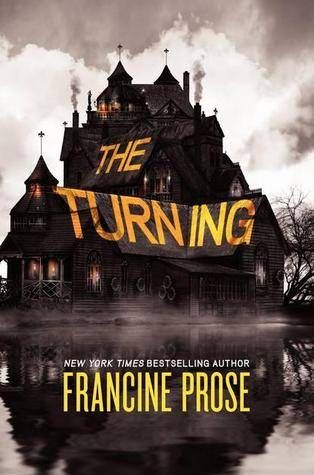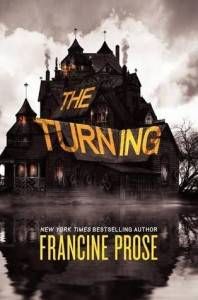 The Turning by Francine Prose: Jack is spending the summer on a private island far from modern conveniences. No Wi-Fi, no cell service, no one else on the island but a housekeeper and the two very peculiar children in his care. The first time Jack sees the huge black mansion atop a windswept hill, he senses something cold, something more sinister than even the dark house itself.
Soon, he feels terribly isolated and alone. Yet he is not alone. The house has visitors—peering in the windows, staring from across the shore. But why doesn't anyone else see them . . . and what do they want? As secrets are revealed and darker truths surface, Jack desperately struggles to maintain a grip on reality. He knows what he sees, and he isn't crazy. . . . Or is he?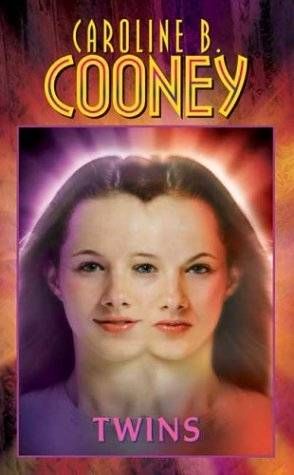 Twins by Caroline B. Cooney+: Mary Lee and Madrigal are identical twins, exactly alike in every way. Until they are separated — then Mary Lee wishes she could live her sister's life. And then she gets her wish . . . along with a horrifying discovery.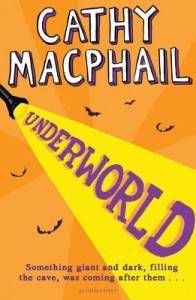 Underworld by Cathy MacPhail: A school trip goes disastrously wrong when a visit to local caves turns into something far more sinister. Five school children find themselves trapped beneath the ground. Their best chance of escape is to stay together. Then a member of the group disappears, and their hopes of leaving start to fade. Does one of the remaining four know more than they are letting on, or is there something evil lurking in the caves? The five children find themselves in a struggle for dominance as well as survival….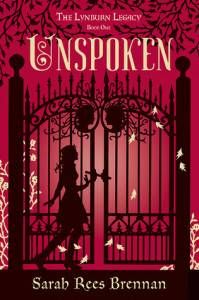 *Unspoken by Sarah Rees Brennan: Kami Glass loves someone she's never met . . . a boy she's talked to in her head ever since she was born. She wasn't silent about her imaginary friend during her childhood, and is thus a bit of an outsider in her sleepy English town of Sorry-in-the-Vale. Still, Kami hasn't suffered too much from not fitting in. She has a best friend, runs the school newspaper, and is only occasionally caught talking to herself. Her life is in order, just the way she likes it, despite the voice in her head.
But all that changes when the Lynburns return.
The Lynburn family has owned the spectacular and sinister manor that overlooks Sorry-in-the-Vale for centuries. The mysterious twin sisters who abandoned their ancestral home a generation ago are back, along with their teenage sons, Jared and Ash, one of whom is eerily familiar to Kami. Kami is not one to shy away from the unknown—in fact, she's determined to find answers for all the questions Sorry-in-the-Vale is suddenly posing. Who is responsible for the bloody deeds in the depths of the woods? What is her own mother hiding? And now that her imaginary friend has become a real boy, does she still love him? Does she hate him? Can she trust him?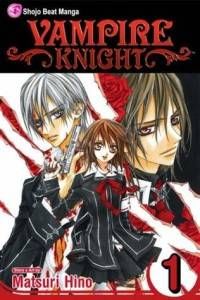 *Vampire Knight by Matsuri Hino: Yuki Cross has no memory of her past prior to the moment she was saved from a vampire attack ten years ago. She was adopted by the headmaster of Cross Academy, and now works alongside Zero to guard the Academy's secret. Cross Adademy is attended by two groups of students: the Day Class and the Night Class. At twilight, when the students of the Day Class return to their dorm, they cross paths with the Night Class on their way to school. Yuki Cross and Zero Kiryu are the Guardians of the school, protecting the Day Class from the Academy's dark secret: the Night Class is full of vampires!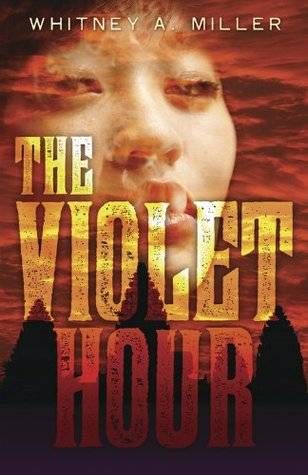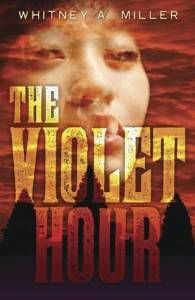 *The Violet Hour by Whitney A. Miller: The voice inside me is breaking free. I can't stop it.
Some call VisionCrest the pinnacle of religious enlightenment. Others call it a powerful cult. For seventeen years, Harlow Wintergreen has called it her life.
As the daughter of VisionCrest's patriarch, Harlow is expected to be perfect at all times. She must be considered a paragon of integrity by the other Ministry teens and a future leader in the eyes of the world.
Despite the constant scrutiny Harlow is keeping a dark and dangerous secret, even from her best friend and the boy she loves. She hears a voice in her head that seems to have a mind of its own, plaguing her with violent and bloody visions. It commands her to kill. And the urge to obey is getting harder and harder to control.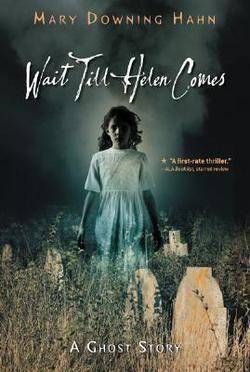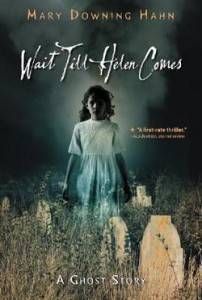 Wait Till Helen Comes by Mary Downing Hahn+: Twelve-year-old Molly and her ten-year-old brother, Michael, have never liked their seven-year-old stepsister, Heather. Ever since their parents got married, she's made Molly and Michael's life miserable. Now their parents have moved them all to the country to live in a house that used to be a church, with a cemetery in the backyard. If that's not bad enough, Heather starts talking to a ghost named Helen and warning Molly and Michael that Helen is coming for them. Molly feels certain Heather is in some kind of danger, but every time she tries to help, Heather twists things around to get her into trouble. It seems as if things can't get any worse.
But they do — when Helen comes.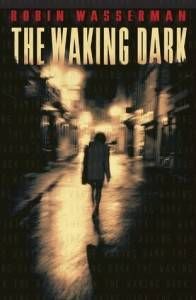 The Waking Dark by Robin Wasserman+: THEY CALLED IT THE KILLING DAY. Twelve people dead, in the space of a few hours. Five murderers: neighbors, relatives, friends. All of them so normal. All of them seemingly harmless. All of them now dead by their own hand . . . except one. And that one has no answers to offer the shattered town. She doesn't even know why she killed—or whether she'll do it again.
Something is waking in the sleepy town of Oleander, Kansas—something dark and hungry that lives in the flat earth and the open sky, in the vengeful hearts of upstanding citizens. As the town begins its descent into blood and madness, five survivors of the killing day are the only ones who can stop Oleander from destroying itself. Jule, the outsider at war with the world. West, the golden boy at war with himself. Daniel, desperate for a different life. Cass, who's not sure she deserves a life at all. Ellie, who believes in sacrifice, who believes in fate, who believes in evil. Ellie, who always goes too far.
They have nothing in common. They have nothing left to lose. And they have no way out. Which means that they have no choice but to stand and fight, to face the darkness in their town—and in themselves.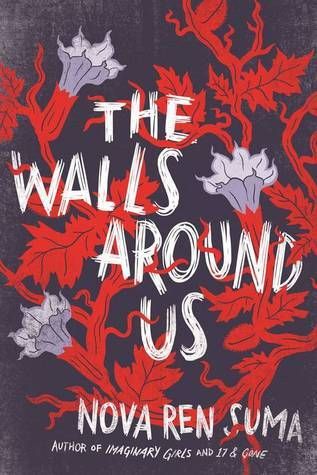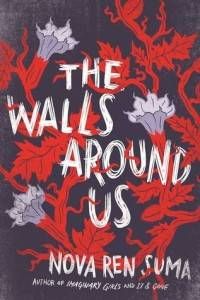 The Walls Around Us by Nova Ren Suma+: On the outside, there's Violet, an eighteen-year-old dancer days away from the life of her dreams when something threatens to expose the shocking truth of her achievement.
On the inside, within the walls of the Aurora Hills juvenile detention center, there's Amber, locked up for so long she can't imagine freedom.
Tying their two worlds together is Orianna, who holds the key to unlocking all the girls' darkest mysteries…
What really happened on the night Orianna stepped between Violet and her tormentors? What really happened on two strange nights at Aurora Hills? Will Amber and Violet and Orianna ever get the justice they deserve—in this life or in another one?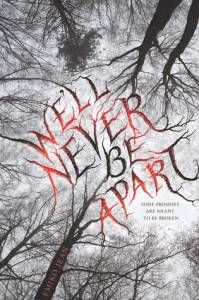 We'll Never Be Apart by Emiko Jean: Murder.
Fire.
Revenge.
That's all seventeen-year-old Alice Monroe thinks about. Committed to a mental ward at Savage Isle, Alice is haunted by memories of the fire that killed her boyfriend, Jason. A blaze her twin sister Cellie set. But when Chase, a mysterious, charismatic patient, agrees to help her seek vengeance, Alice begins to rethink everything. Writing out the story of her troubled past in a journal, she must confront hidden truths.
Is the one person she trusts only telling her half the story?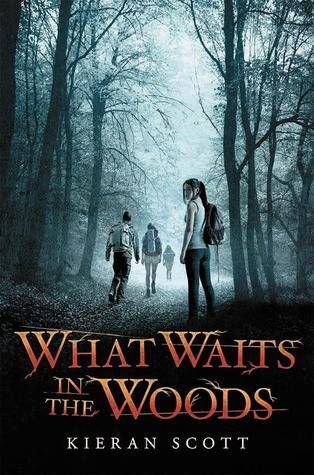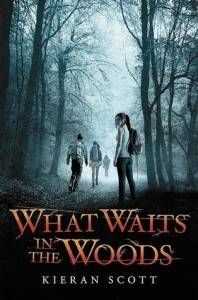 What Waits in The Woods by Kieran Scott: It's a beautiful, sunny day. Callie Velasquez holds hands with her boyfriend Jeremy as they follow Callie's new BFFs Penelope and Lissa up the trail. The four friends are embarking on a camping trip — a trip that immediately goes awry. They lose their way on the trail, and encounter a charismatic stranger with questionable motives. And when Callie stumbles upon a dead body, it becomes clear that the danger that lies in the woods is deadlier than she could have ever imagined. Tensions mount and friendships are tested as these teenagers try to survive the most sinister of circumstances.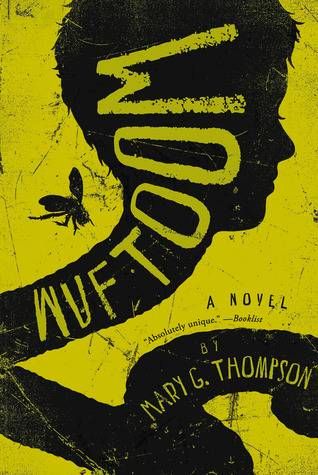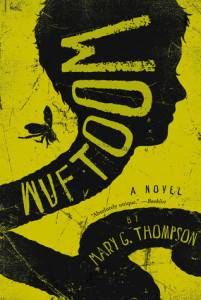 Wuftoom by Mary G. Thompson: Everyone thinks Evan is sick. But Evan knows he is actually transforming. His metamorphosis has him confined to his bed, terrified, and alone—except for visits from the Wuftoom, a wormlike creature that tells Evan he is becoming one of them. Clinging to his humanity and desperate to help his overworked single mother, Evan makes a bargain with the Vitflies, the enemies of the Wuftoom. But when the bargain becomes blackmail and the Vitflies prepare for war, whom can Evan trust? Is saving his humanity worth destroying an entire species, and the only family he has left?