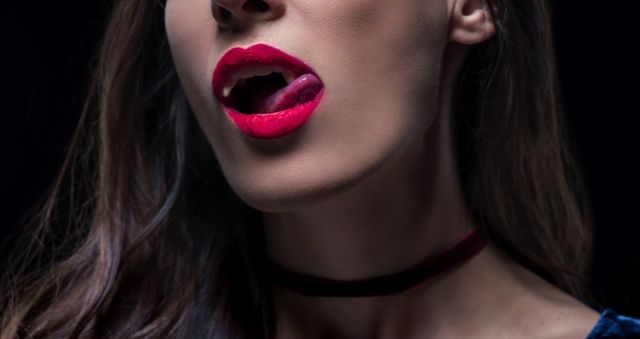 This Riot Recommendation of favorite vampire books is sponsored by Penguin Random House Audio.
New York Times bestselling author Renée Ahdieh returns with new series set in 19th century New Orleans where vampires hide in plain sight.
In 1872, New Orleans is a city ruled by the dead. But to seventeen-year-old Celine Rousseau, New Orleans is a safe haven after she's forced to flee her life as a dressmaker in Paris. Taken in by the sisters of the Ursuline convent in the middle of the carnival season, Celine is quickly enraptured by the vibrant city, from its music to its fancy soirées and even its danger. She becomes embroiled in the city's glitzy underworld, known as La Cour des Lions, after catching the eye of the group's enigmatic leader, Sébastien Saint Germain.
---
We love us a book about blood-suckers: the old and creepy, the young and sparkly, and everything in between! That's why we asked you to share your favorite vampire books with us and HOLY VAN HELSING did you deliver! We've got to say: these books really suck, and we love it. Here are your faves!
Carmilla by Joseph Sheridan Le Fanu
Fledgling by Octavia Butler
Twilight by Stephanie Meyer
Vampire Hunter by Hideyuki Kikuchi
The Vampire Chronicles series by Anne Rice
Certain Dark Things by Silvia Moreno-Garcia
Dracula by Bram Stoker
The Mercy Thompson series by Patricia Briggs
The Silver Kiss by Annette Curtis Klause
Sunshine by Robin McKinley
Bloodsucking Fiends by Christopher Moore
My Soul to Keep by Tananarive Due
The Black Dagger Brotherhood by J.R. Ward
A Small Charred Face by Kazuki Sakuraba
The Argeneau series by Lynsay Sands
The Last Vampire series by Christopher Pike
Let The Right One In by John Ajvide Lindqvist
Midnight Mass by F. Paul Wilson
The Hellsing series by Kohta Hirano
Rulers of Darkness by Steven Spruill
The Lesser Dead by Christopher Buehlmann
The Necroscope series by Brian Lumley
Salem's Lot by Stephen King
The Strain by Guillero del Toro
Stoker's Wilde by Steven Hopstaken and Melissa Prusi
They Thirst by Robert McCammon
The Elemental Mysteries series by Elizabeth Hunter
The Night World series by L.J. Smith
The All Souls trilogy by Deborah Harkness
The Delicate Dependency by Michael Talbot
The Gilda Stories by Jewelle L. Gomez
The Casa Dracula series by Marta Acosta
Vampire Files by P.N. Elrod
The Dracula series by Fred Saberhagen
The Vampire Tapestry by Suzy McKee Charnas
Blood Lines by Tanya Huff
Moonshine by Alaya Dawn Johnson
Vlad by Carlos Fuentes
The Vampire of New York by Lee Hunt
Lost Souls by Poppy Z. Brite
The Diaries of the Family Dracul trilogy by Jeanne Kalogridis
The Pine Deep trilogy by Jonathan Maberry
The Darkangel by Meredith Ann Pierce
The Blue Bloods series by Melissa de la Cruz
The Hunger by Whitley Strieber
The Greta Helsing series by Vivian Shaw
The Chicagoland Vampires series by Chloe Neill
The World of the Others series by Anne Bishop
The Guild Hunter series by Nalini Singh
The House of Night series by P.C. Cast
The Jane Yellowrock series by Faith Hunter
Soul to Keep by Rebekah Weatherspoon
The Historian by Elizabeth Kostova
The Sookie Stackhouse series by Charlaine Harris
The Anita Blake, Vampire Hunter series by Laurel K. Hamilton
Wander this World by G.L.Tomas
The Love at Stake series by Kerrelyn Sparks
The Immortals After Dark series by Kresley Cole
The Morganville Vampires series by Rachel Caine
Fevre Dream by George R.R. Martin