Children's
60 Book Gift Ideas for Reluctant Readers Ages 6 to 12
This content contains affiliate links. When you buy through these links, we may earn an affiliate commission.
I'm that aunt that always gives books as presents for birthdays and holidays. I love browsing bookstores thinking about what my nieces and nephews would enjoy reading, taking into account their interests, reading level, and age. But sometimes I come across someone who tells me they don't want a book for their birthday; they would rather have a toy. After I recover from that statement, I double down and get even more serious about my book gift choices. It only makes me more determined to find the perfect book for them!
This is my list of tried-and-true books for reluctant readers age six to twelve, sorted into three age groups. Do you have a book you love to gift to reluctant readers? Please add to the comments!
Age 6-7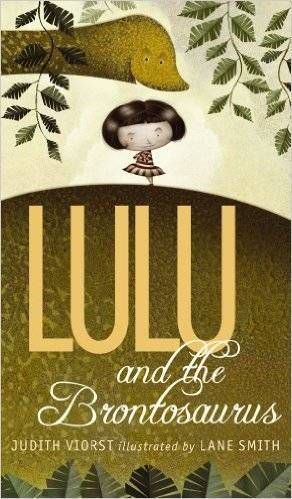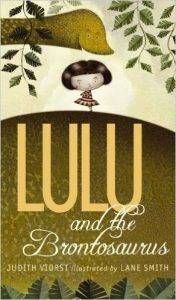 Lulu and the Brontosaurus (series) by Judith Viorst
Lulu is so accustomed to getting what she wants that when her parents deny her birthday request for a brontosaurus, she throws a four-day temper tantrum and then storms off into the forest in search of the dinosaur she clearly deserves. Lulu isn't particularly impressed with the snake, tiger, and bear she encounters, but then she finds him—a beautiful, long-necked, graceful brontosaurus. Mr. B completely agrees with Lulu that having a pet would be a wonderful thing, and Lulu thinks she's gotten her birthday wish at last. Until she realizes that Mr. Brontosaurus thinks that she would make an ideal pet for him!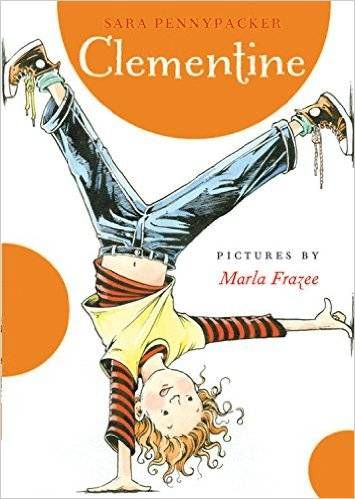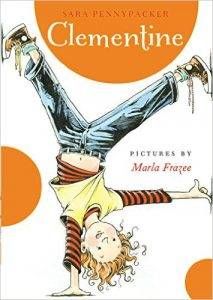 Clementine (series) by Sara Pennypacker

Clementine is having not so good of a week.
On Monday she's sent to the principal's office for cutting off Margaret's hair.
Tuesday, Margaret's mother is mad at her.
Wednesday, she's sent to the principal again.
Thursday, Margaret stops speaking to her.
Friday starts with yucky eggs and gets worse.
And by Saturday, even her mother is mad at her.
Okay, fine. Clementine is having a DISASTROUS week.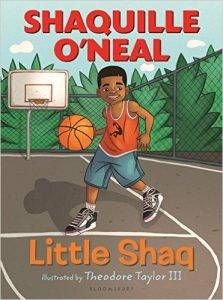 Little Shaq (series) by Shaquille O'Neal
When Little Shaq and his cousin Barry accidentally break their favorite video game, they need to find a way to replace it. That's when Little Shaq's science project inspires a solution: a gardening business. They can water their neighbors' gardens to raise money for a new game! Little Shaq and Barry make a great team both on and off the basketball court, but will their business be as successful as they hoped?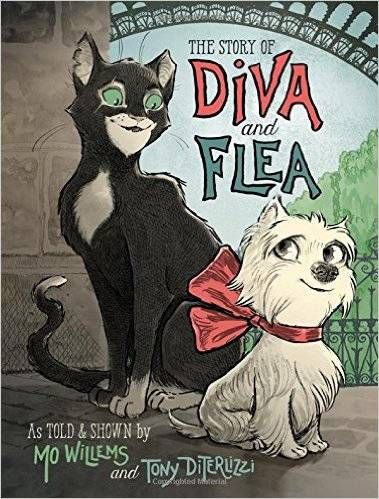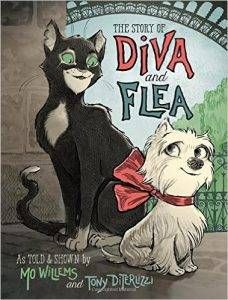 The Story of Diva and Flea by Mo Willems

Diva, a small yet brave dog, and Flea, a curious streetwise cat, develop an unexpected friendship in this unforgettable tale of discovery. For as long as she could remember, Diva lived at 11 avenue Le Play in Paris, France. For as long as he could remember, Flea also lived in Paris, France-but at no fixed address. When Flea fl neurs past Diva's courtyard one day, their lives are forever changed. Together, Diva and Flea explore and share their very different worlds, as only true friends can do.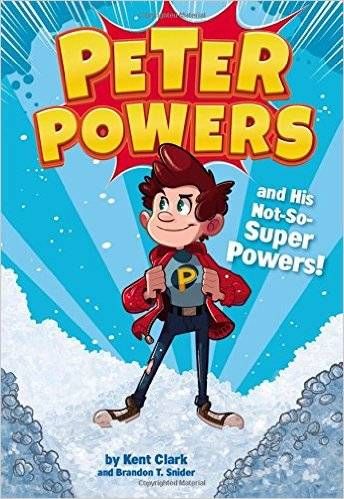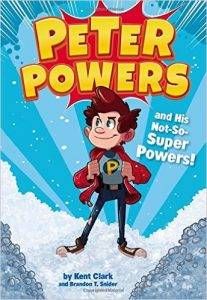 Peter Powers and His Not-So-Super Powers (series) by Kent Clark and Brandon T. Snider
Everyone in Peter Powers' family has super awesome superpowers. His dad controls fire with his mind, and his mom can fly. His big brother makes copies of himself, and his little sister is super-strong. And his baby brother even turns invisible! But all Peter can do is–this is really embarrassing–make ice cubes with his fingertips. When Captain Tornado comes to town and begins robbing banks, will Peter Powers and his totally lame abilities step up to save the day–or will he get cold feet? Join Peter Powers and his fantastic family for their first action-packed and fun-filled adventure to find out!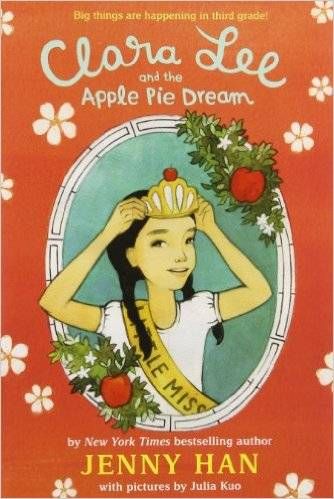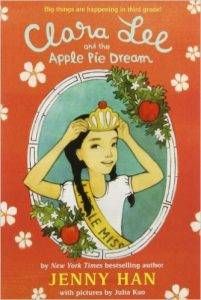 Clara Lee and the Apple Pie Dream by Jenny Han
Meet Clara Lee.
Likes: her best friends, her grandpa, her little sister (when she's not being annoying, which is almost always), candy necklaces, her fancy Korean dress, and the Apple Blossom Festival.
Dislikes: her little sister (when she's being annoying, which is almost always), her mom's yucky fish soup, and bad dreams (even though Grandpa says they mean good luck).
Clara Lee's luck keeps changing. Will she have good luck again in time to win the Little Miss Apple Pie pageant?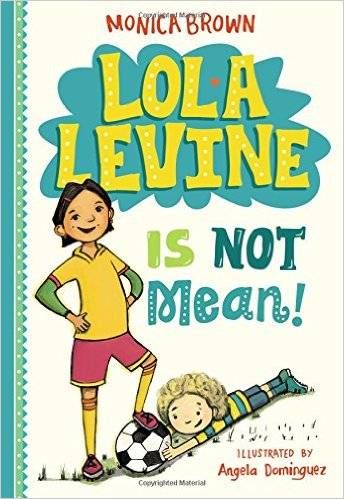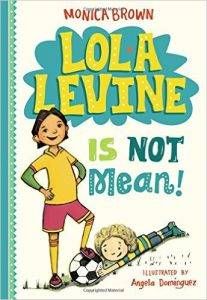 Lola Levine is Not Mean (series) by Monica Brown, illustrated by Angela Dominguez
Lola Levine likes writing in her diario, sipping her mom's cafe con leche, eating her dad's matzo ball soup, and playing soccer with her team, the Orange Smoothies. So what if she doesn't always fit in? Lola is fierce on the field, but when a soccer game during recess gets too competitive, she accidentally hurts her classmate Juan Gomez. Now everyone is calling her Mean Lola Levine! Lola feels terrible, but with the help of her family, her super best friend, Josh Blot, and a little "pencil power," she just might be able to turn it all around.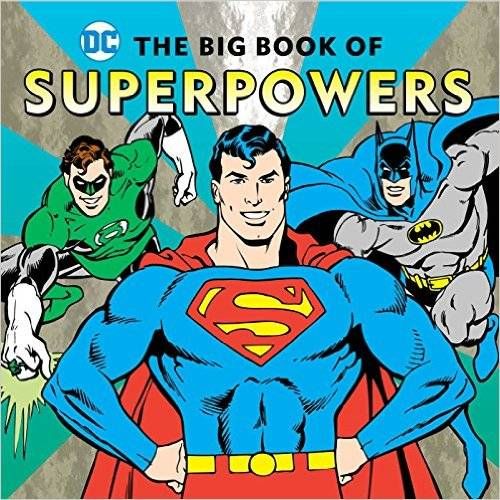 The Big Book of Superpowers by Morris Katz
From Batman's brain power, to the Wonder Woman's ability to get people to tell the truth, to Superman's incredible strength and X-ray vision, DC's super heroes use their exceptional gifts to protect people, and the planet–making them terrific role models for young children. Readers will learn about their favorite characters' amazing powers, as well as their inspiring stories. Classic DC art makes this book as visually compelling as it is fun to read!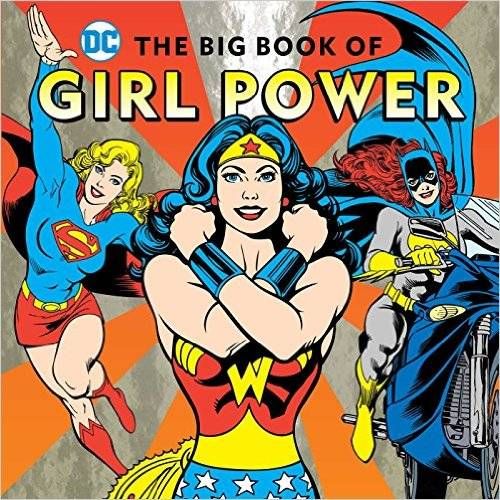 The Big Book of Girl Power by Julie Merberg
Wonder Woman knows the importance of telling the truth. Bat Girl reads a lot and has impressive technical skills. Supergirl is the only girl to survive from the planet Krypton. Black Canary persuades people to do things with the power of her voice. Illustrated with cool, classic DC art, this fun, colorful book shows how these and other amazing female super heroes use their powers to make the world a safer place. Young readers will also enjoy learning the characters' compelling origin stories. Girls will see that being different, overcoming fears, exploring new places–and banding together with other strong women–can be pretty powerful.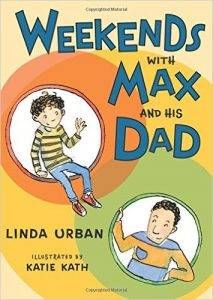 Weekends with Max and his Dad by Linda Urban, illustrated by Katie Kath
Max and his dad love their weekends together. Weekends mean pancakes, pizza, spy games, dog-walking, school projects, and surprising neighbors! Every weekend presents a small adventure as Max gets to know his dad's new neighborhood—and learns some new ways of thinking about home.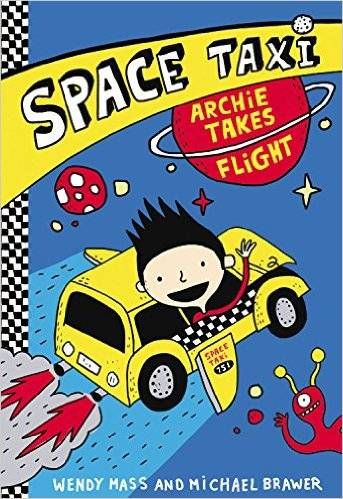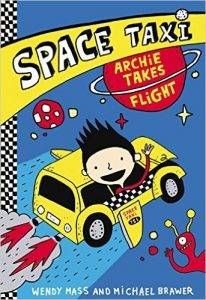 Space Taxi (series) by Wendy Mass and Michael Brawer
It's not every day a regular kid like Archie gets to wake up at midnight. But today is Take Your Kid to Work Day, and Archie is finally allowed to ride along in his dad's taxi cab. He has been waiting eight years, eight months, and eight days for this moment to arrive. But he's about to discover his dad is no ordinary cab driver…In fact, he drives an intergalactic space taxi! All night long, he shuttles aliens from one corner of the universe to another. And being a space taxi copilot is no easy task: Archie must steer them into wormholes, keep them from crashing into planets, deal with a very unusual cat…and save the universe from an evil mastermind!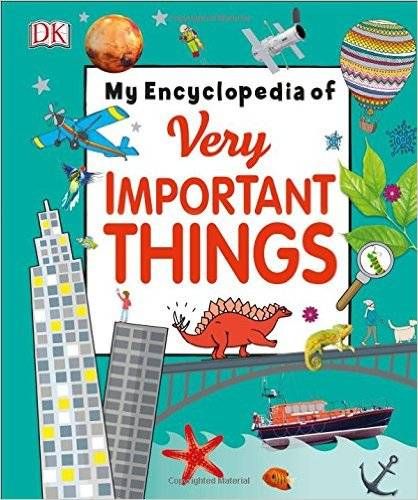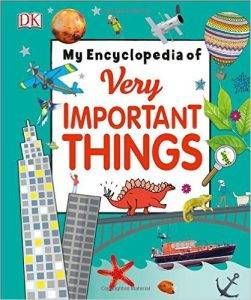 My Encyclopedia of Very Important Things by DK Publishing
Learning takes on a storybook feel in My Encyclopedia of Very Important Things through its "Once upon a time" stories and graphic novel elements. Covering a world of discovery, it explores animals, people, planets, and, very importantly, you! Learn what happens when you skin your knee and find out what makes someone a cousin instead of a sister. Meet vegetarian dinosaurs, fluffy pets, and big blue whales. Explore the past with cavemen, Vikings, and pharaohs. Follow the life of a plant, from seed to flower, and discover what makes up a cloud. Play "I Spy" games to help with letter recognition or flip through the reference section that has important information about letters, shapes, colors, numbers, and more. Study the "Look At This!" pages to see something amazing in even better detail and pore over all the fun facts.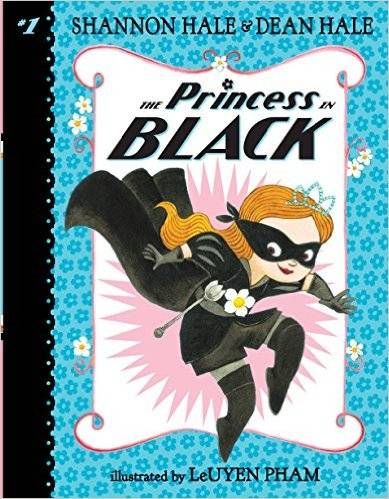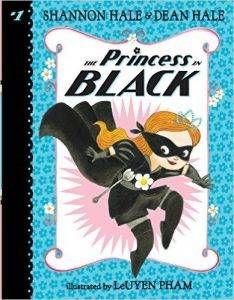 The Princess in Black (series) by Shannon and Dean Hale
Princess Magnolia is having hot chocolate and scones with Duchess Wigtower when . . . Brring! Brring! The monster alarm! A big blue monster is threatening the goats! Stopping monsters is no job for dainty Princess Magnolia. But luckily Princess Magnolia has a secret —she's also the Princess in Black, and stopping monsters is the perfect job for her! Can the princess sneak away, transform into her alter ego, and defeat the monster before the nosy duchess discovers her secret? From award-winning writing team of Shannon and Dean Hale and illustrator LeUyen Pham, here is the first in a humorous and action-packed chapter book series for young readers who like their princesses not only prim and perfect, but also dressed in black.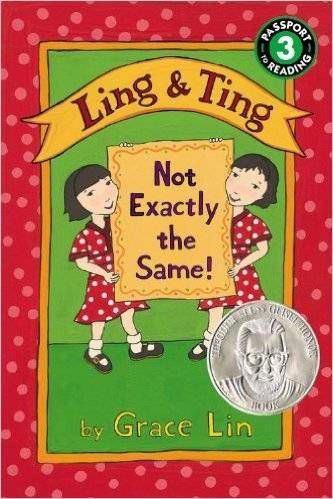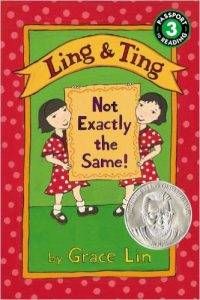 Ling and Ting: Not Exactly the Same! (series) by Grace Lin
Ling and Ting are twins. They have the same brown eyes. They have the same pink cheeks. They have the same happy smiles. Ling and Ting are two adorable identical twins, and they stick together, whether they are making dumplings, getting their hair cut, or practicing magic tricks. But looks are deceiving–people can be very different, even if they look exactly the same.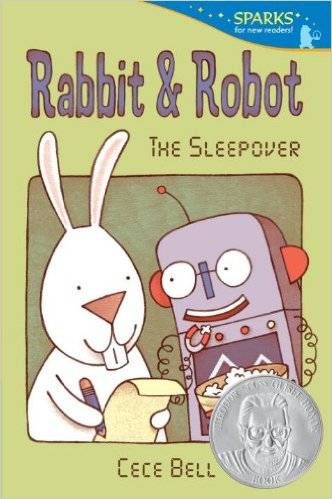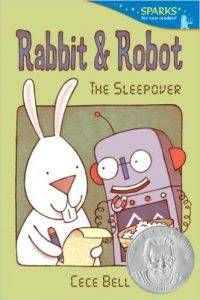 Rabbit and Robot (series) by Cece Bell
Rabbit is excited: his friend Robot is coming to spend the night! Rabbit has left nothing to chance and has drawn up a list of all the things they will do. First off is making pizza, but Robot only likes nuts and bolts and screws on top (good thing he has magnetic hands). Next on the list is watching TV, but the remote is missing, and Rabbit is panicking! Will Robot find a logical (and rather obvious) solution to the problem? Number three is . . . uh-oh! Why is Robot lying down instead of playing Go Fish? And what is that message reading "BAT" printing out from a slot on his front? New readers who like silly stories will race through this funny adventure about a rabbit who likes to be in control and an obliging robot who calmly keeps their friendship humming.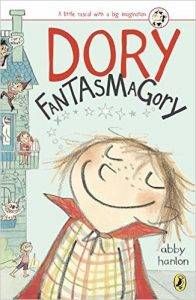 Dory Fantasmagory (series) by Abby Hanlon
As the youngest in her family, Dory really wants attention, and more than anything she wants her brother and sister to play with her. But she's too much of a baby for them, so she's left to her own devices—including her wild imagination and untiring energy. Her siblings may roll their eyes at her childish games, but Dory has lots of things to do: outsmarting the monsters all over the house, escaping from prison (aka time-out), and exacting revenge on her sister's favorite doll. And when they really need her, daring Dory will prove her bravery, and finally get exactly what she has been looking for.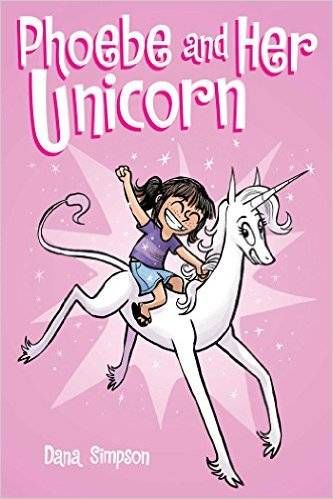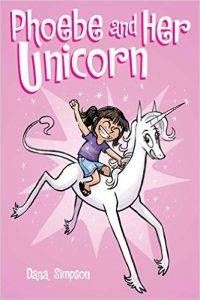 Phoebe and Her Unicorn (series) by Dana Simpson
It all started when a girl named Phoebe skipped a rock across a pond and accidentally hit a unicorn in the face. Improbably, this led to Phoebe being granted one wish, and she used it to make the unicorn, Marigold Heavenly Nostrils, her obligational best friend. But can a vain mythical beast and a nine-year-old daydreamer really forge a connection? Indeed they can, and that's how Phoebe and Her Unicorn unfolds.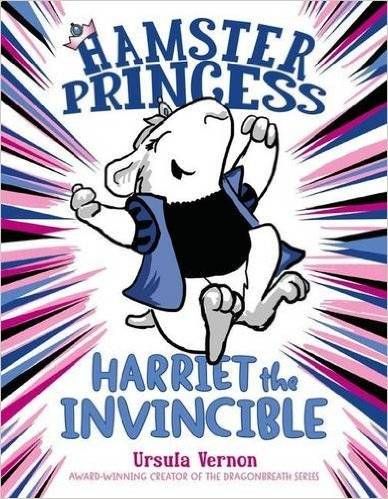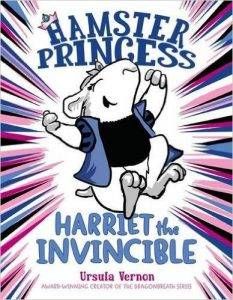 Hamster Princess by Ursula Vernon
Harriet Hamsterbone is not your typical princess. She may be quite stunning in the rodent realm (you'll have to trust her on this one), but she is not so great at trailing around the palace looking ethereal or sighing a lot. She finds the royal life rather . . . dull. One day, though, Harriet's parents tell her of the curse that a rat placed on her at birth, dooming her to prick her finger on a hamster wheel when she's twelve and fall into a deep sleep. For Harriet, this is most wonderful news: It means she's invincible until she's twelve! After all, no good curse goes to waste. And so begins a grand life of adventure with her trusty riding quail, Mumfrey…until her twelfth birthday arrives and the curse manifests in a most unexpected way.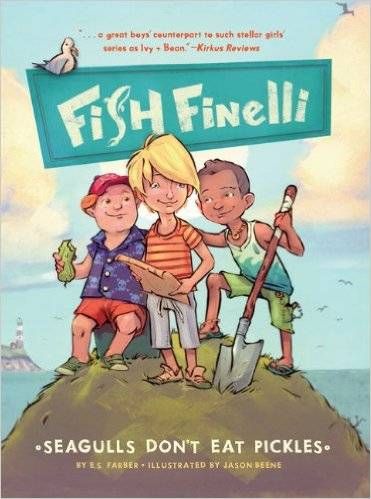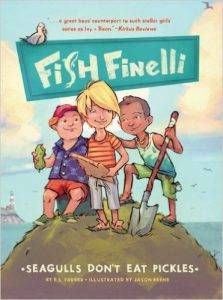 Fish Finelli (series) by E.S. Farber, illustrated by Jason Beene
When the Whooping Hollow town bully, Bryce Billings, bets Fish Finelli that he can't find Captain Kidd's treasure, Fish and his best buds Roger and T. J. must embark on a quest to find the long-lost booty! Between sneaking into the library to track down Captain Kidd's treasure map, stowing away on a boat, and trespassing on the legendary Lyons Island, Fish and his friends are up to their necks in "goose poop" on this adventure!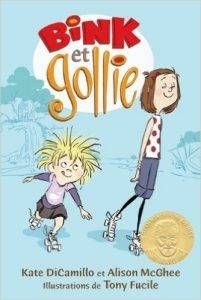 Bink and Gollie (series) by Kate DiCamillo
Meet Bink and Gollie, two precocious little girls — one tiny, one tall, and both utterly irrepressible. Setting out from their super-deluxe tree house and powered by plenty of peanut butter (for Bink) and pancakes (for Gollie), they share three comical adventures involving painfully bright socks, an impromptu trek to the Andes, and a most unlikely marvelous companion. No matter where their roller skates take them, at the end of the day they will always be the very best of friends. Full of quick-witted repartee, this brainchild of Newbery Medalist Kate DiCamillo and award-winning author Alison McGhee is a hilarious ode to exuberance and camaraderie, imagination and adventure, brought to life through the delightfully kinetic images of Tony Fucile.
Ages 8-9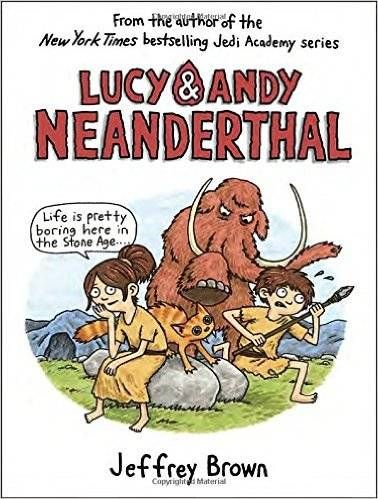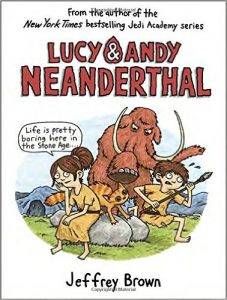 Lucy and Andy Neanderthal by Jeffrey Brown
The laugh-out-loud adventure features Lucy and her goofball brother Andy, as the Paleo pair take on a wandering baby sibling, bossy teens, cave paintings, and a mammoth hunt. But what will happen when they encounter a group of humans?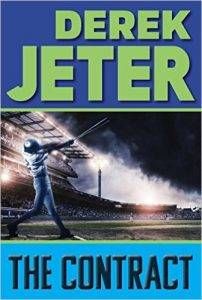 The Contract (series) by Derek Jeter
As a young boy, Derek Jeter dreams of being the shortstop for the New York Yankees. He even imagines himself in the World Series. So when Derek is chosen for the Little League Tigers, he hopes to play shortstop. But on the day of the assignments, Derek Starts at second base. Still, he tries his best while he wishes and dreams of that shortstop spot. And to help him stay focused on school, his parents make him a contract: keep up the grades or no baseball. Derek makes sure he always plays his best game—on and off the baseball field!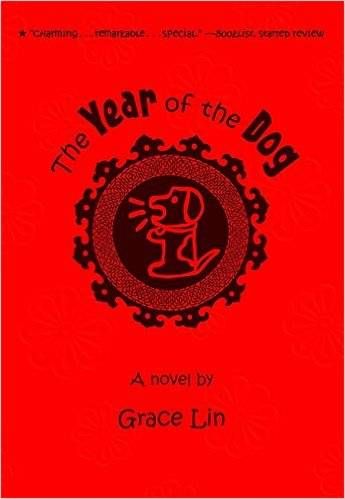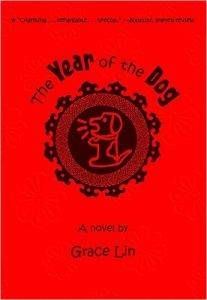 The Year of the Dog (series) by Grace Lin
It's the Chinese Year of the Dog, and as Pacy celebrates with her family, she finds out that this is the year she is supposed to "find herself." Universal themes of friendship, family, and finding one's passion in life make this novel appealing to readers of all backgrounds. This funny and profound book is a wonderful debut novel by a prolific picture book author and illustrator and has all the makings of a classic.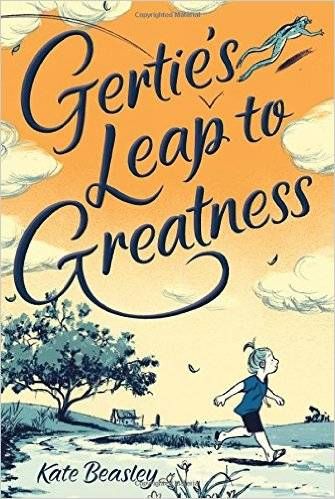 Gertie's Leap to Greatness by Kate Beasley
Gertie Reece Foy is 100% Not-From-Concentrate awesome. She has a daddy who works on an oil rig, a great-aunt who always finds the lowest prices at the Piggly Wiggly, and two loyal best friends. So when her absent mother decides to moaway from their small town, Gertie sets out on her greatest mission yet: becoming the best fifth grader in the universe to show her mother exactly what she'll be leaving behind. There's just one problem: Seat-stealing new girl Mary Sue Spivey wants to be the best fifth grader, too. And there is simply not enough room at the top for the two of them.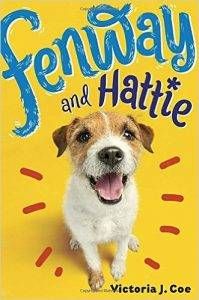 Fenway and Hattie (series) by Victoria J. Coe
Fenway is an excitable and endlessly energetic Jack Russell terrier. He lives in the city with Food Lady, Fetch Man, and—of course—his beloved short human and best-friend-in-the-world, Hattie. But when his family moves to the suburbs, Fenway faces a world of changes. He's pretty pleased with the huge Dog Park behind his new home, but he's not so happy about the Evil Squirrels that taunt him from the trees, the super-slippery Wicked Floor in the Eating Room, and the changes that have come over Hattie lately. Rather than playing with Fenway, she seems more interested in her new short human friend, Angel, and learning to play baseball. His friends in the Dog Park next door say Hattie is outgrowing him, but that can't be right. And he's going to prove it!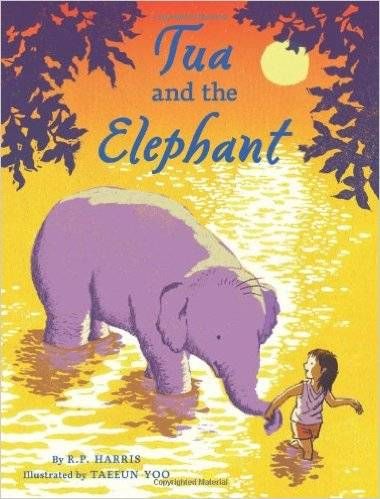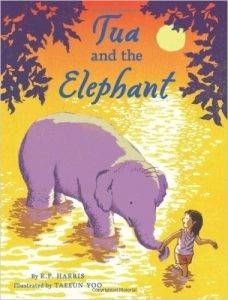 Tua and the Elephant by R.P. Harris, illustrated by Taeeun Yoo
One day, Tua makes an accidental acquaintance—one with wise, loving eyes and a very curious trunk. And this elephant needs her help. From the bustling night market to the hallowed halls of a Buddhist temple and finally, to the sanctuary of an elephant refuge, this clever girl and her beloved companion find that right under their noses is exactly what each has been searching for: a friend.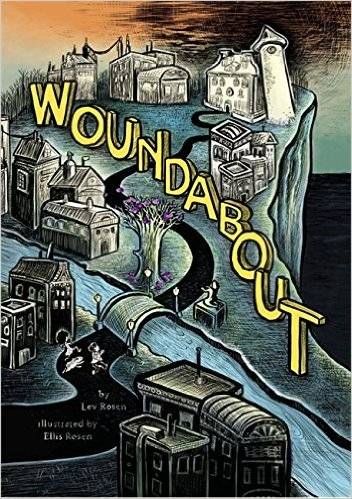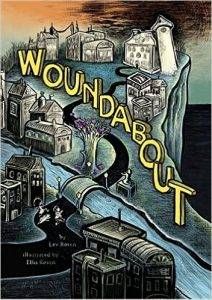 Woundabout by Lev Rosen, illustrated by Ellis Rosen
In the wake of tragedy, siblings Connor and Cordelia and their pet capybara are sent to the precariously perched town of Woundabout to live with their eccentric aunt. Woundabout is a place where the mayor has declared that routine rules above all, and no one is allowed to as questions–because they should already know the answers. But Connor and Cordelia can't help their curiosity when they discover a mysterious crank that fits into certain parts of the town, and by winding the crank, places are transformed into something beautiful. When the townspeople see this transformation, they don't see beauty–they only see change. And change, the mayor says, is something to fear. With the mayor hot on their trail, can Connor and Cordelia find a way to wind Woundabout back to life?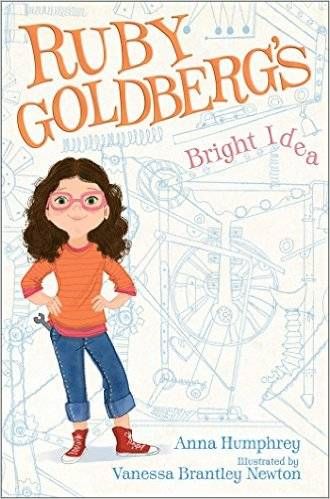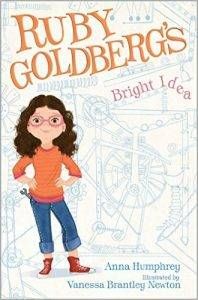 Ruby Goldberg's Bright Idea by Anna Humphrey
Ruby wants first prize at the fifth grade science fair—and she thinks her quirky, creative, Rube Goldberg–esque invention is just the way to get it! Rife with "depth and charm," this story is peppered with engaging science facts and insights (Publishers Weekly). Ten-year-old Ruby Goldberg is determined to win her school science fair and beat her nemesis Dominic Robinson. She's snagged second place for the last two years, and she's set on claiming first prize. The only trouble is that Ruby has no ideas. When her grandfather's beloved basset hound dies, Ruby thinks of the perfect thing that will cheer him up and win her first place—an innovative, state-of-the-art, not-to-be-duplicated Ruby Goldberg invention! Before long Ruby is so busy working on her idea that she ignores everything else in her life, including her best friend, Penny. And what started out as simple turns into something much more complicated! Can Ruby get her priorities—and her project—in order before it's too late?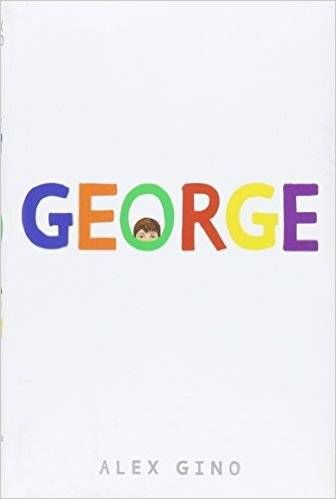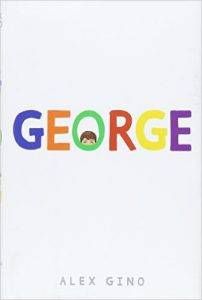 George by Alex Gino
When people look at George, they think they see a boy. But she knows she's not a boy. She knows she's a girl. George thinks she'll have to keep this a secret forever. Then her teacher announces that their class play is going to be Charlotte's Web. George really, really, REALLY wants to play Charlotte. But the teacher says she can't even try out for the part . . . because she's a boy. With the help of her best friend, Kelly, George comes up with a plan. Not just so she can be Charlotte — but so everyone can know who she is, once and for all.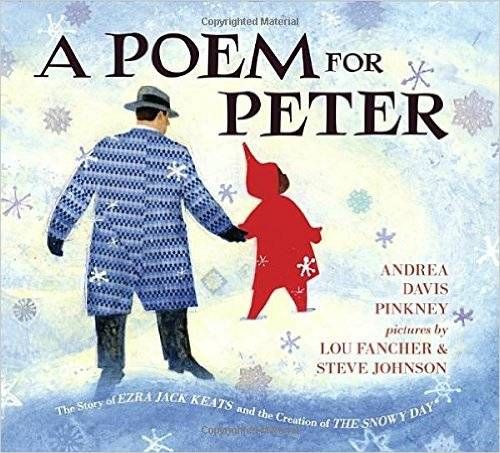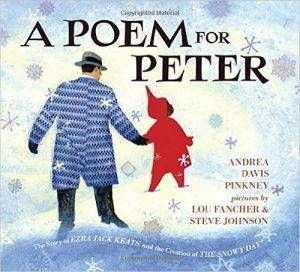 A Poem for Peter by Andrea Davis Pinkney, illustrated by Lou Fancher and Steve Johnson
The story of The Snowy Day begins more than one hundred years ago, when Ezra Jack Keats was born in Brooklyn, N.Y. The family were struggling Polish immigrants, and despite Keats's obvious talent, his father worried that Ezra's dream of being an artist was an unrealistic one. But Ezra was determined. By high school he was winning prizes and scholarships. Later, jobs followed with the WPA and Marvel comics. But it was many years before Keats's greatest dream was realized and he had the opportunity to write and illustrate his own book.For more than two decades, Ezra had kept pinned to his wall a series of photographs of an adorable African American child. In Keats's hands, the boy morphed into Peter, a boy in a red snowsuit, out enjoying the pristine snow; the book became The Snowy Day, winner of the Caldecott Medal, the first mainstream book to feature an African American child. It was also the first of many books featuring Peter and the children of his — and Keats's — neighborhood.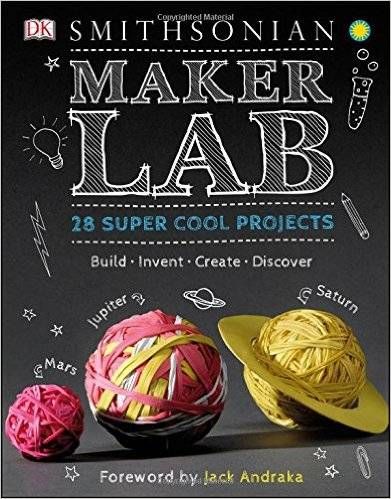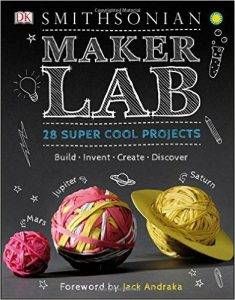 Maker Lab by Jack Challoner
Supporting STEM education initiatives and the maker movement, the National Parenting Publication Award-winner Maker Lab includes 28 kid-safe projects and crafts that will get young inventors' wheels turning and make science pure fun. Each step-by-step activity is appropriate for kids ages 8–12, and ranked easy, medium, or hard, with an estimated time frame for completion. Requiring only household materials, young makers can build an exploding volcano, race balloon rocket cars, construct a solar system, make a lemon battery, and more. Photographs and facts carefully detail the "why" and "how" of each experiment using real-world examples to provide context so kids can gain a deeper understanding of the scientific principles applied.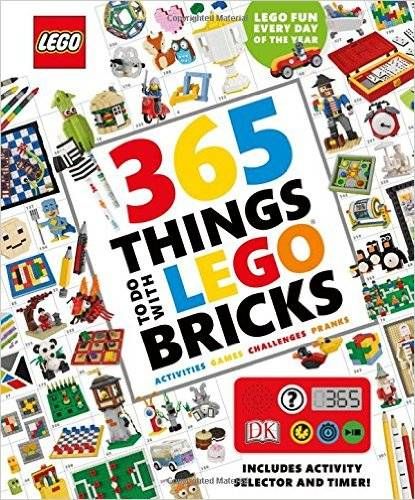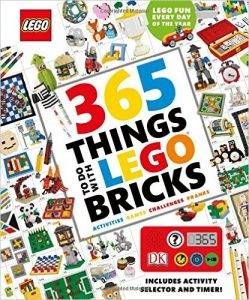 365 Things to Do With LEGO Bricks
365 Things to Do with LEGO® Bricks inspires you to look at your LEGO bricks in new and exciting ways. This interactive book features imaginative play and building ideas, from LEGO projects that take just a few minutes and require a handful of bricks to inspirational build ideas and activities to keep you occupied for hours. Visual tips and advice from LEGO fan builders will encourage you to get creative and have fun while learning new building skills such as building your own LEGO pet, challenging your friends to make the tallest LEGO tower against the clock, and creating a LEGO treasure hunt. Featuring a timer and random number generator for selecting activities, 365 Things to Do with LEGO Bricks is full of games and activities that will keep you busy every day of the year.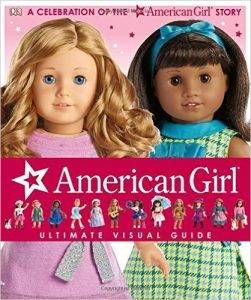 American Girl: Ultimate Visual Guide
American Girl® Ultimate Visual Guide will be a treasured addition to every American Girl fan's bookshelf. With gorgeous images of every BeForever™ and Girl of the Year™ doll, an expanded section on the TrulyMe™ dolls, a detailed timeline of the company, and tons of exclusive behind-the-scenes information, this book takes readers on a wonderful journey from the start of The Pleasant Company all the way through to present day. Did you know American Girl creator Pleasant T. Rowland first described her idea for a line of dolls on a postcard to her friend, Valerie Tripp? Or that the first American Girl pet, Coconut the Westie, was introduced in 2000? Find out all about your favorite characters and their lives, historical eras, outfits, pets, accessories, and more with the American Girl Ultimate Visual Guide.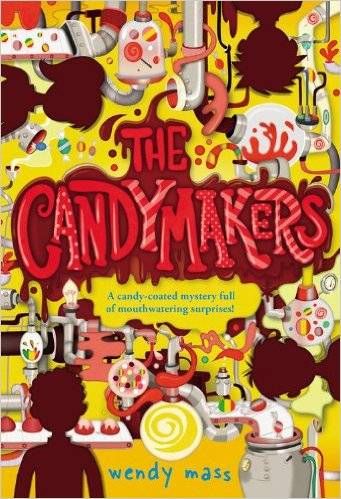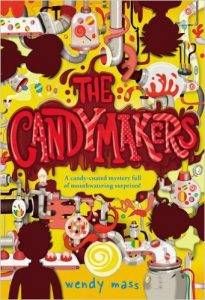 The Candymakers by Wendy Mass
In the town of Spring Haven, four children have been selected to compete in the national candymaking contest of a lifetime. Who will make a candy more delicious than the Oozing Crunchorama or the Neon Yellow Lightning Chew?Logan, the candymaker's son, who can detect the color of chocolate by feel alone? Miles, the boy allergic to rowboats and the color pink?Daisy, the cheerful girl who can lift a fifty-pound lump of taffy as if it were a feather? Philip, the suit-and-tie-wearing boy who's always scribbling in a secret notebook? This sweet, charming, and cleverly crafted story, told from each contestant's perspective, is filled with mystery, friendship, and juicy revelations.
El Deafo by Cece Bell
Going to school and making new friends can be tough. But going to school and makin g new friends while wearing a bulky hearing aid strapped to your chest? That requires superpowers! In this funny, poignant graphic novel memoir, author/illustrator Cece Bell chronicles her hearing loss at a young age and her subsequent experiences with the Phonic Ear, a very powerful—and very awkward—hearing aid.The Phonic Ear gives Cece the ability to hear—sometimes things she shouldn't—but also isolates her from her classmates. She really just wants to fit in and find a true friend, someone who appreciates her as she is. After some trouble, she is finally able to harness the power of the Phonic Ear and become "El Deafo, Listener for All." And more importantly, declare a place for herself in the world and find the friend she's longed for.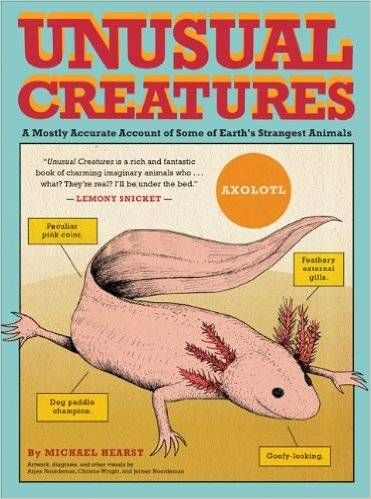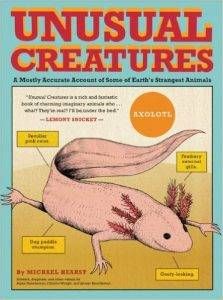 Unusual Creatures by Michael Hearst, illustrated by Arjen Noordeman, Christie Wright, and Jelmer Noordeman
With humor and flair, Michael Hearst introduces the reader to a wealth of extraordinary life-forms. Which animal can be found at the top of Mount Everest, 10,000 feet under the sea, and in your backyard? Which animal poops cubes? Which animal can disguise itself as a giant crab? These fascinating facts and hundreds more await curious minds, amateur zoologists, and anyone who has ever laughed at a funny-looking animal.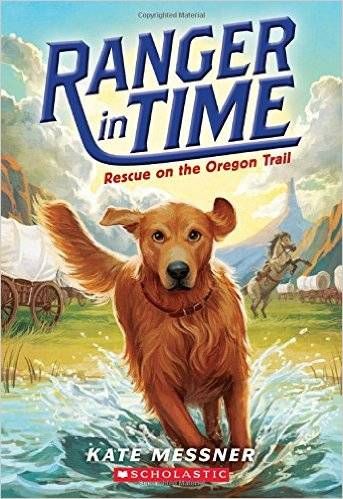 Ranger in Time (series) by Kate Messner
Meet Ranger! He's a time-travel ing golden retriever who has a nose for trouble . . . and always saves the day!Ranger has been trained as a search-and-rescue dog, but can't officially pass the test because he's always getting distracted by squirrels during exercises. One day, he finds a mysterious first aid kit in the garden and is transported to the year 1850, where he meets a young boy named Sam Abbott. Sam's family is migrating west on the Oregon Trail, and soon after Ranger arrives he helps the boy save his little sister. Ranger thinks his job is done, but the Oregon Trail can be dangerous, and the Abbotts need Ranger's help more than they realize!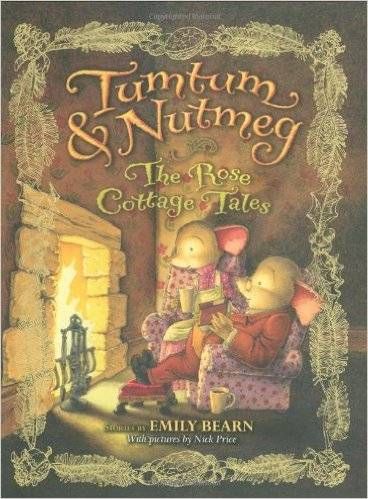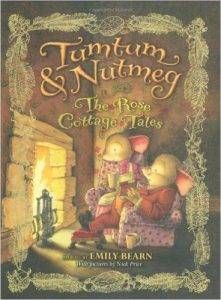 Tumtum and Nutmeg (series) by Emily Bearn
Tumtum and Nutmeg just want to live out their comfy lives in peace, unbothered by anything as distracting as an adventure. But the holidays are upon them, and it seems to be the time of year when Arthur and Lucy, the disheveled human children of Rose Cottage, and bumbling veteran hero General Marchmouse are most likely to get into trouble. Tumtum and Nutmeg want to make things right, but first they'll have to outwit a wicked mouse named Purple Claw, face a crazed circus ringmaster, and even save Christmas!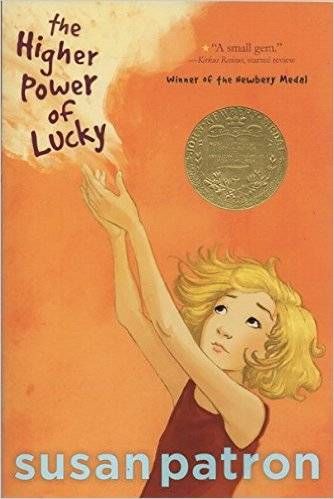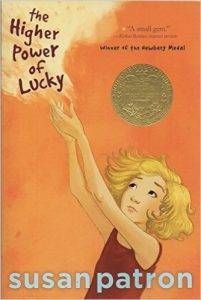 The Higher Power of Lucky (series) by Susan Patron
Lucky, age ten, can't wait another day. The meanness gland in her heart and the crevices full of questions in her brain make running away from Hard Pan, California (population 43), the rock-bottom only choice she has. It's all Brigitte's fault — for wanting to go back to France. Guardians are supposed to stay put and look after girls in their care! Instead Lucky is sure that she'll be abandoned to some orphanage in Los Angeles where her beloved dog, HMS Beagle, won't be allowed. She'll have to lose her friends Miles, who lives on cookies, and Lincoln, future U.S. president (maybe) and member of the International Guild of Knot Tyers. Just as bad, she'll have to give up eavesdropping on twelve-step anonymous programs where the interest ing talk is all about Higher Powers. Lucky needs her own — and quick. But she hadn't planned on a dust storm.Or needing to lug the world's heaviest survival-kit backpack into the desert.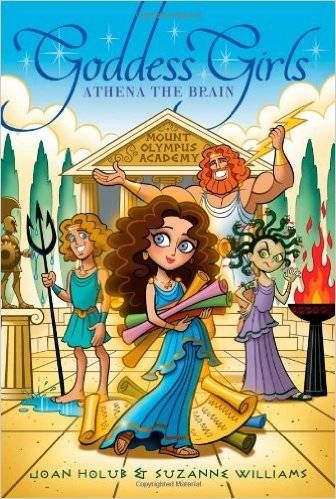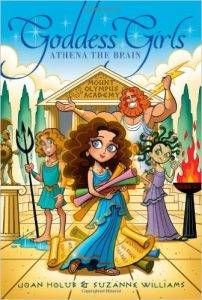 Goddess Girls (series) by Joan Holub and Suzanne Williams
In Athena the Brain, Athena always knew she was smart and special, but she didn't realize that she was a goddess! When she's whisked away to Mount Olympus Academy, she worries about fitting in and dealing with her dad (Zeus). Luckily, she meets the Goddess Girls and finds the best friends she's ever had.
Ages 10-12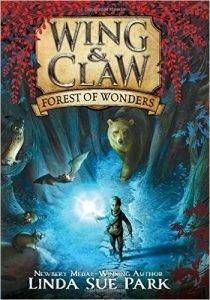 Forest of Wonders by Linda Sue Park
Raffa Santana has always loved the mysterious Forest of Wonders. For a gifted young apothecary like him, every leaf could unleash a kind of magic. When an injured bat crashes into his life, Raffa invents a cure from a rare crimson vine that he finds deep in the Forest. His remedy saves the animal but also transforms it into something much more than an ordinary bat, with far-reaching consequences. Raffa's experiments lead him away from home to the forbidding city of Gilden, where troubling discoveries make him question whether exciting botanical inventions—including his own—might actually threaten the very creatures of the Forest he wants to protect.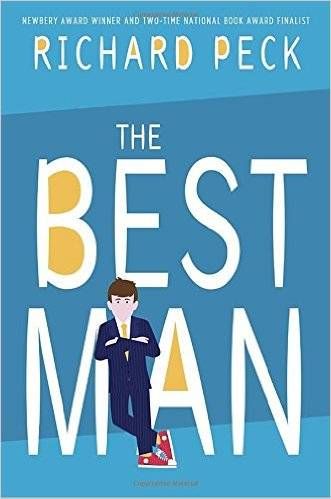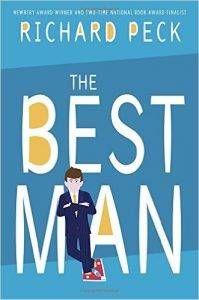 The Best Man by Richard Peck
Archer Magill has spent a lively five years of grade school with one eye out in search of grown-up role models. Three of the best are his grandpa, the great architect; his dad, the great vintage car customizer,; and his uncle Paul, who is just plain great. These are the three he wants to be. Along the way he finds a fourth—Mr. McLeod, a teacher. In fact, the first male teacher in the history of the school. But now here comes middle school and puberty. Change. Archer wonders how much change has to happen before his voice does. He doesn't see too far ahead, so every day or so a startling revelation breaks over him. Then a really big one when he's the best man at the wedding of two of his role models. But that gets ahead of the story.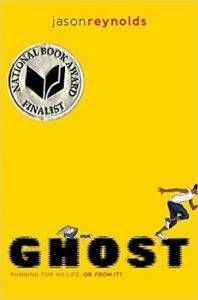 Ghost by Jason Reynolds
Ghost. Lu. Patina. Sunny. Four kids from wildly different backgrounds with personalities that are explosive when they clash. But they are also four kids chosen for an elite middle school track team—a team that could qualify them for the Junior Olympics if they can get their acts together. They all have a lot to lose, but they also have a lot to prove, not only to each other, but to themselves.Ghost has a crazy natural talent, but no formal training. If he can stay ontrack, literally and figuratively, he could be the best sp rinter in the city. But Ghost has been running for the wrong reasons—it all starting with running away from his father, who, when Ghost was a very little boy, chased him and his mother through their apartment, then down the street, with a loaded gun, aiming to kill. Since then, Ghost has been the one causing problems—and running away from them—until he meets Coach, an ex-Olympic Medalist who blew his own shot at success by using drugs, and who is determined to keep other kids from blowing their shots at life.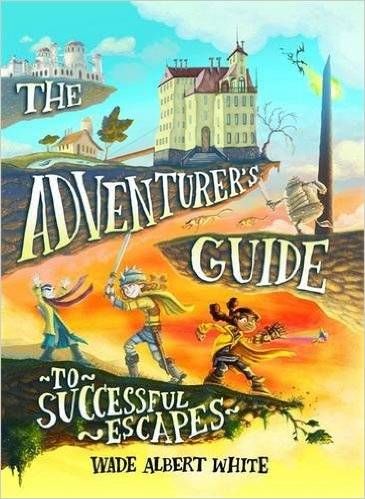 The Adventurer's Guide to Successful Escapes by Wade Albert White
Anne has spent most of her thirteen years dreaming of the day she and her best friend Penelope will finally leave Saint Lupin's Institute for Perpetually Wicked and Hideously Unattractive Children. When the big day arrives, a series of very curious happenings lead to Anne being charged with an epic quest. Anne, Penelope, and new questing partner Hiro have only days to travel to strange new locales, solve myriad riddles, and triumph over monstrous foes–or face the horrible consequences.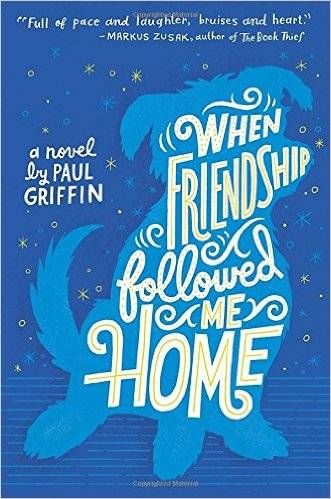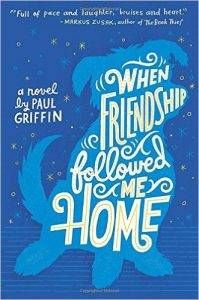 When Friendship Followed Me Home by Paul Griffin
Ben Coffin has never been one for making friends. As a former foster kid, he knows people can up and leave without so much as a goodbye. Ben prefers to spend his time with the characters in his favorite sci-fi books…until he rescues an abandoned mutt from the alley next-door to the Coney Island Library. Scruffy little Flip leads Ben to befriend a fellow book-lover named Halley—yes, like the comet—a girl unlike anyone he has ever met. Ben begins thinking of her as "Rainbow Girl" because of her crazy-colored clothes and her laugh, pure magic, the kind that makes you smile away the stormiest day. Rainbow Girl convinces Ben to write a novel with her. But as their story unfolds Ben's life begins to unravel, and Ben must discover for himself the truth about friendship and the meaning of home.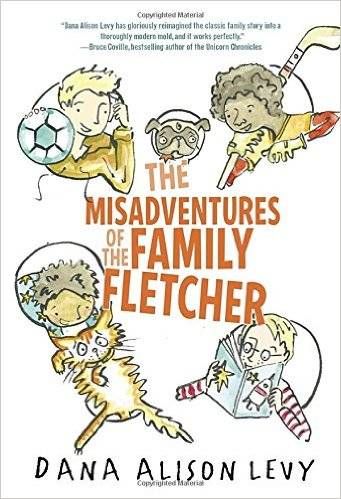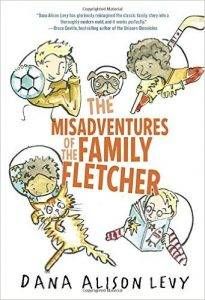 The Misadventures of the Family Fletcher (series) by Dana Alison Levy
The start of the school year is not going as the Fletcher brothers hoped. Each boy finds his plans for success veering off in unexpected and sometimes diastrous directions. And at home, their miserable new neighbor complains about everything. As the year continues, the boys learn the hard and often hilarious lesson that sometimes what you least expect is what you come to care about the most.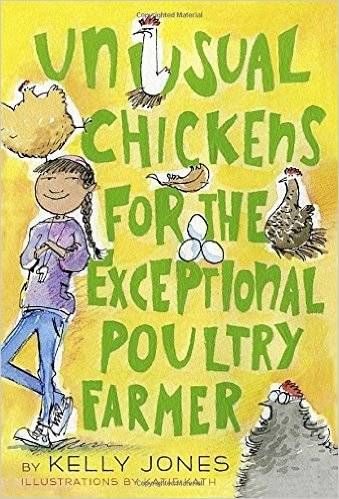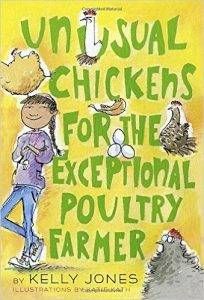 Unusual Chickens for the Exceptional Poultry Farmer by Kelly Jones
Twelve-year-old Sophie Brown feels like a fish out of water when she and her parents move from Los Angeles to the farm they've inherited from a great-uncle. But farm life gets more interesting when a cranky chicken appears and Sophie discovers the hen can move objects with the power of her little chicken brain: jam jars, the latch to her henhouse, the entire henhouse…. And then more of her great-uncle's unusual chickens come home to roost. Determined, resourceful Sophie learns to care for her flock, earning money for chicken feed, collecting eggs. But when a respected local farmer tries to steal them, Sophie must find a way to keep them (and their superpowers) safe. Told in letters to Sophie's abuela, quizzes, a chicken-care correspondence course, to-do lists, and more, Unusual Chickens is a quirky, clucky classic in the making.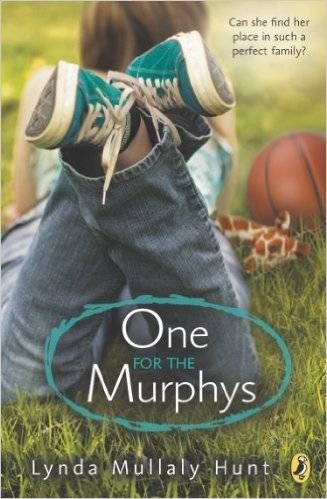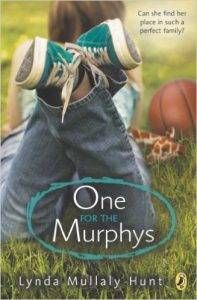 One for the Murphys by Lynda Mullaly Hunt
Carley uses humor and street smarts to keep her emotional walls high and thick. But the day she becomes a foster child, and moves in with the Murphys, she's blindsided. This loving, bustling family shows Carley the stable family life she never thought existed, and she feels like an alien in their cookie-cutter-perfect household. Despite her resistance, the Murphys eventually show her what it feels like to belong–until her mother wants her back and Carley has to decide where and how to live. She's not really a Murphy, but the gifts they've given her have opened up a new future.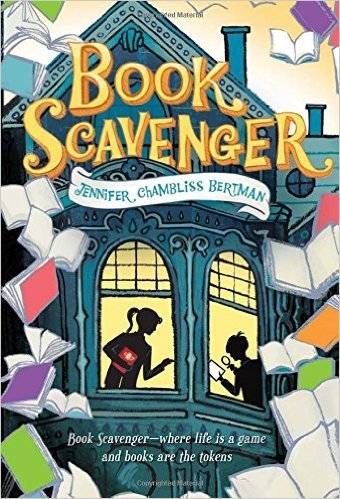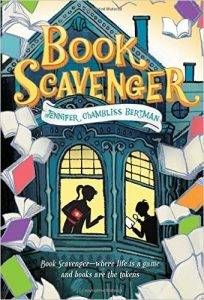 Book Scavenger (series) by Jennifer Chambliss Bertman
For twelve-year-old Emily, the best thing about moving to San Francisco is that it's the home city of her literary idol: Garrison Griswold, book publisher and creator of the online sensation Book Scavenger (a game where books are hidden in cities all over the country and clues to find them are revealed through puzzles). Upon her arrival, however, Emily learns that Griswold has been attacked and is now in a coma, and no one knows anything about the epic new game he had been poised to launch. Then Emily and her new friend James discover an odd book, which they come to believe is from Griswold himself, and might contain the only copy of his mysterious new game. Racing against time, Emily and James rush from clue to clue, desperate to figure out the secret at the heart of Griswold's new game―before those who attacked Griswold come after them too.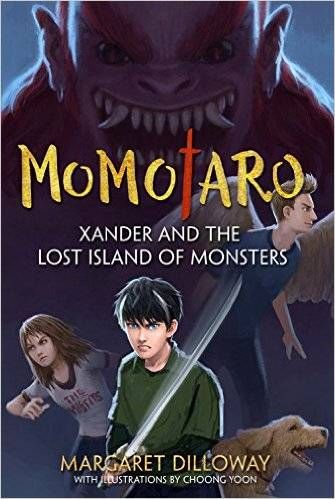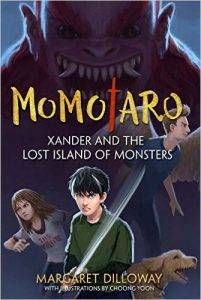 Xander and the Lost Island of Monsters by Margaret Dilloway
Xander Miyamoto would rather do almost anything than listen to his sixth grade teacher, Mr. Stedman, drone on about weather disasters happening around the globe. If Xander could do stuff he's good at instead, like draw comics and create computer programs, and if Lovey would stop harassing him for being half Asian, he might not be counting the minutes until the dismissal bell. When spring break begins at last, Xander plans to spend it playing computer games with his best friend, Peyton. Xander's father briefly distracts him with a comic book about some samurai warrior that pops out of a peach pit. Xander tosses it aside, but Peyton finds it more interesting.Little does either boy know that the comic is a warning. They are about to be thrust into the biggest adventure of their lives-a journey wilder than any Xander has ever imagined, full of weird monsters even worse than Lovey. To win at this deadly serious game they will have to rely on their wits, courage, faith, and especially, each other. Maybe Xander should have listened to Mr Stedman about the weather after all. . . .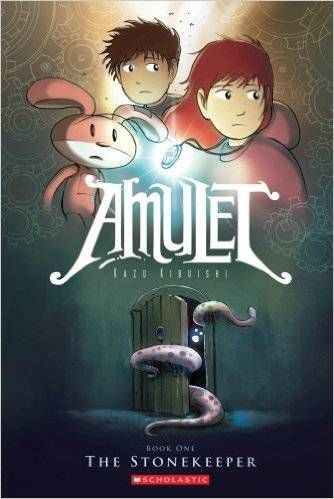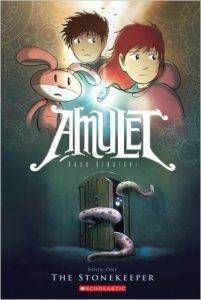 The Stonekeeper (Amulet series) by Kazu Kibuishi
After the tragic death of their father, Emily and Navin move with their mother to the home of her deceased great-grandfather, but the strange house proves to be dangerous. Before long, a sinister creature lures the kids' mom through a door in the basement. Em and Navin, desperate not to lose her, follow her into an underground world inhabited by demons, robots, and talking animals. Eventually, they enlist the help of a small mechanical rabbit named Miskit. Together with Miskit, they face the most terrifying monster of all, and Em finally has the chance to save someone she loves.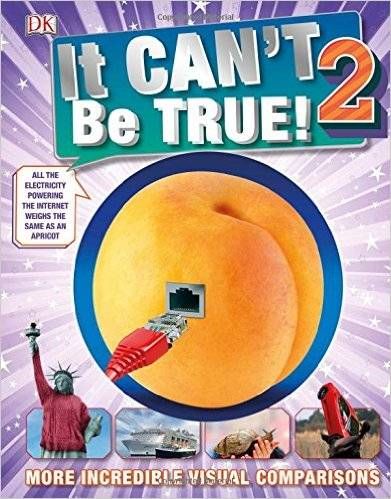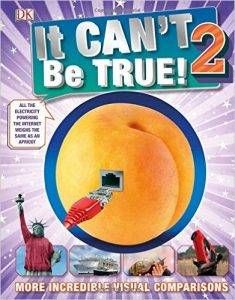 It Can't Be True 2 by DK Publishing
How many bees does it take to make a jar of honey? Did you know sharks are so sensitive that they can detect the current from batteries 1,000 miles apart? Believe it or not, it's true. Discover more amazing and seemingly impossible facts in It Can't Be True! 2. By combining hard to believe facts with CGI renderings and photographs, this book places information with visual aids that puts everything to scale, including how the Titanic would be in the shadow of today's huge ocean liners. Kids will love the weird, out-of-this-world facts for just about anything. See how big a squid can grow compared to people, figure out how much water an elephant can hold in its trunk, and look at how a tiny frog can fit on a coin.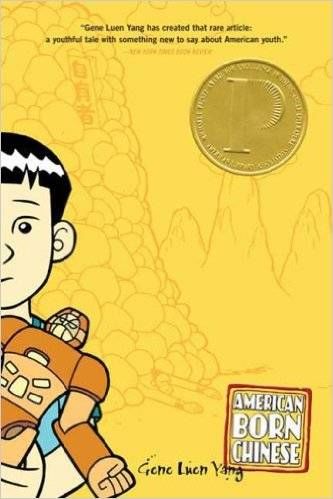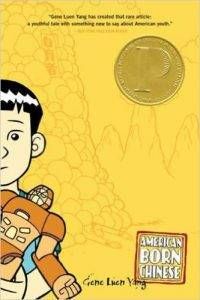 American Born Chinese by Gene Luen Yang
Jin Wang starts at a new school where he's the only Chinese-American student. When a boy from Taiwan joins his class, Jin doesn't want to be associated with an FOB like him. Jin just wants to be an all-American boy, because he's in love with an all-American girl. Danny is an all-American boy: great at basketball, popular with the girls. But his obnoxious Chinese cousin Chin-Kee's annual visit is such a disaster that it ruins Danny's reputation at school, leaving him with no choice but to transfer somewhere he can start all over again. The Monkey King has lived for thousands of years and mastered the arts of kung fu and the heavenly disciplines. He's ready to join the ranks of the immortal gods in heaven. But there's no place in heaven for a monkey. Each of these characters cannot help himself alone, but how can they possibly help each other? They're going to have to find a way―if they want fix the disasters their lives have become.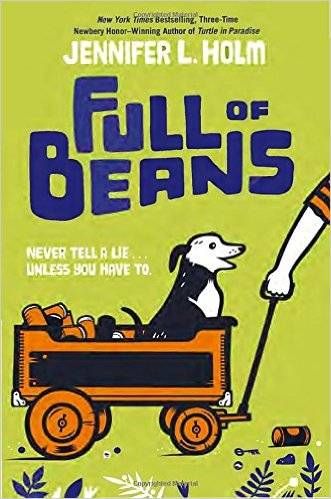 Full of Beans by Jennifer L. Holm
Grown-ups lie. That's one truth Beans knows for sure. He and his gang know how to spot a whopper a mile away, because they are the savviest bunch of barefoot conchs (that means "locals") in all of Key West. Not that Beans really minds; it's 1934, the middle of the Great Depression. With no jobs on the island, and no money anywhere, who can really blame the grown-ups for telling a few tales? Besides, Beans isn't anyone's fool. In fact, he has plans. Big plans. And the consequences might surprise even Beans himself.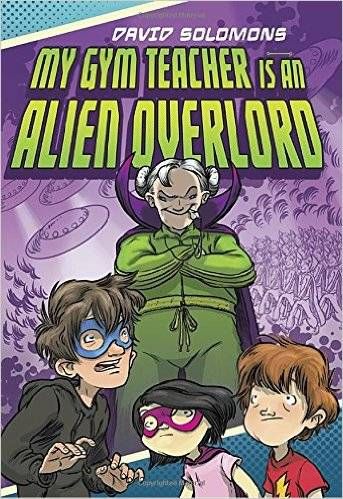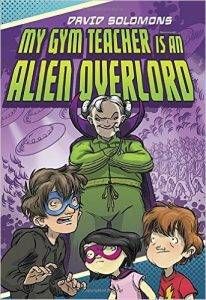 My Gym Teacher is an Alien Overlord by David Solomons
When Luke's annoying older brother became a superhero instead of him, Luke thought he couldn't get any more disgruntled– until his friend Lara became a superhero, too. Now Luke's feeling totally left out; even his best friend gets mad at him when Luke's attempts at crime-solving without superpowers go terribly awry. So when Luke discovers an alien plot to overthrow the world, he's got nobody to turn to who'll listen…nobody but his sworn enemy. In this hilarious sequel to My Brother is a Superhero, Luke will have to put on his big-boy Daredevil underpants and find out what heroes and villains are truy made of.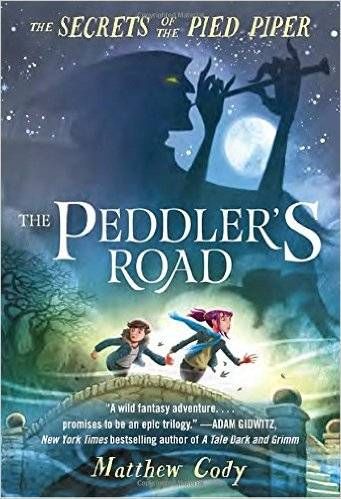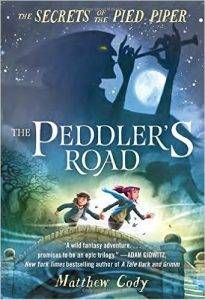 The Peddler's Road (series) by Matthew Cody
It is said that in the thirteenth century, in a town called Hamelin, a piper lured all of the children away with his magical flute, and none of them were ever seen again. Today, tough, pink-haired Max and her little brother, Carter, are stuck in modern-day Hamelin with their father . . . until they are also led away by the Piper to a place called the Summer Isle. There they meet the original stolen children, who haven't aged a day and who have formed their own town, vigilantly guarded from the many nightmarish beings that roam the land. No one knows why the Piper stole them, but Max and Carter may be the key to returning the lost children of Hamelin. Together they set out on the Peddler's Road to find their way back to the real world.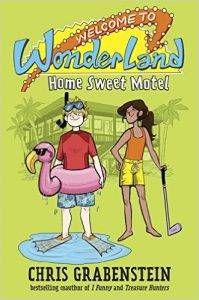 Welcome to Wonderland (series) by Chris Grabenstein
Eleven-year-old P. T. Wilkie may be the greatest storyteller alive. But he knows one thing for a fact: the Wonderland Motel is the best place a kid could ever live! All-you-can-eat poolside ice cream! A snack machine in the living room! A frog slide! A giant rampaging alligator! (Okay, that last one may or may not be made up.) There's only one thing the Wonderland doesn't have, though—customers. And if the Wonderland doesn't get them soon, P.T. and his friend Gloria may have to say goodbye to their beloved motel forever. They need to think BIG. They need to think BOLD. They need an OUTRAGEOUS plan. Luckily for them, Gloria is a business GENIUS, and OUTRAGEOUS is practically P.T.'s middle name. With Gloria's smarts and P.T.'s world-famous stories and schemes, there's got to be a way to save the Wonderland!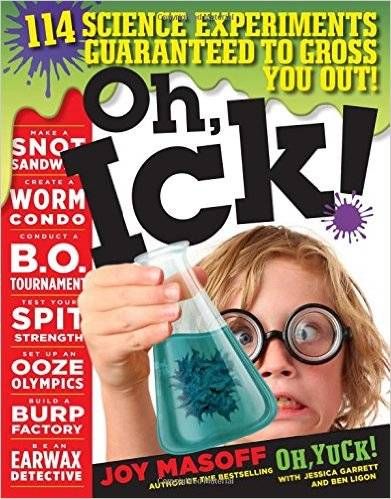 Oh, Ick! by Joy Masoff
Featuring 114 interactive experiments and ick-tivities, Oh, Ick! delves into the science behind everything disgusting. Stage an Ooze Olympics to demonstrate viscosity and the nature of slime. Observe how fungi grow by making a Mold Zoo. Embark on an Insect Safari to get to know the creepy crawlies around your home. And learn what causes that embarrassing acne on your face by baking a Pimple Cake to pop—and eat. Eww!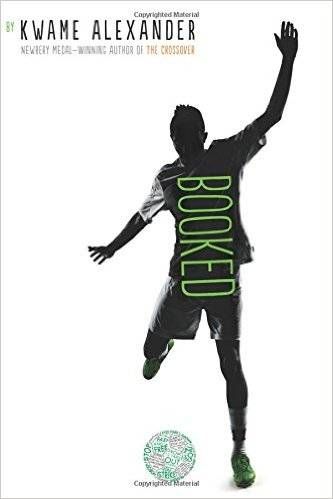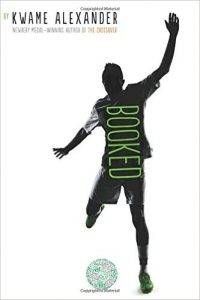 Booked by Kwame Alexander
Like lightning/you strike/fast and free/legs zoom/down field/eyes fixed/on the checkered ball/on the goal/ten yards to go/can't nobody stop you/can't nobody cop you…
In this follow-up to the Newbery-winning novel THE CROSSOVER, soccer, family, love, and friendship, take center stage as twelve-year-old Nick learns the power of words as he wrestles with problems at home, stands up to a bully, and tries to impress the girl of his dreams. Helping him along are his best friend and sometimes teammate Coby, and The Mac, a rapping librarian who gives Nick inspiring books to read.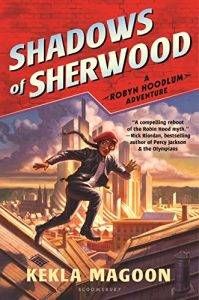 Shadows of Sherwood (series) by Kekla Magoon
The night her parents disappear, twelve-year-old Robyn Loxley must learn to fend for herself. Her home, Nott City, has been taken over by a harsh governor, Ignomus Crown. After fleeing for her life, Robyn has no choice but to join a band of strangers-misfit kids, each with their own special talent for mischief. Setting out to right the wrongs of Crown's merciless government, they take their outlaw status in stride. But Robyn can't rest until she finds her parents. As she pieces together clues from the night they disappeared, Robyn learns that her destiny is tied to the future of Nott City in ways she never expected.