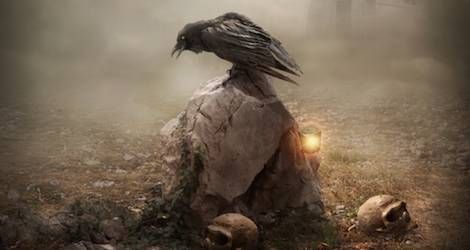 Horror
6 Creepy Stories By WOC You Can Read Right Now
This content contains affiliate links. When you buy through these links, we may earn an affiliate commission.
The Internet is a wondrous place; you can find seemingly limitless photos of cute animals, and you can also find fan-drawn art of your favorite characters getting it on—so, you know, whatever floats your boat. But if you can take your eyes off that Perry/Dr. Doofenshmirtz fan art you've been staring at for three hours now, you can also use the Internet to read some eerie and creepy stories by women of color, stories like…
Nnedi Okorafor is best known for her speculative fiction works such as Who Fears Death and Binti. In "Hello, Moto," a woman, using witchcraft and technology, has created wigs to help ease the despair caused by the corruption in her country. But things don't go the way she has hoped. I know a story about magical wigs sound silly, but believe me, this is not.
Sofia Samatar is the author of the fantasy novels A Stranger in Olondria and The Winged Histories. If you've read and enjoyed Kazuo Ishiguro's Never Let Me Go, you are sure to love this as well. In "How to Get Back to the Forest," a woman narrates her experience at camp as a teenager, including the strange events surrounding another girl, Cee.
Pearls by Priya Sharma
Priya Sharma's most notable work so far is probably "Fabulous Beasts," which won the Best Short Fiction category of the 2016 British Fantasy Awards. "Pearls" revolves around one of the more recognizable figures in Greek Mythology, who is now living in modern-day New York, and tells of the events that led her to live out of her time and out of her home. Ms. Sharma delivers more than just a creepy story—"Pearls" tugs at the readers' heartstrings as well.
Premee Mohamed is a writer of many short and creepy stories, including "The Adventurer's Wife." "Sixteen Minutes" got the 10th place in The Molotov Cocktail's Flash Fear contest. It is narrated by a man who flees to the safety of a bunker and away from a nuclear attack. There, he finds himself an unwelcome companion, one that is witness to and instrumental in his breakdown. This one, though very short, will keep you on edge, all the time wondering what the hell is going on with the protagonist and the world around him.
Nadia Bulkin has written for several publications, and three of her stories, including "Seven Minutes in Heaven," have been nominated for the Shirley Jackson Award. In "Wish You Were Here," a guide leads a group of four Americans through various sites in Jakarta. What starts out as an ordinary tour ends in misfortune for the tourists, especially one who has brought something malevolent with her. What I like most about this is the atmosphere. You get the feeling that something sinister, real or imagined, is lurking somewhere near.
N.K. Jemisin is a speculative fiction writer best known for her Inheritance Trilogy. In "The You Train," a woman talks to her friend about a strange thing that keeps happening to her on the subway: she sees trains—dead ones, ones that do not even exist. I like the style that the author used in this story; hearing only one side of the conversation puts the reader on the other end of the line, making them imagine what the person on the other end must have been feeling while hearing her friend's stories become more and more eerie with each call.
What are your favorite creepy stories by WOC? Want even more horror? We got you.