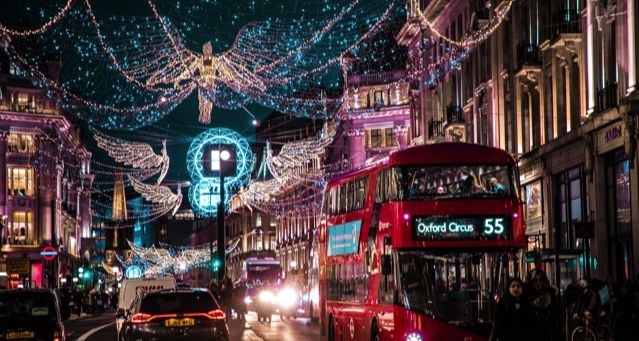 Lists
6 British Books To Look Out For in the U.S. in November
This content contains affiliate links. When you buy through these links, we may earn an affiliate commission.
It was very, very hard to narrow down the list of great British books crossing the Pond this month—so here's a slightly longer list than usual, just in time for gift ideas for the Anglophile in your life!
If you love gathering around a food-laden table with friends, this book will be right up your street. Priya Basil writes about the meaning of hospitality today, and the role it has to play in building relationships and community. If you want to know more, have a listen to her guest spot on Radio Four's Start the Week.
We Met in December by Rosie Curtis (William Morrow Paperbacks, November 5, 2019)
Is there a better way to spend a few winter hours than curled up by the fire with a slow-burn love story? This one sounds perfect for fans of Notting Hill: it's set in the same neighbourhood as the iconic film and its heroine daydreams about a life worthy of a Richard Curtis film—in much the same way as Annie indulges romantic fantasies in Waiting for Tom Hanks. So if you liked that book this summer, or you're longing for another book to fill the gap left by Josie Silver's One Day in December, this will be one to pick up.
If real life and the news are all too much at the moment—and let's face it, it is 2019—you might find this book helps you get to sleep at night. From "Jack and the Sustainably Produced Meat Substitute Stalk" to "The Very Trendy Caterpillar," let these stories whisk you away to a better world.
Bowie's Bookshelf by John O'Connell (Gallery Books, November 12, 2019)
Since you're here, reading this, I'm going to assume you're a fan of books. If you're also a fan of David Bowie, you'll likely love this insight into his mind, based on a list he made himself of 100 books that had a profound impact on his life, inspiring him creatively and shaping him personally. John O'Connell uses each one as a springboard for a short essay about Bowie, his work, and his life and times.
That Reminds Me by David Owusu (Merky Books, November 14, 2019)
You might know David Owusu from Mostly Lit, an award-winning podcast that documents the millennial experience and explores the intersection between literature, wellness and pop-culture. In That Reminds Me, he tells the story of a young man, K, in poetic fragments. Benjamin Zephaniah has called this book "a beautiful meditation on childhood, coming of age, the now, and the media".
We're familiar with the suffragettes and other 20th century British heroines, but it turns out that even before then, British women were fighting for their rights. Roaring Girls highlights eight of them, from a cross-dressing thief to an LGBTQ+ trailblazer. Nevertheless, they persisted.