This content contains affiliate links. When you buy through these links, we may earn an affiliate commission.
Somerset Maugham's semi-autobiographical spy novel, Ashenden, casts the hero as a writer by profession. Maugham emphasizes the role storytelling plays in both literature and espionage. Ashenden is told during his recruitment, "You know you ought to get material that would be useful to you in your work." Such enlistment of academics, journalists, and writers as agents is a common trope in spy fiction. These careers enable operatives to travel incognito under the pretense of research. Plus, their training in observation, documentation, and analysis is natural tradecraft. Maugham is not the only author to acknowledge the relation between spying and writing. W.H. Auden described the poet as "a mixture of spy and gossip," while Graham Greene claimed that ''every novelist has something in common with a spy."
Taking such comparisons a step further, an emergent category of mysteries reimagines classic writers as spies or detectives. These books borrow conventions of historical fiction, but adding a notable author connects genre fiction to the canon of important Literature. Whether extending an author's body of work or developing an origin story, these mysteries make classic works more accessible for readers.
Here are 6 novels that recast classic authors as crime fighters: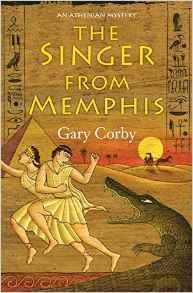 The Singer from Memphis by Gary Corby
In Corby's sixth Athenian mystery, historian Herodotus hires investigator Nicolaos as protective detail during Egypt's rebellion against Persia. Herodotus is a double agent for the enemy, but he is more concerned with recording the deeds of men than passing secret information to the Persians. In recreating the setting and characters of the ancient world, Corby draws from Herodotus's The Histories. His most important use of this work, though, is the depiction of political instability that still afflicts Egypt and Libya.
A Prisoner in Malta by Phillip DePoy
Queen Elizabeth I's famed spymaster, Sir Francis Walsingham, recruits Cambridge student Christopher Marlowe to rescue a Spanish captive. Walsingham believes this prisoner possesses knowledge of the planned invasion of England and murder of the queen. Caught in a conspiracy between English nobility, the Spanish government, and the Pope, the swashbuckling Marlowe uses his talent for persuasion and role-playing to prevent the assassination. This theatre of deception initiates Marlowe's own fame as a playwright and his rumored secret service to the crown.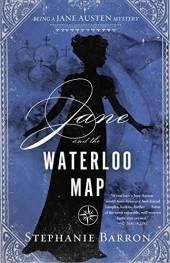 Jane and the Waterloo Map by Stephanie Barron
When the Prince Regent invites Jane Austen to his London home, she discovers the body of Colonel MacFarland in the library. His final words, "Waterloo map," send Jane on a mission to decode this map and identify the Colonel's murderer. Barron replicates Austen's biting criticism of social norms, particularly in her focus on the publication of Emma. Jane's begrudging dedication of the novel to the Prince Regent emphasizes publishing difficulties for female authors in the early 19th century.
Murder as a Fine Art by David Morrell
When the 1811 Ratcliffe Highway murders are re-enacted in an 1854 slaying, Thomas De Quincey becomes Scotland Yard's prime suspect, thanks to his detail of the earlier killings in his satirical essay "On Murder Considered as One of the Fine Arts." De Quincey uses a combination of psychology and an opium haze to solve these copycat murders. Recalling the terror of De Quincey's essay, Morrell's graphic descriptions of violence mimic the tone of sensational Victorian literature.
Speakers of the Dead by J. Aaron Sanders
Struggling journalist Walt Whitman is intent on clearing the names of the wrongfully executed Abraham and Lena Stowe. Investigating the Stowe's misfortunes leads Walt into the New York underworld of grave robbing and the trafficking of dead bodies for medical research. These events cultivate Whitman's poetic sensibility, as he matures from a mediocre prose writer into the poet of democracy. Sanders reflects this quality in his depiction of marginalized classes and his interpretation of Whitman's own fluid sexuality.
The Other Side of Silence by Philip Kerr
Detective Bernie Gunther returns to the job after a former Gestapo officer threatens to release a compromising picture of gay novelist Somerset Maugham. Gunther must determine whether the blackmailer is preying on Maugham's homosexuality, which was still a criminal offense, or his ties to the intelligence services. While his cynical depiction of espionage is a nod to Maugham's Ashenden, Kerr provides a serious critique of cultural repression and sexual identity.
Through its inherent process of interrogation, crime fiction allows authors to question historical truths and reinterpret dominant narratives. Thus, I can imagine Ralph Ellison using the erasure of his identity to redress racial injustices or Ryū Murakami surveying Japanese geopolitics in a dystopian, cyberpunk thriller. Which authors would you like to see reinvented as detectives?