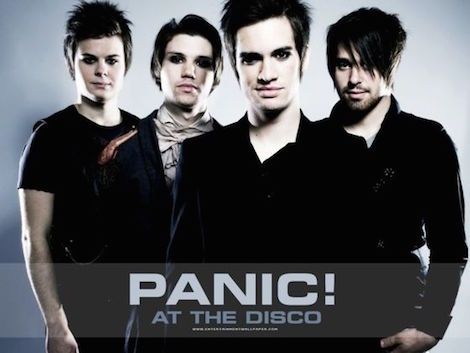 Lists
6 Bookish Panic! At the Disco Moments to Celebrate Their Sixth Album
This content contains affiliate links. When you buy through these links, we may earn an affiliate commission.
Since its release, I've been listening to Panic! at the Disco's new album, Pray for the Wicked, on repeat. I couldn't help but notice a couple of bookish lyrics that made my book-loving heart happy. That got me thinking: what other bookish moments has Panic! given us over the years?
Does the world need a list of bookish Panic! at the Disco moments? I don't know, but I'm about to give it one.
On Pray for the Wicked, "Roaring 20's" features the lyric "My tell-tale heart's a hammer in my chest," clearly a reference to Edgar Allen Poe's story "The Tell-Tale Heart."
"Roaring 20's" also includes the lines, "If it's Lord of the Flies in my mind tonight/I don't know if I will survive." Combined with the song's Gatsby vibe, it makes me feel like I'm back in a high school English class–but in a good way.
The 2016 album Death of a Bachelor features the song "Emperor's New Clothes," a nod to the Hans Christian Anderson story. Its chorus includes the lyric "I'm all dressed up and naked," linking the title to its literary roots.
The Panic! at the Disco and FUN collaboration "C'Mon" has a definite Alice in Wonderland vibe. With lyrics like "feels like I've been falling down a rabbit hole/falling for forever" and "I am a man of many hats/although I never mastered anything/But I am ten feet tall," the connection is hard to miss. In fact, I thought this song was part of the Almost Alice album released alongside the 2010 Alice in Wonderland. Apparently, I just made that up to explain why I picture scenes from the movie whenever I listen to this song.
A Fever You Can't Sweat Out's "The Only Difference Between Martyrdom and Suicide is the Press Coverage" uses the refrain "I believe this may call for a proper introduction/and well, don't you see?/I'm the narrator and this is just the prologue…" References to writing and storytelling permeate this album, which probably explains why my high school self fell in love with Panic! in the first place.
This one is maybe a bit of a stretch, but I can't unsee it since a friend pointed it out. The most recent Panic! logo bears a passing resemblance to a bookish symbol we all know and love: the Deathly Hallows. Coincidence? Probably, but I'm counting it anyway.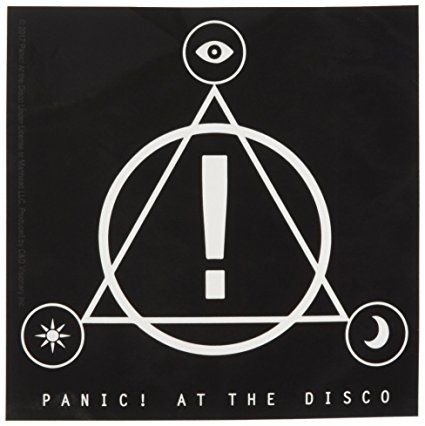 In honor of the sixth album release, I'll end our list here, though I'm sure there's more.
Feel free to join me in thinking about how our favorite bands pay homage to literature in the comments–I'm curious!