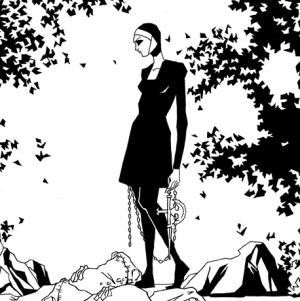 A lot of people are getting into comics lately. I don't read a ton of traditional comics but I've been into webcomics for awhile now. While some webcomics, like XKCD, are a series of standalone comics that often focus on current events, I tend to like webcomics that have long narrative arcs and casts of regular characters. Maybe it's because I'm a story junkie, I dunno.
I find these comics addictive and check them out on a daily or weekly basis.
1. Dumbing of Age by David Willis
Dumbing of Age is a webcomic about college life. What keeps me tuning into DoA is David Willis's ability to create lovable, three-dimensional characters combined with fantastic storytelling, snappy dialogue, and humor. Throw in a diverse cast and you have never-ending story fodder. (Bonus: the DoA characters appear in his earlier comics, which have more of a sci-fi/geek angle.)
Updated daily. Ongoing.
2. Nimona by Noelle Stevenson
Nimona turns the concept of heroes and villains upside down. Nimona is a shape-shifter who offered herself as a sidekick to the most notorious villain in the land. Or is he? Who really is the villain? Nimona strives to answer that with quirky characters, gorgeous illustrations, and scenes that are alternately funny and touching.
Updated Tuesday and Thursday. Ongoing, but nearing the end.
3. Run Freak Run by Silver Saaremaeel and Kaija Rudkiewicz
Speaking of gorgeous art, the art of Run Freak Run drew me in immediately. If you're a fan of Neil Gaiman's The Sandman, you'll probably love RFR; the story follows Two, a witch-hunting inquisitor during, yep, the Spanish Inquisition. She's a Kill Bill-level badass working for (and against) a beautiful and cruel Queen Isabella. The chapters are short but full of magic and mystery.
Updated Mondays. Ongoing.
4. Octopus Pie by Meredith Gran
Octopus Pie centers around Eve Ning, a woman who is learning to move through the world while being a little less anxious and uptight. In her orbit are stoner roommates, a somewhat insane boss, a boy she wants to date but won't, and a mom she can't talk to very well. Gran marries a more traditional comic style with a contemporary story that would especially appeal to 20- and 30-somethings still seeking direction.
Updates several times a month, but I'm unsure how frequently. Ongoing.
5. Strong Female Protagonist by Brennan Lee Mulligan and Molly Ostertag
SFP is a superhero comic that digs deeper into the nagging questions that arise when you discuss a world that has superheroes: are superheroes really heroes if they work outside of the law? What really separates a superhero from a supervillain? What if you have super-powers, but you don't want to be a superhero? SFP raises intriguing questions, and the mystery keeps you coming back to find out what happens.
Updates Tuesdays and Fridays. Ongoing.
6. Bite Me by Dylan Meconis
Bite Me is actually a completed webcomic, so its addictive qualities lie more in binge-reading the archives than clicking over every week. It's a fairly short tale as webcomics go; Meconis describes it as a "vampire farce," and it does have just the right amount of zany humor to freshen up the somewhat-overdone vampire gig. It's a period piece that takes place in Paris during the French Revolution, if you're into that sort of thing; the comic artist was riffing off of both Interview with the Vampire and A Tale of Two Cities.
Completed. Available to read free online.
Honorable mentions: Questionable Content, Girls With Slingshots, Looking For Group, The Abominable Charles Christopher
I'm always looking for new comics to binge-read. What are some of your favorites that I missed?
____________________
Coming this fall, we'll be launching a new site devoted to comics: Panels. You can sign up here to get notified about when Panels goes live, and it already has its own Twitter and Facebook up and running.