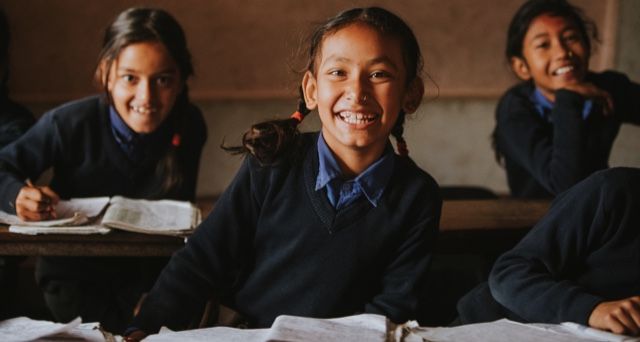 Children's
50 Must-Read Children's Books From the Second Half of 2019
This list of children's books from the second half of 2019 is sponsored by Chronicle Books.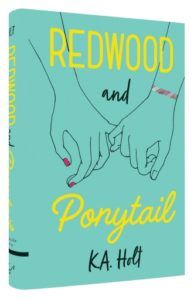 Kate and Tam meet, and both of their worlds tip sideways. At first, Tam figures Kate is your stereotypical cheerleader; Kate sees Tam as another tall jock. And the more they keep running into each other, the more they surprise each other. Beneath Kate's sleek ponytail and perfect façade, Tam sees a goofy, sensitive, lonely girl. And Tam's so much more than a volleyball player, Kate realizes: She's everything Kate wishes she could be. It's complicated. Except it's not. When Kate and Tam meet, they fall in like. It's as simple as that. But not everybody sees it that way. This novel in verse about two girls discovering their feelings for each other is a universal story of finding a way to be comfortable in your own skin.
---
In January, I made a giant list of diverse children's books coming out the beginning of 2019, and now it's time to see what's coming the rest of the year! Before I get to the list and book descriptions, I want to point out a few stats and recent research into diverse representation in children's literature. Every year, the Cooperative Children's Books Center releases its statistics on diversity in children's literature. In March, they released the stats from 2018, and it's not good. Just take a look at this graphic of their research by David Huyck and Sarah Park Dahlen.
These are truly terrible statistics. Children deserve to see themselves in their books. For an in-depth look at these and other statistics about representation in kid lit, check out this article by fellow Rioter Christine Ro.
Because the statistics are so atrocious, I want to highlight some of the best inclusive children's books from the year. I found 50 that I love.
50 More Diverse Children's Books From 2019
The King of Kindergarten by Derrick Barnes, Illustrated By Vanessa Brantley-Newton (July 2)
With a new school year starting soon, this is the perfect book to read to prepare new kindergarteners for their first day of school. Barnes makes an interesting choice in writing the narrative in second person future tense, but it works really well. Little forthcoming kindergarteners can put themselves directly into the narrative.
Small World By Ishta Mercurio, Illustrated By Jen Corace (July 2)
When Nanda was born, the world was small. But the bigger she grew, the bigger the world grew, and her curiosity grew with it. In the end, Nanda's curiosity leads her to explore the stars.
Goodbye, Friend! Hello, Friend! By Cori Doerrfeld (July 2)
This is a very sweet book about going to school for the first time and making new friends. It's a lovely book about transitions and emotions, about saying goodbye and hello.
The Night Is Yours By Abdul-Razak Zachariah, Illustrated By Keturah A. Bobo (July 2)
A father narrates a story to his daughter Amani about all the games she plays at night. It's a beautiful story accompanied by beautiful illustrations, and a perfect bedtime read.
Not Quite Snow White By Ashley Franklin, Illustrated By Ebony Glenn (July 9)
Tameika is a young actress in the making, so when the next school play is announced—Snow White—she immediately auditions for the lead role. But some in the school think she's wrong for the part. How will Tameika handle the bullying?
A Girl Called Genghis Khan By Michelle Lord, Illustrated By Shehzil Malik (July 23)
This is a picture book biography of Maria Toorpakai Wazir, a Pakistani squash player who was forbidden to play by the Taliban. She fought back by practicing in her room and ended up participating in international squash competitions.
Did You Burp? By April Pulley Sayre, Illustrated By Leeza Hernandez (August 6)
Kids ask a lot of questions, and this is the only book I know of that explains how to ask questions. It's a really great book for early elementary aged children, and I can imagine it being used in the classroom.
My Grandma And Me By Mina Javaherbin, Illustrated By Lindsey Yankey (August 13)
I have a soft spot for children's books about grandparents, and this one is truly special. It's based on the author's childhood in Iran, and her special moments with her grandmother.
Riding A Donkey Backwards: Wise And Foolish Tales Of Mulla Nasruddin By Sean Taylor And The Khayaal Theatre Company, Illustrated By Shirin Adl (August 13)
This is a collection of Muslim folktales about the character Mulla Nasruddin. Mulla is a trickster character and, as often happens in folktales, is as wise as he is foolish. The collage-style art is as silly as the stories. It's one of the few picture books I know of that collects Muslim tales.
My Footprints By Bao Phi, Illustrated By Basia Tran (September 1)
Thuy is of Vietnamese origin with two moms, and because of this she is bullied at school. One wintry afternoon, after seeing a cardinal and the footprints he leaves in the snow, she escapes the loneliness by using her imagination and creating her own bird-like footprints.
Proud to Be Latino: Food/Comida By Ashley Marie Mireles, Illustrated By Edith Valle (September 1)
As my daughter would say, "MMMMmmmm." There are so many board books labeling types of food, but not nearly enough featuring Latinx food. This book sets out to change that.
Future Astronaut (September 1) And Future Engineer (September 17) By Lori Alexander, Illustrated By Allison Black
Future Baby is a new board book STEM series, and each one features characters of color in addition to fun, toddler-approved science facts.
The Many Colors Of Harpreet Singh By Supriya Kelkar, Illustrated By Alea Marley (September 3)
Harpreet Singh loves colors and wears a different color to represent his mood. His favorite piece of clothing is his patka, and he always coordinates it with the rest of his outfit. When he moves to a snowy city, he worries about fitting in and making sure his clothes represent him.
Here And Now By Julia Denos, Illustrated By E.B. Goodale (September 3)
This book reads like a lovely poem and is also in second person future tense. The illustrations are as lovely as the words. My daughter is going to love this one because sometimes cats and dogs appear on the page.
I Love My Glam-Ma By Samantha Berger, Illustrated By Sujean Rim (September 3)
Every glam-ma is different, and this silly picture book explores the special and unique bond between a grandmother and her grandchildren.
Astro Girl By Ken Wilson-Max (September 3)
Astrid's mother is an astronaut, and while she's away on a mission, she stays home with her papa. With the help of Papa, she imagines she's in space too, until it's finally time to pick her mother up when her mission is over.
Nya's Long Walk: A Step at a Time By Linda Sue Park, Illustrated By Brian Pinkney (September 3)
Taking place in Sudan, Nya spends two hours every day fetching water, often with the "help" of her little sister. When her little sister becomes ill on the walk, Nya must figure out a way to carry both her sister and the water.
The Piano Recital By Akiko Miyakoshi (September 3)
It's time for Momo's first piano recital and, of course, she's nervous. But then she notices a little mouse is waiting with her, and that there's a mouse recital going on too! I adore the mostly black and white illustrations, with the mouse and Momo clothes giving a pop of red.
Long Ago, On A Silent Night By Julie Berry, Illustrated By Annie Won (September 3)
This would be a lovely gift for Christmas. It compares the feelings at Jesus's birth with the feelings of parents from around the world.
I Am a Super Girl!: An Acorn Book (Princess Truly #1) By Kelly Greenawalt, Illustrated By Amariah Rauscher (September 3)
This early reader empowers children to use their super smarts to get stuff done. It's part of a series.
Potty All-Star (A Never Bored Book!) By Ross Burach (September 3)
This board book is perfect for potty training toddlers. It compares using the potty to basketball. Do toddlers know about basketball? Probably some do. And if they don't, then this book can teach them that too!
Get Up, Stand Up by Bob Marley and Cedella Marley, Illustrated By John Jay Cabuay (September 10)
The song this book is based on hardly needs an introduction. I love the previous two books illustrating his songs, and can't wait to add this one to our collection.
Between Us and Abuela: A Family Story from the Border By Mitali Perkins, Illustrated By Sara Palacios (September 10)
This story is going to make you tear up. Abuela lives in Mexico, but her grandchildren live in the United States. For Christmas, María, Juan, and their mama travel to the border to celebrate with their Abuela, only seeing her through the border fence. This is such a precious story.
The Proudest Blue: A Story Of Hijab And Family By Ibtihaj Muhammad And S.K. Ali, Illustrated By Hatem Aly (September 10)
This is a beautifully illustrated book about a little girl who wears a bright blue hijab. I love seeing the hijab children's books being published recently, like Under My Hijab published earlier this year.
Octopus Stew By Eric Velasquez (September 17)
Ramsey's grandmother wants to make her traditional octopus stew, and together they go to the grocery store and buy an octopus. But before Grandma can cook it, the octopus comes alive and captures her! The only way for Ramsey to save his grandma is through the power of art. The book includes a recipe for octopus stew!
Lejos Far And Cerca Close By Juan Felipe Herrera, Illustrated By Blanca Gomez (September 17)
These little board books are great introductions to opposites and spatial concepts, and are written in both English and Spanish.
The Phone Booth In Mr. Hirota's Garden By Heather Smith, Illustrated By Rachel Wada (September 17)
Makio loses both his father and his village in a tsunami in Japan. As the village rebuilds, Makio's neighbor Mr. Hirota starts a strange project—a phone booth that isn't connected to any power. But this phone booth can connect the villagers to their lost loved ones. The illustrations in this picture book are stunning.
Baby Loves the Five Senses: Hearing! And Baby Loves the Five Senses: Sight! (September 24)
The Baby Loves Science board book series are my favorite science books for babies and toddlers. According to the author, these two include children with cochlear implants, hearing aids, and glasses.
Reading Beauty By Deborah Underwood, Illustrated By Meg Hunt (September 24)
From the author/illustrator pair of Interstellar Cinderella comes a retelling of "Beauty and the Beast." I'm so excited about this one!
The Bear's Medicine By Sus Yoo, Illustrated By Clayton Gauthier, Dakelh Translation By Danny Alexis And Theresa Austin (September 24)
A book about the interconnectedness of nature, this book shows a mother bear's love for her cubs. I love the art.
Blueberry Patch / Mayabeekamneeboon, Written And Illustrated By Jennifer Leason, Written And Translated By Norman Chartrand (September 24)
This dual-language picture book tells the history of blueberry picking among the indigenous people of Manitoba.
Mr. Scruff By Simon James (September 24)
Jim wants a dog sooo bad, but his parents are confused by the dog he picks to adopt—an old scruffy guy. But they're perfect for each other. Told in rhyming text with some wordplay, this is a fun book to read aloud and has dogs, so kids will love it.
Paper Son: The Inspiring Story Of Tyrus Wong, Immigrant And Artist By Julie Leung, Illustrated By Chris Sasaki (September 24)
Tyrus Wong is best known for his work as a Disney animator, especially as lead animator for Bambi. But what's less known about him is that when his father brought him at age 9 to the United States, they separated him from his father under the Chinese Exclusion Act, and he was held at Angel Island Immigration Station. His father eventually found a way to forge papers, and they moved to Sacramento as undocumented immigrants. This picture book tells the story of his entire life, and of a really relevant piece of history.
Amy Wu And The Perfect Bao By Kat Zhang, Illustrated By Charlene Chua (October 1)
Amy can do so many things, and yet, she can't make a perfect bao bun! She's tried and tried, but all her baos have something wrong with them. But then she has an idea to help on her quest to make the perfect bao.
Big Words Small Stories: Smell The Daisies By Judith Henderson, Illustrated By T.L. McBeth (October 1)
This is the third book in an early reader series, but each is stand alone. The text is mainly dialogue and broken up into short, humorous tales.
May We Have Enough To Share By Richard Van Camp, Photographs From Tea&Bannock (October 1)
I love Richard Van Camp's board books. This board book is about gratitude and sharing connections with family.
Light A Candle / Tumaini pasipo na Tumaini By Godfrey Nkongolo And Eric Walters, Illustrated By Eva Campbell (October 1)
This dual-language book is written both in English and Swahili. Using both nonfiction and fiction, it tells the story of a boy coming of age in the shadow of Mount Kilimanjaro.
Cats Are a Liquid By Rebecca Donnelly, Illustrated By Misa Saburi (October 8)
This funny picture book uses humor and many many cats to illustrate scientific experiments and early physics concepts.
Just in Case You Want to Fly By Julie Fogliano, Illustrated By Christian Robinson (October 8)
Julie Fogliano and Christian Robinson are two of my favorite creators in children's literature, and in this picture book, they pair up to create a sweet and poetic journey into the imagination.
Parker Looks Up: An Extraordinary Moment By Parker Curry And Jessica Curry, Illustrated By Brittany Jackson (October 15)
The photograph of three-year-old Parker Curry staring in awe at a painting of Michelle Obama last year is now an adorable picture book. The story of her visit to the museum is told by both Parker and her mother.
Love And The Rocking Chair By Leo & Diane Dillon (October 15)
Diane and Leo Dillon have co-written many, many wonderful picture books, and this is one of my favorites of theirs. It tells the story of an interracial couple finding the perfect rocking chair for their baby's nursery. It follows the rocking chair as their son grows, but then it falls into disuse. When the son marries and he and his wife are expecting their first child, he rediscovers the chair, and it becomes the rocking chair for their daughter. This is a lovely, intergenerational story.
A Big Bed for Little Snow By Grace Lin (October 15)
Grace Lin is a favorite of mine. This is a stand-alone companion to Big Mooncake For Little Star, which came out last year and has already won awards. A Big Bed For Little Snow introduces readers to their first snow.
Sulwe By Lupita Nyong'o, Illustrated by Vashti Harrison (October 15)
This is one of the most buzzed books for the Fall. Author Lupita Nyong'o is a Kenyan actress and producer, and Vashti Harrison is the well-known author/illustrator of Little Leaders: Bold Women in Black History and Dream Big, Little One. Sulwe is as dark as midnight, darker than everyone else in her family. She wishes she were lighter skinned, but after a magical trip into a midnight sky, she thinks differently.
Fry Bread: A Native American Family Story By Kevin Noble Maillard, Illustrated By Juana Martinez-Neal (October 22)
This isn't only a book about fry bread, it's also a book about family, culture, and history. And it includes a recipe for fry bread! Juana Martinez-Neal illustrated another favorite of mine from earlier in the year, Babymoon.
Saturday By Oge Mora (October 22)
Oge Mora is the author/illustrator of the award-winning Thank You, Omu! Saturdays are the best days for a little girl and her mother, but on this Saturday, everything goes wrong.
Juno Valentine And The Fantastic Fashion Adventure By Eva Chen, Illustrated By Derek Desierto (October 29)
Juno Valentine goes on another fashion adventure in preparation for school pictures. Her family all have ideas about what she should wear. When her little brother becomes lost in her magical hall of shoes, she dives in to rescue him, and along the way, famous women give her fashion advice and things to wear for her school picture. She's certainly the most uniquely dressed in the class when it's finally time to take the photograph.
Muslim Girls Rise: Inspirational Champions of Our Time By Saira Mir, Illustrated By Aaliya Jaleel (October 29)
This picture book biography collects the stories of 19 amazing Muslim women who have risen above adversity to do great things, from becoming a computer engineer to a website designer to a famous chef.
I Am Perfectly Designed By Karamo Brown And Jason "Rachel" Brown, Illustrated By Anoosha Syed (November 5)
Karamo Brown, star of Queer Eye, tells a story about loving who you are and shows the bond between father and son on a walk through the city. It's a great way to introduce children to all the different ways a family can look.
The Best Kind Of Bear By Greg Gormley, Illustrated By David Barrow (November 12)
In this adorable picture book, a teddy bear sets out on a journey to discover what kind of bear he could be. He asks a grizzly bear and a brown bear, but at the end of his journey, he still hasn't figured out where he comes from. In the end, he realizes he's Nelly's special bear.
Freedom Soup By Tami Charles, Illustrated By Jacqueline Alcántara (December 10)
Ti Gran is teaching Bella how to make freedom soup, a traditional Haitian meal to ring in the New Year that dates back to the Haitian Revolution. As they cook the soup, Ti Gran tells Bella about the history of the soup and the Haitian Revolution, as well as the story of Bella's family. It's both a fun book about the relationship between a child and her grandmother and an important look into history.