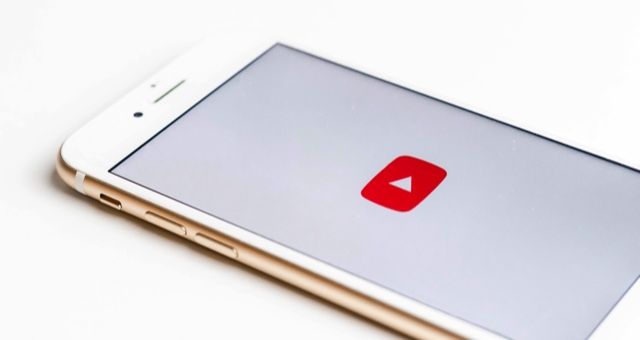 Lists
50 Must-Read Books by YouTubers
This content contains affiliate links. When you buy through these links, we may earn an affiliate commission.
If you watch any content on YouTube, you're probably aware of the overwhelming number of books by YouTubers that have been published in the last several years. For a while, it seemed every major YouTuber was getting a book deal to write a memoir about their life and rise to internet fame.
This should come as no surprise—publishers have long been seeking out interesting people with major platforms to write (and help sell!) books. So why not publish books by YouTubers? The site seems to be an endless source of creative people with unique stories and/or expertise to share on paper as well as on screen—from early internet star and LGBTQ+ activist Tyler Oakley (677 million views and counting) to actor Issa Rae (who got her start with the Awkward Black Girl web series) to vlogger Hank Green (co-founder of VidCon and DFTBA.com).
While there are certainly a large number of autobiographical works on this list, YouTuber books cover as broad a range of topics as the content creators themselves. These 50-must read books by YouTubers span the genres of self-help, DIY guides, cookbooks, fiction, poetry, and more.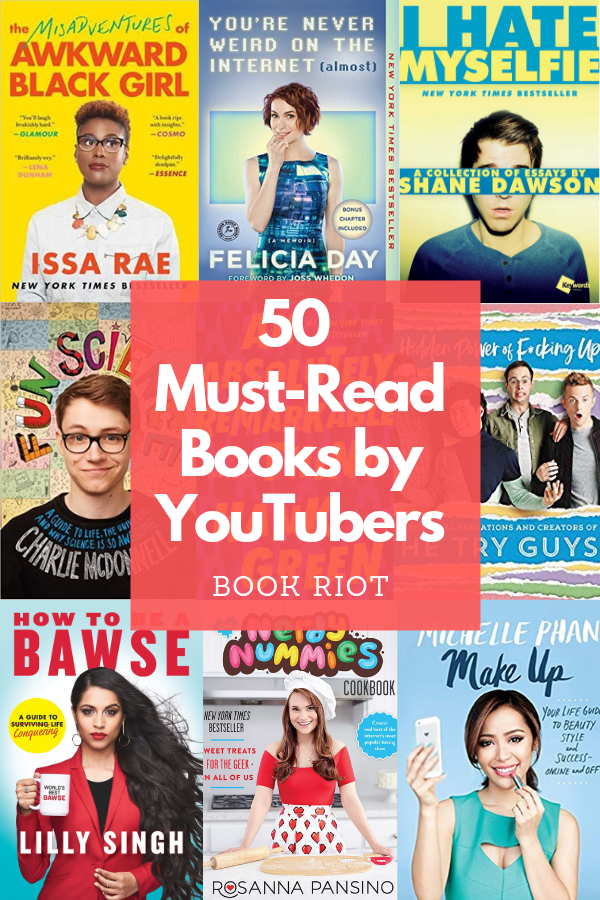 Disclosure: I work for Simon & Schuster Audio, which publishes the audiobook edition of several of the books by YouTubers included in this list.
Note: all descriptions are from Amazon/Goodreads and have been condensed for length.
YouTuber Memoirs
Channel: Felicia Day
"From online entertainment mogul, actress, and 'queen of the geeks' Felicia Day, a funny, quirky, and inspiring memoir about her unusual upbringing, her rise to Internet-stardom, and embracing her individuality to find success in Hollywood."
Channel: nigahiga
"This is the story of how I went from being a relatively happy kid to being depressed and angry and filled with dark thoughts. This is the story of how I thought I had only one way out of this cruel world. This is the story of how I found a better way. But wait, there's more! You're not only getting my story but you'll also learn how to write good–I mean well–from a college dropout who struggled in basic-level English classes and still became a legit, published Best Sailing Author. (That wasn't a typo. I plan to buy a boat one day…but probably not anytime soon. This book might not cell good.)"
Channels: Daniel Howell and AmazingPhil
"Hello reader, in this book is a world. A world created by two awkward guys who share their lives on the internet! We are Dan and Phil and we invite you on a journey inside our minds! From the stories of our actual births, to exploring Phil's teenage diary and all the reasons why Dan's a fail."
Channel: JoshSundquist
"A bright, poignant, and deeply funny autobiographical account of coming of age as an amputee cancer survivor, from Josh Sundquist: Paralympic ski racer, YouTube star, and motivational speaker."
Channel: Joey Graceffa
"A confessional, uplifting memoir from the beloved YouTube personality. Twenty-three year old Joey Graceffa has captured the hearts of millions of teens and young adults through his playful, sweet, and inspirational YouTube presence (not to mention his sparkling eyes and perfect hair). Yet, Joey wasn't always comfortable in his skin, and in this candid memoir, he thoughtfully looks back on his journey from pain to pride, self-doubt to self-acceptance."
Channel: GloZell Green
"Eager to entertain, dedicated to making people laugh, comedian and video superstar GloZell Green is game for any challenge, no matter how silly, gross, or absurd. With this funny and liberating book, GloZell uses the stories from her winding journey to unbelievable success to help her fans and young women everywhere navigate the obstacles we all face in life, while helping them find the greatness unique to each of them, inside and out."
Channel: ConnorFranta
"In this intimate memoir of life beyond the camera, Connor Franta. . . . offers a look at his Midwestern upbringing as one of four children in the home and one of five in the classroom; his struggles with identity, body image, and sexuality in his teen years; and his decision to finally pursue his creative and artistic passions in his early twenties, setting up his thrilling career as a YouTube personality, philanthropist, entrepreneur, and tastemaker."
Channel: TheRealAlexBertie
"Long before he became known for his YouTube videos, Alex Bertie was an isolated, often-afraid transgender teenager looking for answers. In this revolutionary memoir and valuable resource, Alex recounts his life, struggles, and victories as a young trans man. Along the way, he provides readers with accessible, highly researched explanations of gender, sexuality, and transitions. He explores without judgment how complicated all these things can be, and how many equally authentic ways there are to live as yourself and find happiness."
Channel: MyLifeAsEva
"From the popular YouTube personality Eva Gutowski comes an amazing book on all the ups and downs of life that everyone goes through, but no one is able to easily push through. From living on a diet of ramen noodles (and the occasional lucky maple poptart), to getting dumped not one- not two, but three times in high school, Eva has truly seen the craziest of times. She wants you to laugh, cry, and resonate with her beyond-embarrassing moments, in the hopes that you too will see that the joy in life is getting through it all with nothing but a smile—because your smile is pretty dang special. "
Essay Collections by YouTubers
Channel: Issa Rae Presents
"[I]n this debut collection of essays written in her witty and self-deprecating voice, Rae covers everything from cybersexing in the early days of the Internet to deflecting unsolicited comments on weight gain, from navigating the perils of eating out alone and public displays of affection to learning to accept yourself—natural hair and all."
Channel: MyHarto
"The wildly popular YouTube personality and author of the New York Times bestseller My Drunk Kitchen is back! This time, she's stirring up memories and tales from her past. By combing through the journals that Hannah has kept for much of her life, this collection of narrative essays delivers a fuller picture of her life, her experiences, and the things she's figured out about family, faith, love, sexuality, self-worth, friendship and fame."
Channel: WATSKY!
"In this brutally honest and humorous debut, musician and artist George Watsky chronicles the small triumphs over humiliation that make life bearable and how he has come to accept defeat as necessary to personal progress. The essays in How to Ruin Everything range from the absurd (how he became an international ivory smuggler) to the comical (his middle-school rap battle dominance) to the revelatory (his experiences with epilepsy)."
Binge by Tyler Oakley
Channel: Tyler Oakley
"Pop culture phenomenon, social rights advocate, and the most prominent LGBTQ+ voice on YouTube, Tyler Oakley brings you his first collection of witty, personal, and hilarious essays written in the voice that's earned him more than 10 million followers across social media."
Channel: shane
"From his first vlog back in 2008 to his full-length film directorial debut Not Cool, Shane Dawson has been an open book when it comes to documenting his life. In I Hate Myselfie, Shane steps away from his larger-than-life Internet persona and takes us deep into the experiences of an eccentric and introverted kid, who by observing the strange world around him developed a talent that would inspire millions of fans."
Channel: Anna Akana
"In 2007, Anna Akana lost her teen sister, Kristina, to suicide. In the months that followed, she realized that the one thing helping her process her grief and begin to heal was comedy. So she began making YouTube videos as a form of creative expression and as a way to connect with others. In So Much I Want to Tell You, Anna opens up about her own struggles with poor self-esteem and reveals both the highs and lows of coming-of-age."
Channel: Mamrie Hart
"Mamrie Hart is a drinking star with a YouTube problem. With over a million subscribers to her cult-hit video series 'You Deserve a Drink,' Hart has been entertaining viewers with a combination of tasty libations and raunchy puns since 2011. Finally, Hart has compiled her best drinking stories—and worst hangovers—into one hilarious volume. [She] accompanies each story with an original cocktail recipe, ensuring that You Deserve a Drink is as educational as it is entertaining."
Channel: chescaleigh and MTV Decoded
"In this sharp, funny, and timely collection of personal essays, veteran video blogger and star of MTV's Decoded Franchesca Ramsey explores race, identity, online activism, and the downfall of real communication in the age of social media rants, trolls, and call-out wars."
Motivational/Self-Help Books by YouTubers
Channel: ||Superwoman||
"From actress, comedian, and YouTube sensation Lilly Singh (aka ||Superwoman||) comes the definitive guide to being a bawse—a person who exudes confidence, reaches goals, gets hurt efficiently, and smiles genuinely because they've fought through it all and made it out the other side. Told in her hilarious, bold voice that's inspired over nine million fans, and using stories from her own life to illustrate her message, Lilly proves that there are no shortcuts to success."
Channel: Miranda Sings
"As a bumbling, ironically talentless, self-absorbed personality (a young Gilda Radner, if you will), [Miranda Sings] offers up a vlog of helpful advice every week on her widely popular YouTube channel. For the first time ever, Miranda is putting her advice to paper in this easy-to-follow guide, illustrated by Miranda herself. In it, you'll find instructions on everything: how to get a boyfriend (wear all black and carry a fishing net), to dressing for a date (sequins and an orange tutu), to performing magic ('Magic is Lying'), and much, much more!"
Channel: The Financial Diet
"The Financial Diet is the personal finance book for people who don't care about personal finance. Whether you're in need of an overspending detox, buried under student debt, or just trying to figure out how to live on an entry-level salary, The Financial Diet gives you tools to make a budget, understand investments, and deal with your credit."
Channel: Grace Helbig
"Face it—being a young adult in the digital era is one of the hardest things to be. Well, maybe there are harder things in life…but being an adult is difficult! So Grace Helbig has written a guide that's perfect for anyone who is faced with the daunting task of becoming an adult. Infused with her trademark saucy, sweet, and funny voice, Grace's Guide is a tongue-in-cheek handbook for millennials, encompassing everything a young or new (or regular or old) adult needs to know, from surviving a breakup to recovering from a hangover."
Channel: Hannah Witton
"Figuring out how to build and maintain healthy relationships–with your family, friends, romantically and with yourself–is a crucial part of being a teen. It's not easy though, particularly in a digital age where information and advice are so forthcoming it can be hard to know who or what to believe or trust. Porn is everywhere, sexting is the norm and messages about body image are highly mixed. Hannah combats this by tackling subjects ranging from masturbation and puberty to slut shaming and consent in an accessible, relatable and extremely honest way."
Channel: doddleoddle
"When I feel like I'm going mad I write. A lot of my worst fears have come true; fears that felt so big I could barely hold them in my head. I was convinced that when they'd happen, the world would end. But the world didn't end. In fact, it pushed on and demanded to keep spinning through all sorts of mayhem, and I got through it. And because I persisted, I learned lessons about how to be a stronger, kinder, better human–lessons you can only learn by going through these sorts of things. This is for the people with minds that just don't stop; for those who feel everything seemingly a thousand times more than the people around them."
The Hidden Power of F*cking Up by The Try Guys: Keith Habersberger, Zach Kornfeld, Eugene Lee Yang, and Ned Fulmer
Channel: The Try Guys
"To be our best selves, we must become secure in our insecurities. In The Hidden Power of F*cking Up, The Try Guys–Keith, Ned, Zach, and Eugene–reveal their philosophy of trying: how to fully embrace fear, foolishness, and embarrassment in an effort to understand how we all get paralyzed by a fear of failure. They'll share how four shy, nerdy kids have dealt with their most poignant life struggles by attacking them head-on and reveal their–ahem–sure-fail strategies for achieving success."
Channel: Emma Blackery
"In Feel Good 101, YouTube's most outspoken star Emma Blackery is finally putting pen to paper to (over)share all her hard-learned life lessons. From standing up to bullies and bad bosses to embracing body confidence and making peace with her brain, Emma speaks with her trademark honesty about the issues she's faced–including her struggles with anxiety and depression. This is the book Emma wishes she'd had growing up . . . and she's written it for you."
Channel: Bethany Mota
"From tips on life, love, and everything in between; to original DIYs, recipes, and style hacks; to the incredible story of a girl next door turned Internet sensation, Make Your Mind Up is the ultimate guide to rocking your look and ruling your world—from inspirational YouTuber, designer, entrepreneur, and digital influencer, Bethany Mota."
Channel: SoulPancake
"Kid President—ten-year-old Robby Novak—and his videos have inspired millions to dance more, to celebrate life, and to throw spontaneous parades. In his Guide to Being Awesome, Kid President pulls together lists of awesome ideas to help the world, awesome interviews with his awesome celebrity friends (he has interviewed Beyoncé!), and a step-by-step guide to make pretty much everything a little bit awesomer."
Channel: Lex Croucher
"An honest, thoughtful and hilarious survival guide for young people by social media sensation, Lex Croucher. Learn that you can face whatever today throws at you, because it has terrible aim anyway. And realise that only you scrutinise your flaws – seriously, no one else is paying attention, there's far too much interesting stuff on Netflix. A must-read for anyone who wants to embrace their actual, real, unedited life. Just always remember … YOU'RE CRUSHING IT."
DIY Books by YouTubers
Channel: Michelle Phan
"Ever since she posted her first makeup tutorial on YouTube, [Michelle Phan] has dedicated herself to inspire millions by using makeup as a tool for transformation and self expression. Now, Michelle has compiled all of her best wisdom into Make Up: Your Life Guide to Beauty, Style, and Success—Online and Off. From creating a gorgeous smoky eye to understanding contouring to developing an online persona, Michelle has advice to help you transform every facet of your life."
Channel: Good Mythical Morning
"[A]ward-winning comedians [Rhett and Link] are finally bringing their 'Mythical' world to the printed page in their first book. A hilarious blend of autobiography, trivia, and advice, Rhett & Link's Book of Mythicality: A Field Guide to Curiosity, Creativity, and Tomfoolery will offer twenty ways to add "Mythicality" to your life, including:
-Eat Something That Scares You
-Make a Bold Hair Choice
-Invent Something Ridiculous
-Say 'I Love You' Like It's Never Been Said
-Speak at Your Own Funeral
The goal of these offbeat prompts? To learn new things, laugh more often, and earn a few grown-up merit badges along the way. "
Channel: Mr. Kate
"Hugely popular lifestyle blogger, YouTube star, and designer Mr. Kate (Kate Albrecht) offers a stunning collection of step-by-step personal style and home projects—woven in with quirkily hilarious stories and anecdotes. Filled with 50 unique and approachable projects, along with hysterical, unfiltered stories from Mr. Kate's crazy life, A Hot Glue Gun Mess will show how life can inspire art."
Channel: Karina Garcia
"Get ready to become a slime master with these fifteen DIY recipes from YouTube sensation Karina Garcia! This full color book, with step-by-step instructions, will teach you how to make Liquid Gold Slime, Glow-in-the-Dark Slime, Balloon Slime, and more!"
Check out this list of six more slime books!
Channel: Alfie Deyes Vlogs
"Brought to you by YouTube Vlogger Alfie Deyes, The Pointless Book, accompanied by the free downloadable app, is the ultimate addition to his YouTube channel a weird & funny video-diary of fun, challenges and nothingness: bake a cake in a mug; take part in a people-watching challenge; create a time capsule; diarise a week of your life and learn to make origami. Fully illustrated and packed with a host of games, activities and pranks, Alfie invites you to join his online following as he challenges you to complete your journal of pointlessness and do virtually nothing with pride."
Cookbooks by YouTubers
Channel: Rosanna Pansino
"The long-awaited first cookbook from the creator and host of the Internet's most popular baking show, Nerdy Nummies: a collection of Rosanna Pansino's all-time favorite geeky recipes as well as sensational new recipes exclusive to this book. You'll find the recipes for many beloved fan favorites from the show, such as Apple Pi Pie, the Chocolate Chip Smart Cookie, and Volcano Cake; as well as many new geeky recipes, such as Dinosaur Fossil Cake, Moon Phase Macarons, and the Periodic Table of Cupcakes."
Channel: MyHarto
"One day, lonely cubicle dweller and otherwise bored New York City transplant Hannah Hart decided to make a fake cooking show for a friend back home in California. She opened her laptop, pulled out some bread and cheese, and then, as one does, started drinking. The video was called 'Butter Yo Sh*t' and online sensation My Drunk Kitchen was born. My Drunk Kitchen (the book!) includes recipes, stories, color photographs, and tips and tricks to inspire your own adventures in tipsy cooking."
Channel: Sweet Potato Soul
"Jenna Claiborne grew up in Atlanta eating classic Soul Food–fluffy biscuits, smoky sausage, Nana's sweet potato pie–but thought she'd have to give all that up when she went vegan. As a chef, she instead spent years tweaking and experimenting to infuse plant-based, life-giving, glow-worthy foods with the flavor and depth that feeds the soul. The result? Her first cookbook, Sweet Potato Soul, offering 100 vegan recipes that riff on Southern cooking in surprising and delicious ways, beautifully illustrated with full-color photography."
Channel: Fit Men Cook
"In Fit Men Cook, Kevin Curry, fitness expert and social media sensation with millions of followers and hundreds of thousands of downloads on his app, shares everything you need to live a healthy life each day—from grocery lists to common dieting pitfalls to his ten commandments of meal prep—as well as his personal story of overcoming depression and weight gain to start a successful business and fitness movement."
Channel: Binging with Babish
"Many of our favorite movies come with a side of iconic food moments: the elaborate timpano from Big Night, Charlie Chaplin's dancing dinner rolls in The Gold Rush, the orgasmic deli fare from When Harry Met Sally, or the redemptive birthday cake from Sixteen Candles. In this cookbook, author Andrew Rea (of the hit YouTube channel 'Binging with Babish') recreates these iconic food scenes and many more."
Fiction Books by YouTubers
Channel: vlogbrothers
"In his wildly entertaining debut novel, Hank Green—cocreator of Crash Course, Vlogbrothers, and SciShow—spins a sweeping, cinematic tale about a young woman who becomes an overnight celebrity before realizing she's part of something bigger, and stranger, than anyone could have possibly imagined."
Channel: Just Between Us
"Dear Best Friend,
I can already tell that I will hate everyone but you.
Sincerely,
Ava Helmer
(that brunette who won't leave you alone)
We're still in the same room, you weirdo.
Stop crying.
G

So begins a series of texts and emails sent between two best friends, Ava and Gen, as they head off to their first semesters of college on opposite sides of the country. From first loves to weird roommates, heartbreak, self-discovery, coming out and mental health, the two of them document every wild and awkward moment to each other. But as each changes and grows into her new life, will their friendship be able to survive the distance?"
Channel: Carrie Hope Fletcher
"Evie Snow is eighty-two when she quietly passes away in her sleep, surrounded by her children and grandchildren. It's the way most people wish to leave the world but when Evie reaches the door of her own private heaven, she finds that she's become her twenty-seven-year-old self and the door won't open. Evie's soul must be light enough to pass through so she needs to get rid of whatever is making her soul heavy. For Evie, this means unburdening herself of the three secrets that have weighed her down for over fifty years, so she must find a way to reveal them before it's too late."
Channel: vlogbrothers
"Who is the real Margo? Quentin Jacobsen has spent a lifetime loving the magnificently adventurous Margo Roth Spiegelman from afar. So when she cracks open a window and climbs into his life—dressed like a ninja and summoning him for an ingenious campaign of revenge—he follows. After their all-nighter ends, and a new day breaks, Q arrives at school to discover that Margo, always an enigma, has now become a mystery. But Q soon learns that there are clues—and they're for him. Urged down a disconnected path, the closer he gets, the less Q sees the girl he thought he knew…"
Channel: The Lizzie Bennet Diaries
"Twenty‑four‑year‑old grad student Lizzie Bennet is saddled with student loan debt and still living at home along with her two sisters—beautiful Jane and reckless Lydia. When she records her reflections on life for her thesis project and posts them on YouTube, she has no idea The Lizzie Bennet Diaries will soon take on a life of their own, turning the Bennet sisters into internet celebrities seemingly overnight. Featuring plenty of fresh twists to delight fans and new readers alike, The Secret Diary of Lizzie Bennet expands on the web series phenomenon that captivated a generation and reimagines the Pride and Prejudice story like never before."
Channel: polandbananasBOOKS
"Shane has been doing college all wrong. Pre-med, stellar grades, and happy parents…sounds ideal—but Shane's made zero friends, goes home every weekend, and romance…what's that? Her life has been dorm, dining hall, class, repeat. Time's a ticking, and she needs a change—there's nothing like moving to a new country to really mix things up. Shane signs up for a semester abroad in London. She's going to right all her college mistakes: make friends, pursue boys, and find adventure! Easier said than done. She is soon faced with the complicated realities of living outside her bubble, and when self-doubt sneaks in, her new life starts to fall apart."
Channel: Joey Graceffa
"The electrifying #1 New York Times bestselling debut novel from YouTube sensation Joey Graceffa dares to ask the question: What would you do in order to survive if your very existence were illegal? Rowan is a second child in a world where population control measures make her an outlaw, marked for death. She can never go to school, make friends, or get the eye implants that will mark her as a true member of Eden. Now, desperate to see the world, she recklessly escapes for what she swears will be only one night of adventure. Though she finds an exotic world, and even a friend, the night leads to tragedy. Soon Rowan becomes a renegade on the run."
Girl, Online by Zoe Sugg with Siobhan Curham
Channel: Zoe Sugg
"Penny has a secret. Under the alias GirlOnline, Penny blogs her hidden feelings about friendship, boys, high school drama, her crazy family, and the panic attacks that have begun to take over her life. When things go from bad to worse at school, her parents accept an opportunity to whisk the family away for Christmas at the Waldorf Astoria in New York City. There, Penny meets Noah, a gorgeous, guitar-strumming American. Suddenly she is falling in love—and capturing every moment she spends with 'Brooklyn Boy' on her blog. But Noah has a secret, too, one that threatens to ruin Penny's cover—and her closest friendship—forever."
Miscellaneous Books by YouTubers (Poetry, Science, and More!)
Channel: charlieissocoollike
"Welcome, fellow humans (and others), to the the world of FUN SCIENCE! In my book, I'll be taking you on an awesome journey through the cosmos, beginning with the Big Bang through to the Solar System and the origins of life on Earth, all the way down to the particles that make up everything around us (including you and me!). Expect frequent digressions, tons of illustrations of not-so-sciencey things (NB a microwave flying through space), and pages packed with my all time favourite mind-bending science facts."
Channel: Gabbie Hanna
"In poems ranging from the singsong rhythms of children's verses to a sophisticated confessional style, Gabbie explores what it means to feel like a kid and an adult all at once, revealing her own longings, obsessions, and insecurities along the way. Adultolescence announces the arrival of a brilliant new voice with a magical ability to connect through alienation, cut to the profound with internet slang, and detonate wickedly funny jokes between moments of existential dread."
Channel: Wisecrack
"Sparky Sweets, PhD. and Wisecrack proudly present this outrageously funny, ultra-sharp guide to literature based on the hit online series, Thug Notes. Inside, you'll find hilarious plot breakdowns and masterful analyses of sixteen of literature's most beloved classics, including: The Catcher in the Rye, To Kill A Mockingbird, Pride & Prejudice, The Color Purple, Hamlet, Things Fall Apart, and more!"
Channel: boburnham
"A strange and charming collection of hilariously absurd poetry, writing, and illustration from one of today's most popular young comedians. In Egghead, Bo brings his brand of brainy, emotional comedy to the page in the form of off-kilter poems, thoughts, and more. Teaming up with his longtime friend, artist, and illustrator Chance Bone, Bo takes on everything from death to farts in this weird book that will make you think, laugh and think, 'why did I just laugh?'"
---
Liked this deep dive into 50 must-read books by YouTubers? Check out more of Book Riot's 50 must-read book lists!