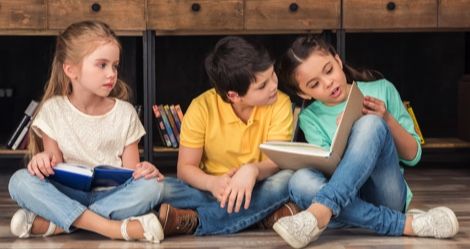 Children's
50 Children's Books About Diversity That Celebrate Our Differences
This content contains affiliate links. When you buy through these links, we may earn an affiliate commission.
We need children's books about diversity because the world is a diverse place. It's packed full of people living dramatically different lives, even within the same neighborhood or classroom. In order to raise kids in this world, we need to teach them about people outside of their immediate family. On the other hand, some kids grow up not seeing themselves or their family represented in any of the books they read or the TV shows and movies they watch. This is the importance of mirrors and windows: mirrors to see ourselves reflected in the world, so we don't feel alone, and windows to see outside of our own lives, to recognize the humanity of other people. That is why we have compiled a list of 50 children's books about diversity.
The importance of raising kids to be anti-racist and inclusive of all differences has only become more apparent as Black Lives Matter has become an everyday news story, and more people than ever have become aware of institutional racism and other forms of oppression. It's not enough to talk about this only when it makes the news, though. To prevent kids from growing up to adopt the everyday racism, heterosexism, and ableism that is all around them, we have to educate them about a better way to see the world.
By reading these books together, you can start a conversation about the world and all the different kinds of people in it. These books explain that differences are something to be celebrated, not feared or made fun of. Whether you're a parent trying to raise an activist kid, a teacher trying to create an inclusive classroom, or you're just trying to introduce a different worldview to your niblings, you'll find plenty of options on this list!
As I began to research this topic, I quickly realized this could get out of control, so I made the parameters pretty strict: these are all picture books (and a few board books)—depending on the book, the age range is 1–8. I also avoided books that are metaphorical (like Brick by Brick by Giuliano Ferri, Red: a Crayon's Story by Michael Hall, or Not Quite Narwhal by Jessie Sima) in favor of books that have literal representation.
Finally, I tried to stick to books that don't just include a diverse cast, but actively teach about diversity and inclusion. I do think that books like Everywhere Babies by Susan Meyers that include diverse families without actively teaching about diversity are also great additions to any kids' library, as well as general books about celebrating difference, like It's Okay To Be Different by Todd Parr. For the purposes of this list, however, I have stuck to these terms, and I'm mostly concentrating on racial and cultural diversity as well as disabled and LGBTQIA+ representation.
Children's Books About Diversity and Inclusion (in General)
Books Featuring Racial or Cultural Diversity
Children's Books about Diversity featuring LGBTQIA+ Representation and Inclusion
Children's Books about Diversity Featuring Disabled or Neurodiverse Representation and Inclusion
Other Children's Books About Diversity and Inclusion
Of course, these are far from the only children's books about diversity! I made the parameters for this post fairly narrow, and often just picked my favorites that covered the same subject matter. There are many, many more children's books with diverse characters that aren't specifically about teaching diversity, too. If you haven't found exactly what you're looking for, let us know if there is another facet of this topic you'd like us to cover!
If you liked this post, also check out: