Newsletter 1
Read This, Then That: 5 YA/Adult Novel Pairings
This post is sponsored by Charlie, Presumed Dead by Anne Heltzel.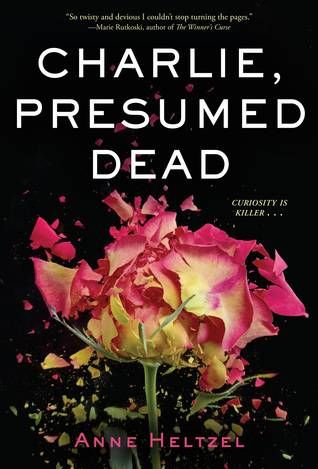 The evidence is there: a bloody jacket, a wrecked Cessna, even what looks like a suicide note. But is the dashing globetrotter Charlie Price really dead? His two mourning girlfriends have their own dark reasons for investigating, and Lena and Aubrey—total strangers before Charlie's memorial service in Paris—form an uneasy alliance as they travel to India and Thailand in search of their enigmatic boyfriend. Told in three voices, this suspenseful, edgy, cross-continental YA thriller crescendos as the clues to Charlie's disappearance start to unfold. Could the daring duo's impulsive journey somehow be part of Charlie's diabolical plan?
No one knows whom to trust in this thrilling tale of suspense and deception, perfect for fans of Gone Girl.
____________________
So you read and love YA (samesies) and want to pick up similar work, but with adult characters- or vice versa? Let's do it to it- after all, the only thing better than books is more books.
The Walls Around Us by Nova Ren Suma and The Robber Bride by Margaret Atwood
Nova Ren Suma's book has gotten a lot of buzz as a "ballet" book and it certainly is that, but I find the look at the darker sides of female friendship to be the really interesting theme in this work. If that's what drew you in as well, pick up Margaret Atwood's The Robber Bride for more. Atwood's Zenia is a character who invades a circle of female friends and destroys their lives because…she can? She likes it? She's a demon spawn from hell? Find out!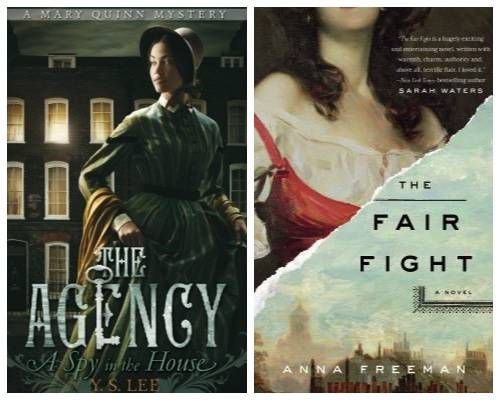 The Agency series by Y.S. Lee and The Fair Fight by Anna Freeman
Lee's Agency series follows Mary, a young thief in Victorian England rescued from the gallows and trained to be a female private investigator and spy. Her job places her in a number of situations a lady wouldn't normally find herself in- a similar theme in The Fair Fight, a brilliant novel about female bare-knuckle boxing during the same time frame. Ruth and Mary are both poor, outcasts, and take to untraditional livelihoods to stay afloat. The adult-ness of the Freeman book means it's dirtier and grittier (and has much fouler language), so it's easy to pick which one you want to read based on how much dirt you want under your nails.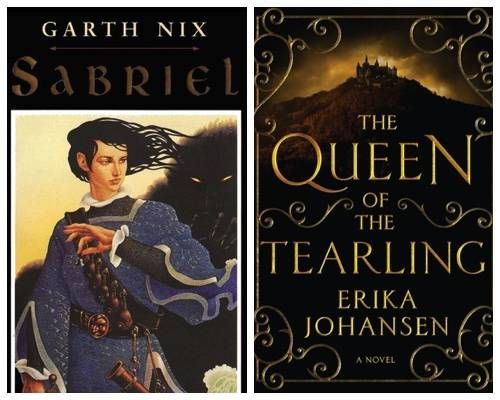 Sabriel by Garth Nix and The Queen of the Tearling by Erika Johansen
Sabriel is with no doubt my favorite YA fantasy novel (and series). Sabriel is the daughter of the Old Kingdom's Abhorsen, whose job it is to "keep the dead down." He's sent Sabriel across the Wall to boarding school and while she's gone, he disappears. Sabriel must take up her mantle as the new Abhorsen, find her father, and Defeat All Dat Evil. In The Queen of the Tearling, Kelsea comes out of exile to take the throne of her kingdom after her mother dies. Both Sabriel and Kelsea are raised away from the turmoil and intrigue of their homes, and both of them must grow up fast when they are thrust into positions of power without understanding the machinery behind what's happening. Both worlds are beautifully built, and both characters kick lots of ass.
Complicit by Stephanie Kuehn and Sharp Objects by Gillian Flynn
Can't say too much here without spoiling both books, but if you love dark, twisty psychological thrillers and/or fraught sibling relationships that are not what they seem, both of these books will scratch those itches.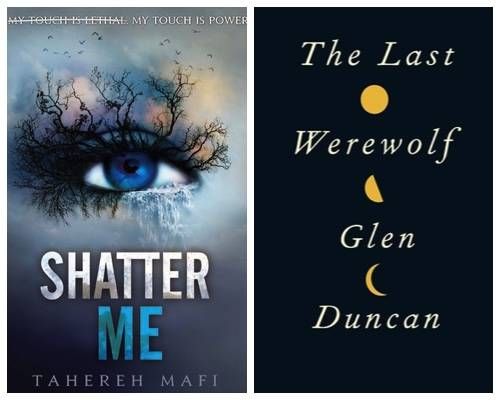 Shatter Me series by Tahereh Mafi and The Last Werewolf by Glen Duncan
Shatter Me is about a girl who can't touch anyone without killing them. The Last Werewolf is about…the last werewolf living in our world. Both books touch on a supernatural loneliness (though Jake doesn't exhibit the guilt for hurting people that Juliette does), but the thing that I like most about both of these books are their writing styles. Mafi's prose is odd, repetitive, and full of strange metaphors that make sense only after a second. Duncan's writing is florid and sarcastic and beautiful. If you're in reading to see what writers do with style, pick these up.