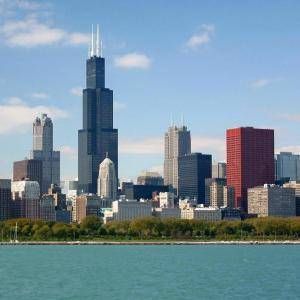 Fiction
5 Terrific Modern Chicago Novels
It's only natural to be drawn to novels set in the city in which you live. Thankfully for me, Chicago has a rich tradition as a literary setting — from Saul Bellow's The Adventures of Augie March to Richard Wright's Native Son to Audrey Niffenegger's The Time Traveler's Wife to Joshua Ferris's Then We Came To The End.
But a more current crop of Chicago novels — published in the last five years or so, and set in modern Chicago — has really lent some literary cred to the Windy City. Let's take a look at five of the best.
5. The Instructions, by Adam Levin — This thousand-page masterpiece follows 10-year-old maybe-Messiah Gurion ben-Judah Maccabee through four days in his Chicago middle school. Gurion is an "Israelite, Chicago born" (mimicking the opening line of Augie March) — and his story oozes with Chicago landmarks and lore. Levin even quotes Chicago's own Smashing Pumpkins (Starla).
4. The Evolution of Bruno Littlemore, by Benjamin Hale — The main character — an ape who learns to talk — is born in Chicago's LIncoln Park Zoo. But he soon is forced to leave Chicago to seek his fortune.
3. The Middlesteins, by Jamie Attenberg — The Middlesteins, a couple on the brink of divorce after nearly 40 years of marriage, actually live in Buffalo Grove, a northern suburb of Chicago. But their daughter Robin lives in Andersonville, a super-cool neighborhood on the North Side. And this story about what can make or break a family is quintessential Midwestern lit.
2. Generosity: An Enhancement, by Richard Powers — This fiction about science (which is Powers' schtick) is about a Chicago college student named Thassa Amzwar who has a "mental health condition" in which she can't not be happy. Russell Stone is a mid-30s magazine editor, who teaches a part-time class at what appears to be a fictional version of the School of the Art Institute of Chicago. Stone has Thassa in a class and is overwhelmingly intrigued by her "affliction." This is a fascinating novel that asks its readers to consider a lot of moral and ethical questions.
1. Office Girl, by Joe Meno — One of favorite — and most underrated — novels of last year, Meno's story follows two early 20s hipsters as they ride their bikes around mid-winter Chicago, just trying to make their ways in the world. It's a sparse novel, but one that sticks with you. (Meno's terrific dysfunctional family novel, The Great Perhaps, is also set in Chicago.)
(If you're interested in a more comprehensive list of Chicago-set novels, check out this Top 40, from Chicago Magazine.)
_________________________
Sign up for our newsletter to have the best of Book Riot delivered straight to your inbox every two weeks. No spam. We promise.
To keep up with Book Riot on a daily basis, follow us on Twitter or like us on Facebook. So much bookish goodness–all day, every day.