Every year my local indie curates a big display of cooky/spooky Halloween books for kids, and every year I go down there and pick out my favorites (here's last year's post). The best kid's Halloween books are gloomy but fun, and not so scary that your kids are suddenly too scared to go trick-or-treating. Here are a few of my picks from this year:
Crankenstein by Samantha Berger and Dan Santat- the (very relatable) saga of a little boy who is so cranky that he's reduced to mumbling MMMEEEHHHRRR at every social encounter.
Vampire Baby by Kelly Bennett and Paul Meisel– cute little baby Tootie starts teething, breaks incisors, and suddenly starts biting her brother. She's obviously a vampire. Let him tell you why (fans of Bunnicula will like this one).
The Ghost Prison by Joseph Delaney- this one's more for school-aged kids, nine and up. It's a Dickensian/Victorian orphan tale-meets R.L. Stine spooky ghost story, with a twisty ending I didn't see coming (though I'm sure your kid will, I'm Bad At Guessing Twists).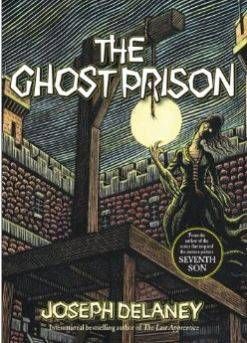 Halloween Night by Marjorie Dennis Murray and Brandon Dorman– a spooky take on Twas The Night Before Christmas, except in this one lots of things are stirring in preparation for a Halloween party. "The pumpkins all grinned with ghoulish delight, As little green creepies made treats for the night."
Ten Orange Pumpkins: A Counting Books by Stephen Savage– a counting book that counts down instead of up has instant suspense- throw in some mummies and spiders and witches and it's all you need to get in the mood for trick or treating!
____________________________
Sign up for our newsletter to have the best of Book Riot delivered straight to your inbox every week. No spam. We promise.

To keep up with Book Riot on a daily basis, follow us on Twitter, like us on Facebook, , and subscribe to the Book Riot podcast in iTunes or via RSS. So much bookish goodness–all day, every day.