5 Space-Saving, Scrooge-Approved Bookends
I'm becoming the Scrooge of bookends—a skinflint of space, a miser of millimeters. When you're faced with overflowing bookshelves, and your buttressing system of paperbacks isn't cutting it, you need a substantial prop. Yet those artsy, chunky bookends take up far too much room. There's an opportunity cost: The three inches claimed by that space-hog sculptural bookend are the equivalent of a thick Dickens novel.
So I've been on the prowl for slim bookends that can pull (and hold up) their weight. Here are the sets I've found that are a bit swankier than the purely functional, library-style metal dividers, but will still leave you as much room as possible for your books. Know of any others?
Apologies to sculptor Robert Indiana, but this set can't help but warm a booklover's heart. And it's as slender and space-efficient as can be! Article's designer has some other nifty laser-cut metal designs that take up more room, like these juicy citrus slices.
Artori Design's "by the book" bookends.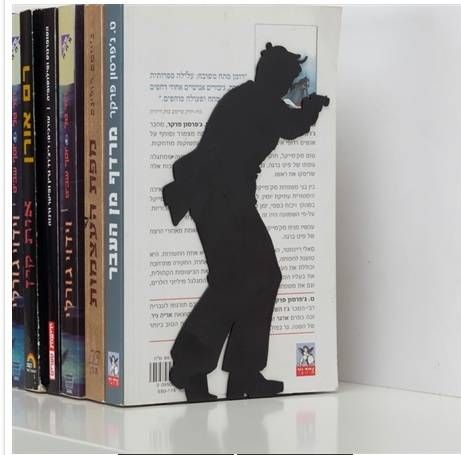 Artori's silhouette-style figures include swooning lovers (good for romance novels) and a chef (for cookbooks), but the winner by far is this Bond-style man of action, ready to pounce on what's around the next cover.
Jonathan Adler for Barnes & Noble bookends.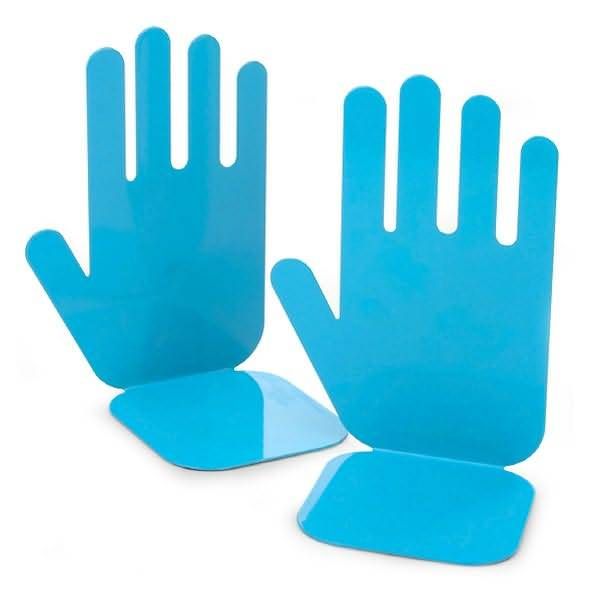 Remember those black metal hand-shape bookends from the '80s? Here's the Adler riff on them, in kicky teal. (Something about Jonathan Adler just makes me say "kicky" a lot.) His B&N designs include green ampersands and crimson tulips, too, all nicely pancake-flat.
Most horseshoe bookends put the shoe face-out, eating up space. This Colorado farrier got it right. They're draft horseshoes so they're still thick (about six inches) but what better way to hold your copies of Cormac McCarthy's Border Trilogy or Black Beauty? You know who you are.
Blomus stainless steel bookends.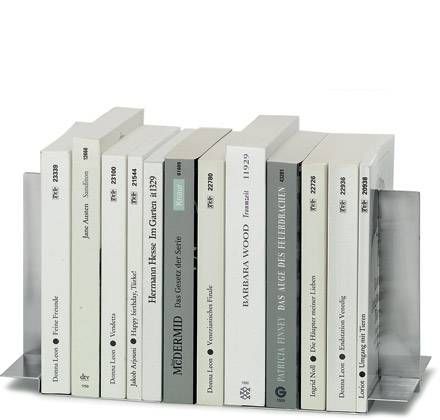 Twelve steely centimeters in width, and the design practically begs you to balance one last little volume on the lower bar.
____________________________
Sign up for our newsletter to have the best of Book Riot delivered straight to your inbox every two weeks. No spam. We promise.
To keep up with Book Riot on a daily basis, follow us on Twitter, like us on Facebook, , and subscribe to the Book Riot podcast in iTunes or via RSS. So much bookish goodness–all day, every day.