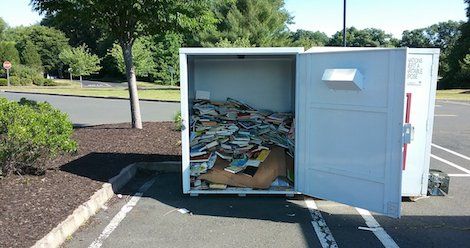 Critical Linking
5 Options Instead of Throwing Away a Book: Critical Linking, January 22, 2020
Critical Linking, a daily roundup of the most interesting bookish links from around the web is sponsored by Flatiron Books, publishers of The Night Country by Melissa Albert.
---
"Given New Year's resolutions to declutter and spring cleaning come March, you may soon find yourself with boxes of books that no longer have a place on your shelf. So what are the best ways to ensure they don't end up decaying in a landfill?"
I'm assuming the majority of thrown away books are damaged or outdated, but here are some ways to recycle them in case you were wondering.
---
"As some are drawn to bars and others to churches, I'm drawn to bookstores and libraries. They're sanctuaries. They're sanctuary. Hope germinates in me that osmosis will take place and whatever goodness is in those books that got them a place on those shelves will leak into me and I'll produce something that could someday go there."
---
"She found a vacant storefront on Fishtown's bustling Girard Avenue corridor, the bar-and-restaurant heavy strip that leads from Frankford Avenue to the river. The landlord was willing to take a chance on an independent brick-and-mortar, so Cook signed on, naming her business after Harriet Tubman, who she said she's been obsessed with since third grade.
Harriet's Bookshop quietly opened at 258 E. Girard Ave. at the beginning of January. So far, it's been a hit. Half the opening stock sold out within two weeks, Cook said, and neighbors have been supportive both IRL and online."