Lists
5 Great Multi-Purpose Gift Books
Books are some of the best multi-purpose, multi-people presents. When you spot an especially cool book, primed for gifting, don't limit yourself to one name on your list – buy several, for everyone who would love it. Think of it as a Nars Multiple, or a Leatherman multi-tool, helping you zip through your to-do list.
When you find a special title, why limit it to just one person on your gift list? Get that book into all the right hands. Books aren't monogamous. There's no shame in this. Don't raise that eyebrow – I'm not talking about regifting! Although it's a good idea to spread the books out among people who a) won't be opening the gifts in front of each other and b) won't soon see the same book on each other's sofas.
Below are five terrific multi-gift-worthy finds. My parameters: they can thrill different kinds of readers; they've been published in the past year or so; and they cost less than $35 (skipping those glossy coffeetable tomes). Also, they need an eye-catching design. After all, there will be judging of covers.
These nine slender, pocket-sized volumes rummage through history's kitchen cabinets. They collect writings on food from notable American and European authors from the past 400 years, ranging from Samuel Pepys's riotous dinner parties to the careful household economies of Mrs. Beeton. Alexandre Dumas gathers up mouthwatering trivia, like the connection between a fig and the sack of Carthage. Pepys buries Parmesan cheese and wine in his garden, to save it from the Great Fire of London. The Charles Lamb title, A Dissertation Upon Roast Pig and Other Essays, is right on the jinglebell, as it includes his musings on Christmas: "Let us enjoy the present, and laugh at the past." You can find even more on Penguin's UK site.
Cover Judge: absolutely irresistible. Each cover has evocative lettering and a pattern inspired by ceramics produced in the same era as the original writings.
Best For: any good trencherman or -woman; history buffs; friends who throw dinner parties or who actually use a mandolin.
Every page teems with the peculiarly convincing pseudo-facts of the hilarious Hodgman. He'll wax eloquent about mustache etiquette and the genetic mutations of robber barons, then rebut urban myths about New York with even more fabulosities. This is the best year to buy it, since the top of every page notes a daily event predicted through 2012. So you can prep your binoculars for the day when the Golden Gate Bridge will be crushed in a fight between an Octosaur and a Narwhaldactyl.
Cover Judge: not much at first glance, but flick off the jacket for a mustachioed photo of Hodgman inside.
Best For: grouchy relatives; know-it-alls; fans of Jon Stewart; your favorite coworker.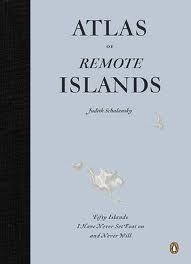 Atlas of Remote Islands by Judith Schalansky
Within a few pages, Schalansky can convert anyone to her view that an atlas is poetic, romantic, utterly absorbing. She explains the role of cartography as a "theatre of the world," then delves into a collection of faraway specks in the oceans. In fact-based reveries, she introduces islands with dreamy names, like Rapa Iti and Fangataufa. Volcanic or lush or covered in ice, they're the sites of shipwrecks, discovery, despair, and eroticism. Each gets a crisp, enticing, atlas-style illustration.
Cover Judge: elegantly handsome, not flashy, with a seaglass-blue cover and black cloth binding.
Best For: travelers, armchair and actual; antisocial people who would relish life on an uninhabited island; yourself, if you're exhausted by family time.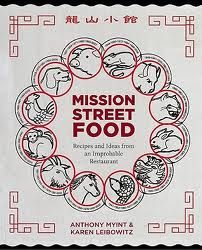 Mission Street Food: Recipes and Ideas from an Improbable Restaurant by Anthony Myint and Karen Leibowitz
Must restrain myself from using any food-based metaphors to describe this book (no bouillabaisse, melting pot, chop suey). It gets shelved with cookbooks and it does have recipes, with plenty of helpful photos, but it's much, much more. There's an oral autobiography of sorts, from the lovestruck couple who started the "unpredictable eating experiences" in San Francisco, first by subletting a taco truck and then by staging pop-up dinners in a Chinese restaurant. There's an illustrated version of a neighborhood altercation; essays on charitable businesses and fried chicken; and encouragement to put Camembert on a brownie. You'll spot reproductions of unorthodox fortune cookie strips: "There's no such thing as a lesbian dragonfly." You'll be hungry and exhilarated. And a percentage of the cost goes to Slow Food USA.
Cover Judge: True to McSweeney's form, it's a clean, warm design. Bonus point for the Chinese astrological readings on the inside cover.
Best For: your dim-sum buddy; anyone who read Michael Pollan; newlyweds; students finishing college or business school.
Parisian Chic: A Style Guide by Inès de la Fressange and Sophie Gachet
A breezy dose of chic, courtesy of French model and style icon Inès de la Fressange. Lists, tips, and a flurry of sketches make this feel chatty and intimate ("think clink, not bling"), but the pages of fashion don'ts remind you that there's discipline behind the ease. She shares her favorite Paris shops, true local favorites rather than global brands – and happily, many offer online shopping. Some advice is refreshingly down to earth, like rinsing your hair with vinegar or listening to the Rolling Stones while getting dressed.
Cover Judge: nightstand-ready, in tomato-red with gilt embossing.
Best For: friends addicted to street-style blogs; Francophiles; the aunt who subscribes to at least three fashion magazines.